Cricket Expert & Columnist
Running out of time
Athers wonders whether England and KP's issues will be settled before the World T20 squad is named.
Last Updated: 15/08/12 2:20pm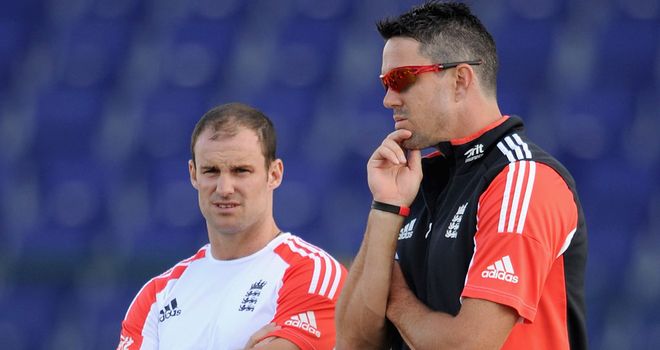 So Kevin Pietersen has apologised, as the ECB said he had to.
I think the apology was fairly straight forward - he talked about provocative texts when the ECB have talked about derogatory texts - but basically he said sorry for sending them.
The ECB now say they need time to digest that and that there are still issues to be resolved.
Andrew Strauss, in his press conference just now, has said that it's not only about the text messages but a little bit about what Pietersen said in his Monday night press conference at Headingley about the lack of trust - or the trust that has broken down - between him and his team-mates.
The problem now is the timeline: England have to pick their one-day squad and their World ICC Twenty20 squad by Saturday and it's difficult to see how they can talk if Pietersen has gone away and Strauss is concentrating on the Test match here at Lord's.
Do they have time to get Pietersen in that squad on Saturday? We'll have to see.
Overshadow
Today's ECB statement hasn't knocked the issue dead as it could have done by accepting Pietersen's apology, so this issue will now rumble on over the next two or three days.
It will certainly overshadow the game a little bit - it has already overshadowed the preparations here and the fact that Strauss is playing his hundredth game and Graeme Smith is becoming the most capped Test captain of all time. Instead, the Pietersen issue has dominated the agenda.
Those players who have said anything publicly have been pretty critical of Pietersen.
James Anderson wrote a piece in his Sunday newspaper column where you didn't have to read too closely between the lines to understand what he was saying.
Tim Bresnan said they were behind the ECB's decision to drop Pietersen 100 per cent and that England may be a better team without Pietersen. They won't be, I'll tell you that, but that's what Bresnan said.
So clearly there has been a breakdown between Pietersen and a lot of his team-mates. I don't know whether that's a universal feeling in the England dressing room but it appears to be a majority feeling.
Strong
For their part Andy Flower and Andrew Strauss have been pretty strong - Flower in particular.
The problem was the press conference last Monday when it moved on from being a dispute between Pietersen and the administrators, if you like, and moved to being a dispute between Pietersen and the rest of the team.
At that point Strauss, as England captain, has to get involved. That was the critical moment at which this became more than just an argument between Pietersen and his bosses.
It's been difficult for Strauss and Flower. They felt they had to make a stand.
Difficult characters exist in every dressing room; there has never been a dressing room yet where you get 11 best mates and captains of every team have to cope with - and manage as best they can - difficult characters.
Everybody tries to do that but every captain has a breaking point at some level and Strauss and Flower obviously felt that enough was enough and they had to make a stand.
Clearly they are the men that count and who make the decisions and things must have got pretty bad because there is not a captain or a coach out there who wouldn't want Pietersen in their team as a batsman.
Concentrating
Strauss said that he sensed when the team met up that they were very happy that the situation had been sorted out i.e. that Pietersen had been left out.
That's what Strauss said - he sensed a better atmosphere around Lord's when they met up. He may just be saying that - who knows.
Once the game starts I think the Pietersen issue will be a talking point for everyone in the ground and it may be a talking point in the media, but for the players themselves the batsmen will be concentrating on the ball coming down, the bowlers will be concentrating on whacking it on a good length.
There is very little that gets between you and that imperative once the game comes.
Great
For now the team goes on and that's how it should be.
There will be 11 players out there who will be picked by the selectors and if you lose someone like Pietersen you may not be as good as you were - and there's no doubt that Pietersen is one of the great players of the modern game - but the side goes on.
The team will go out and represent England and that will be the case no matter who retires or is dropped.
The question really is 'how much does Kevin Pietersen need England?' My view is that in terms of his commercial appeal, in terms of people looking back on his career in terms of history, that he'd be better off trying to play well in the two Ashes series that are coming up, trying to help England win in India and help England try to retain their No 1 status.
My point of view is irrelevant to what he feels because there are other issues. How much does he want to earn from the IPL, being one?
I hope he comes around to the former point of view but only time will tell.