Cricket Expert & Columnist
A duel to rule
Nass and Athers discuss how England and South Africa are shaping up in the battle to be World No 1.
Last Updated: 18/07/12 11:21am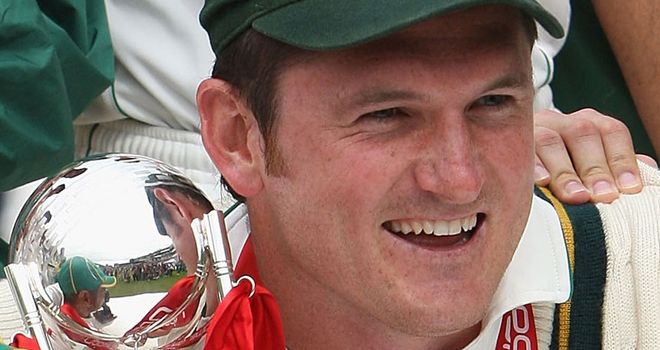 England can expect South Africa to pose the stiffest challenge to their World No 1 status yet.
The Proteas will replace Andrew Strauss' side at the top of the ICC World Rankings if they win the upcoming three-Test series, which starts at the Oval on Thursday.
As ever, you can follow all the action here on skysports.com via our interactive blog, live score centre, commentary, reports, video reaction and red button service.
Sky Sports viewers with Sky Go will be able to enjoy this series wherever they want on PC, laptop, iPhone, iPad and compatible Android phones.
As part of the build-up former England captains Mike Atherton and Nasser Hussain - who have experienced the white-hot rivalry between the nations first-hand - assessed how the teams are shaping up...
skysports.com: It feels like we've been waiting a long time for this series. Are we in for a classic?
NASS: I'm looking forward to it very much. I just hope the real South Africa turn up and deliver. India failed to live up to expectations last summer against an exceptional England side and we've just witnessed a very one-sided one-day series against Australia. It is so important that South Africa get some decent practice in before the first Test so that they play like we know they can rather than start the series under-cooked. If they are below-par this England side will wallop them.
ATHERS: There's no doubt South Africa are a fine side full of great players but how match-fit and battle-hardened are they? Let's hope for the sake of all those people who want to watch good, competitive cricket that it's not a one-sided series. I agree that South Africa will do well to be competitive in that first game because they've had very little cricket. They decided to go on a three- day camp to Switzerland under the guidance of Mike Horn, the great explorer, for some team-bonding following the example, to some extent, of England who went to Germany before the Ashes series. Apart from the fact that all the activities, which included mountain-climbing, sounded like murder it has left them with only five days of cricket before that first Test - weather depending. That said, it's harder to make an impact in one-day cricket immediately whereas in first-class and Test cricket you can battle your way to a bit of form.
skysports.com: Is this series the ultimate test of England's No 1 status? NASS: The absolute test, in my view, will come in the winter when England go to India. This summer they'll have home advantage, which is massive for them and they will be favourites to win. You only have to look at their recent record in Test and one-day cricket in England to see that they don't lose too many at home. So England start as favourites.
ATHERS: It will be the biggest challenge this team have faced because it's hard to think of anyone who is up to their standard at the moment - certainly not Australia, India, New Zealand or the West Indies. India will be a harder challenge but England can only take things one step at a time - there's no point thinking about India yet. Their full focus must be on trying to beat South Africa and preserving their No 1 status.
skysports.com: How well prepared are England for this series given their only home Tests this year have been against an under-strength West Indies side?
NASS: I think the West Indies tested England's batsmen pretty well actually; that attack - with Roach, Edwards and Rampaul - was decent enough. But the bowlers will have to go up a level from where they were against the West Indies because, let's be honest, South Africa's top-order is far stronger. I don't see that being a particular problem, though, as the bowlers have shown over the years - particularly last summer when India only got to 300 once in the series, and in the Ashes before that - that they are capable of raising their game when it counts.
ATHERS: We're right in the middle of an English season and although it has been wet all of the players have had enough cricket. They all seem pretty fit although there is a bit of an injury cloud over Tim Bresnan because of his recent elbow problems. The bowlers as a whole have been consistently excellent. Of the batsmen, Ian Bell is in very good form, while Alastair Cook and Ravi Bopara look in good touch, too. Jonathan Trott appeared to be finding his feet a little in the one-day series against Australia. Kevin Pietersen is the slight question mark given he has not had much cricket of late. Yes, it's true that England weren't particularly pushed by the West Indies, but who have they been pushed by recently at home?skysports.com: South Africa took the Test honours on their last visit to England in 2008. In general, are their players well-suited to playing in English conditions?
NASS: Absolutely. That top order is very experienced and the squad is stacked with players who have played in England a number of times. Quite a few have played a fair bit of county cricket too so they know conditions well, something their fantastic seam bowling unit should be able to take advantage of. They've also got a pretty decent spinner in Imran Tahir, who we've seen on Sky Sports in the colours of Middlesex, Yorkshire and Hampshire. So they will not find English conditions alien so long as they get as much practice in as possible.
ATHERS: The bottom line is they've got a very strong side that performs in most conditions. They will look at England as a major tour and a big challenge - even more so now with the No 1 spot up for grabs. In the past they've had players who have done very well here, like Graeme Smith, and while traditionally they don't tend to have a very good spin option they do generally possess a strong, seam-based attack which goes well in England. Dale Steyn, ranked the best bowler in the world, will generally look to pitch the ball up with the odd short, sharp bouncer thrown in, whereas Morne Morkel's length tends to be a bang-in length. That can be tough to face on a trampoline pitch but on slower English pitches, particularly with the moisture that is around, you want to be hitting a full length. The question for him is can he find that right length and bowl with a fair amount of pace at that length? He obviously didn't get it right at Taunton where he got some stick but there have been plenty of bowlers who have been smacked around the park there; all in all he's a quality performer.
skysports.com: How does the rivalry between the nations compare to others in cricket?
ATHERS: South Africa play a very Australian type of cricket - they tend not to give much away on the field and that can translate into more aggressive approach to their cricket. If you look at the more recent series between the sides since South Africa's return to international cricket, they have all been highly-competitive affairs with the sides separated by just one Test at most. When two teams are extremely-closely matched you tend to get more niggles between them.
NASS: I don't think there's much love lost between the teams as a whole, to be honest, which make the players fight all the harder. I certainly don't think it will be as friendly as some of the West Indies stuff, particularly as the No 1 spot is at stake and there are some big characters on each side. Trott has made his opinions fairly clear in the past few days about how British he feels and Pietersen's stance has been well-documented over the years, too. They've both made it clear how much English cricket means to them - and how much England means to them. There will be comments in the middle. Trott and Pietersen do wind up the opposition and there's certainly no love lost between Pietersen and Smith but I think that will spur the English lads on to show South Africa what they are missing.
Nass and Athers will be back on Tuesday when they will take a closer look at the respective teams...
Join us for the first day of the opening Test between England and South Africa here at skysports.com and on Sky Sports 1 HD from 10am on Thursday or follow the action wherever you are on your PC, laptop, iPhone, Ipad and compatible Android phones on Sky Go.