Cricket Expert & Columnist
At the sharp Edge
Kevin Pietersen's Test form will now come under even greater scrutiny, says Michael Atherton.
Last Updated: 06/06/12 2:34pm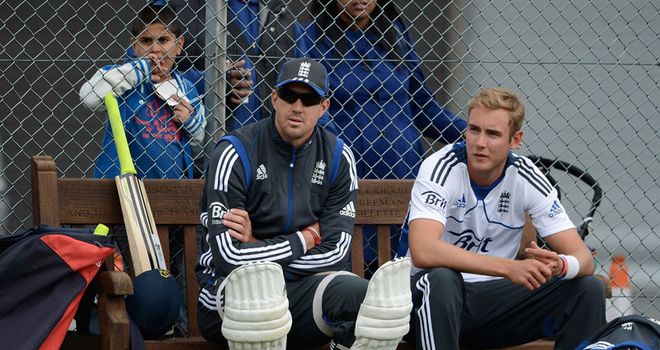 What could have been a fairly dull third Test has developed a few decent talking points around two of England's prime performers.
The series is won but for those of us on the periphery who enjoy watching and talking about cricket, Kevin Pietersen's decision to quit international limited-overs cricket and James Anderson's non-selection for Edgbaston stand out as beacons of interest.
Now he's just a Test match player, Pietersen must uphold his form in the five-day game. There's just a little bit more focus on each and every Test match innings - something that Andrew Strauss has experienced since he retired from one-day cricket.
Pietersen's in good nick at present and he's professional enough to get on and just play, so it shouldn't be a problem in the short-term.
On previous occasions when he's fallen out with ECB officialdom (such as when he was sacked from the captaincy in 2009) he just got on with the job regardless of how he felt about things.
However, you only have to think back to events of this winter to appreciate that his approach to Test cricket may have to change with time.
After a pretty poor Test series in Abu Dhabi and Dubai, Pietersen rediscovered his Test form through the one-day game.
He won't have that opportunity at home or abroad again, although in England he will have the fall-back option of county cricket.
Good work
The manner of England's recent victories means that there isn't one batsman who is short of runs and whose place in the side is therefore questionable.
Strauss has put the issue of his place in the side to bed, while Ian Bell has found some form again after a poor winter and Pietersen is in good form. I don't think Alastair Cook is playing as well as he can but he's still scoring, while Jonathan Trott looks as solid as ever.
Overall, it's a case of keeping the good work going.
Some may point the finger at new boy Jonny Bairstow, who now has one chance to make his name ahead of the South Africa series, particularly now that Ravi Bopara is keen to re-state his case following his CB40 hundred against Gloucestershire.
On the plus side, Bairstow won't have Kemar Roach to deal with, but if I was leading the West Indies I'd want to let him know that the short ball was in our minds as well as his.
I'd certainly set a field that makes it clear that we think he's got a problem - I'd put a leg gully in place and move my orthodox gully a bit closer for the one that might balloon into the air.
But I wouldn't want my bowlers to overdo it; the danger with that kind of tactic is that you telegraph it too much and lose the element of surprise.
Bairstow will have been working ferociously hard against the new ball with Graham Gooch and others and often when you think about the short ball that's not the one that gets you out - it can often make the fuller ball the danger.
England's batsmen will be against from slippery customers - particularly if Tino Best plays - while Sunil Narine will offer Bairstow something that he won't have seen before.
Showpiece
Meanwhile, Andy Flower has come out and defended his decision to rest Anderson ahead of the South Africa series.
It's an example of strong management and now I'm not sure Stuart Broad will play. That's a pure guess but I think Andy might be keen to look at Steven Finn and Graham Onions in a competitive match and test them against each other.
They are slightly different bowlers, of course; Finn is a bit quicker, while Onions gets in tight and attacks the stumps more so you are comparing apples and pears a little bit, but it would still be interesting to see how they go against each other.
They are both Test match performers - there's no doubt about that.
Of course, people buying their tickets well in advance do so in the expectation of seeing the best team that England can put out and that won't be the case this time.
When you consider there are only six showpiece events - the Test matches - this summer, I think it's a shame that England can't put their best XI on the park.
That's not a criticism of Flower; it's a criticism of the scheduling as much as anything.
Flower firmly believes resting Anderson will benefit the bowler in the long-term but there is always the opportunity to rest him during the one-day series, for which he is not an automatic pick.
He also makes the point that Wayne Rooney doesn't play in every Manchester United match, while Brian O'Driscoll doesn't play every Munster match - but those are club games; I'd like to think that a Test match is a bit more important than that.
I understand Flower's viewpoint, which is to manage the interests of the England team in the medium to long term. But clearly when we get to a stage when you have to rotate all the time, the scheduling is an issue.
The whole point of Central Contracts is to ensure that England players are rested and fit for the international matches, but those days are gone it would seem.