Cricket Expert & Columnist
Some Broad issues
The Windies must work out how to bolster their attack and negate England's, says Mike Atherton.
Last Updated: 24/05/12 1:32pm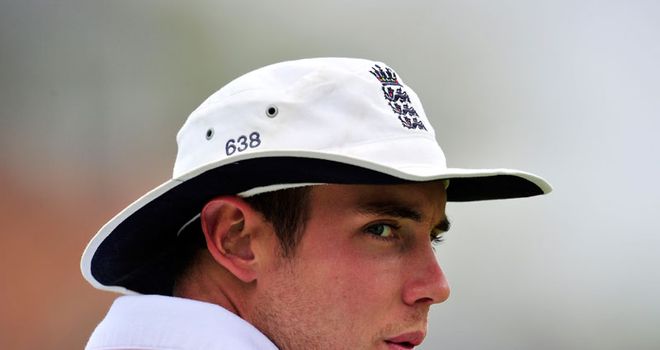 Stuart Broad practically grew up at Trent Bridge, watching his dad Chris bat from the boundary edge.
He returns there this week as the third best Test bowler in the world, eager to impress on his home ground and buoyed by his 11 wickets in England's victory at Lord's.
Throw in the fact this is a ground where he has done well before, and you have a pretty lethal combination.
Few fans will forget Broad's hat-trick against India last summer - a three-ball burst which shifted the entire momentum of the Test, which England won by 319 runs.
Fifteen years or so ago I used to feel that a draw was the most likely outcome at Trent Bridge; not any more. These days it feels like a result venue.
There's no doubt that the ball swings more there than it used to.
Scientists will tell you that the redevelopment of the ground, which means the playing area is more enclosed now and feels less breezy, is irrelevant in terms of affecting how the ball behaves.
But in recent years we've seen the ball hooping around far more than it used to, particularly when Jimmy Anderson is bowling, and the seamers have cashed in.
Threat
Tim Bresnan did just that last summer, following up his brisk second innings 90 by claiming Test-best figures of 5-48 as India folded to lose by a distance.
The only question that England have to answer before Friday is whether he deserves to retain his place in the side for the second Test.
The selectors picked him to play at Lord's in part because they thought it would be a low-scoring game and that his batting would help.
As it turned out he went for a duck and took 1-144 in the match (although he bowled better than his figures suggest and went past the bat on a number of occasions), but there's no doubt that when set against Broad and Anderson, Bresnan presents a lesser threat.
Steven Finn would offer a more incisive threat, while I'd argue that Graham Onions presents a greater danger to the left-handed Shivnarine Chanderpaul and Kieran Powell.
But Bresnan keeps playing and keeps winning - he's now won on each of his 12 Test appearances - and I suspect that England probably won't change their winning side.
I'd have picked Finn for the first Test and having written that I would still have him in the team but now they've gone with Bresnan and won the game, I think the selectors will be loath to change and will stick with the more conservative option.
Listened
Anderson was the eye-catching bowler on the first day at Lord's and he'll bowl much worse and get plenty of wickets, but Broad got better and better as the first innings went on.
As is the case these days it was his length that was impressive - particularly when you compare it with how he bowled a year ago; quite frankly, it's a case of chalk and cheese.
The change shows that he listened and learned; a lot of Broad's critics said he should pitch the ball up and presumably England's bowling staff and coaches - the people he should listen to - were saying the same thing because his lengths now are really challenging and are dragging batsmen forward.
It's almost a year since bowling coach David Saker said he wanted Broad to be England's 'enforcer'. People, not unreasonably, took that to mean that Broad was the bowler to blast people out.
While he's perfectly capable of doing that and has the ability to be reasonably sharp even on a flattish pitch, it is a complete waste to whack the ball in halfway down the pitch in seam-friendly conditions at the start of an English season. That message has clearly got through and England are benefitting as a result.
Balance
It's imperative for any side that goes into a Test with four bowlers that those four are fit - something that must be of genuine concern to the West Indies camp right now.
Tino Best has replaced Shannon Gabriel, but niggles continue to dog Fidel Edwards, Ravi Rampaul and Kemar Roach.
It looks as though the sun will shine hot for three or four days, so presumably the tourists will want to play spinner Shane Shillingford but the question is how do they get him in the side?
They'll be taking a big risk if they go into the Test with Darren Sammy as the third seamer if Roach and Edwards aren't fully fit, so I think they've got a lot of difficult issues to resolve and it's not easy to see how they will resolve them given that Sammy as captain has to play and they won't want to weaken their batting.
I've always believed that you pick your best 11 players and then pick the captain.
Sammy clearly has got some ability - he's not a complete dud - yet while he's a good one-day cricketer, he's probably not quite good enough with bat or bowl in Test match terms and when you are trying to balance a side that becomes an issue.
But the West Indies have gone through a pretty tough period and clearly feel that he brings some stability and significant leadership qualities that can take the team forward.