Cricket Expert & Columnist
Adjust the job
West Indies' batsmen must adapt quickly to English conditions or be swept aside, says Mike Atherton.
Last Updated: 16/05/12 8:48am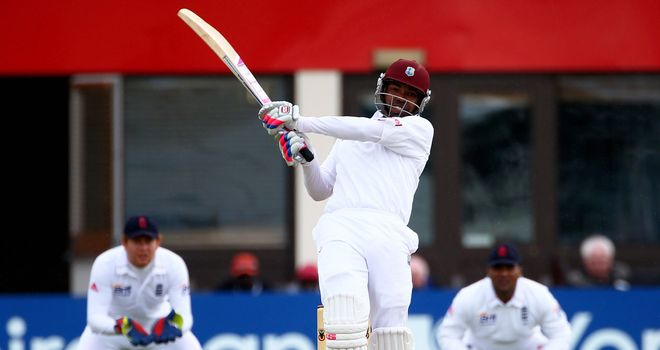 Home must have felt a world away for the West Indies in the opening days of their tour.
Short of practice and time in the middle, their batsmen will be up against it when the first Test gets underway on Thursday at Lord's; that much was abundantly clear from last week's 10-wicket defeat to the England Lions.
The scale of that loss should not have come as a complete surprise; on paper the tourists' batting line-up doesn't look particularly strong and it's hard to see the side scoring sufficient runs in this series, especially if England's seamers get the ball to move lavishly in conditions entirely alien to most of the West Indian camp, few of whom have experienced even county cricket in this country.
The Windies bowlers too will find it hard to adjust to the cold and the wet; if getting loose is one challenge, then hitting the required length - a little fuller than they would naturally want to bowl in the Caribbean where they would look to hit the deck harder - is another.
Driven
England's batsmen will also find run-scoring difficult because Fidel Edwards, Ravi Rampaul and Kemar Roach combine to make a pretty sharp attack when fully fit. I just think England will get more runs as a unit than their West Indian counterparts.
Moreover, England's bowling attack is likely to be more parsimonious - they are not going to offer as many four-balls as the West Indies attack; in short, England have the edge in terms of ability, talent and achievements.
Andrew Strauss does need runs - a 'dry' summer could make things very difficult for him - but he remains a very good player; you don't tend to lose it at 35 when you are as fit and able as he is.
The question that only he can answer is how driven is he? Chatting to him at the start of the season he seems eager to play on, achieve more and stick around for the Ashes series that are coming up. Runs will only raise his stock.
The same goes for Jonny Bairstow, who in the handful of one-day games (and one first-class innings) that I have seen him bat appears a confident player who likes to keep things simple and strikes the ball very cleanly.
Eoin Morgan's decision to play in the IPL and Ravi Bopara's massive stroke of bad fortune have given Bairstow a wonderful opportunity to impress on the international stage; those chances don't always come along when you're in form, so he must take it.
Dangerous
On the bowling front you could make a good case for any of Steven Finn, Tim Bresnan or Graham Onions to start - I'd be perfectly happy to see any of them in Thursday's final XI.
After playing in the Colombo Test, Bresnan is in possession and has an enviable record, having played in the winning team in each of his 11 Tests. The 27-year-old performs well each time he plays - if there is movement, he'll find it - and would add ballast to the lower-middle order.
Alternatively, if you take the longer-term view this could be the ideal time for Finn to bed into the team ahead of the South Africa series.
However, in seam-friendly conditions at Lord's you could easily argue that Onions would be more dangerous than either; he gets tight into the sticks and bowls really well to left-handers, and could pose a greater threat to Darren Bravo and Shivnarine Chanderpaul.
I'd be very happy for any of them to play but if I had to pick one, my choice would be Finn because I think there is more upside for him than the others.
Until a little over two years ago, West Indies head coach Ottis Gibson was responsible for getting the best out of England's seamers.
Gibson's experience of English conditions and his knowledge of the England team, which is pretty intimate, can only be a help rather than a hindrance to the West Indies but to my mind it won't be enough to bridge the gap between what is an outstanding England team and a pretty ordinary West Indies side.
All of the pointers suggest that England will win this series.