Cricket Expert & Columnist
Speedy solution
England's batsmen must get to grip with Saeed Ajmal's pace, says Michael Atherton, and quickly.
Last Updated: 24/01/12 12:22pm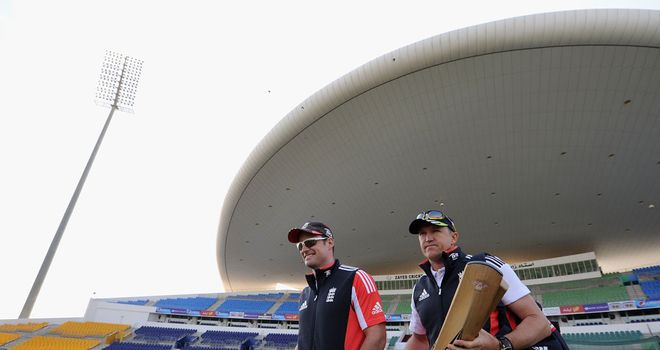 It would be amazing if England produced a repeat of their truly horrendous first Test performance in Abu Dhabi.
They are too good a team to perform that poorly in consecutive games and will be more competitive here, although whether the result will be any different is a completely separate matter.
This England side has recovered from setbacks before: remember the victory by an innings and plenty in Melbourne after the debacle in Perth on the last Ashes tour?
The challenge that awaits them this week won't be as easy - Melbourne was a grassy track and suited their attack down to the ground.
The conditions here are likely to be a little more sub-continental than those in Dubai, where the bowlers found a touch of swing and seam. Abu Dhabi is a little more open to the elements and the bowlers can expect to work harder for their wickets.
England still have one or two issues with the balance of the team - playing another all-rounder would enable them to get Monty Panesar in as a second spinner, but do they really want to weaken the batting after those dismal failures in Dubai? I wouldn't have thought so.
The Test matches played at the Sheikh Zayed Stadium offer little help in terms of picking the best strategy to go with because wickets have fallen on the first day of each of the two high-scoring draws played there so far.
South Africa were 33-3 on the first morning of the second Test here in 2010, Sri Lanka were bowled out for 197 in October's first Test.
Collapses like that make it more difficult for England to justify weakening their batting to get Panesar in and I suspect in the end they will stick with the same balance of side and hope that the team performs better.
Off colour
England's bowlers certainly didn't look rusty in Dubai. They produced an near-heroic performance to keep Pakistan down to 338 in their first innings.
However it was a different story for the batsmen. Perhaps that was inevitable. No matter how many nets or sessions you have in the middle, you are always likely to be a little off colour after three months off.
But I was surprised how rusty they were; to be bowled out on that pitch for less than 200 - twice - is ridiculous. Pakistan's attack is decent with one match-winner in Saeed Ajmal, but it's not a crackerjack attack.
Ajmal is not a huge spinner of the ball so there's no reason why England shouldn't fare better this time around if - and here's the rub - they learn to pick his kicking doosra and play straight.
They should be able to read the variations out of his hand. If they can't, they should be able to see the ball spinning in the air. Their final option is to read it off the pitch.
The latter is difficult and the worst option because Ajmal is quick and bowls with over-spin. We saw a couple of batsmen going back in Dubai and getting done for pace.
Spectacle
In many ways the pace is the key. England didn't find it easy to get down the pitch to Ajmal and he was able to peg them back at less than three runs an over.
The DRS does make life much more difficult for batsmen these days; in the old day to Murali you would play slightly outside the line of the ball and use your pad as a second line of defence.
You can't do that now which is good because it has brought finger spinners back into the game and ultimately it provides for a better spectacle because when a batsman is not certain which way a ball is spinning he either plays with his pad or sweeps.
The sweep won't go out of the game but I think batsman will now be coached to use their feet from a younger age, which ultimately should help to make cricket a better spectacle.
There are different ways of trying to counter Ajmal: Bell will look to play down the ground, while Eoin Morgan likes to play back in his crease and sweep.
The best players of spin that I've seen down the years have been quick on their feet but ultimately it is about how many runs you get not how you get them - especially when you are 1-0 down in the series.