Cricket Expert & Columnist
Alarm bells for India
Mike Atherton says Ian Bell's promotion to No 3 comes at the most productive time of his career.
Last Updated: 09/08/11 4:06pm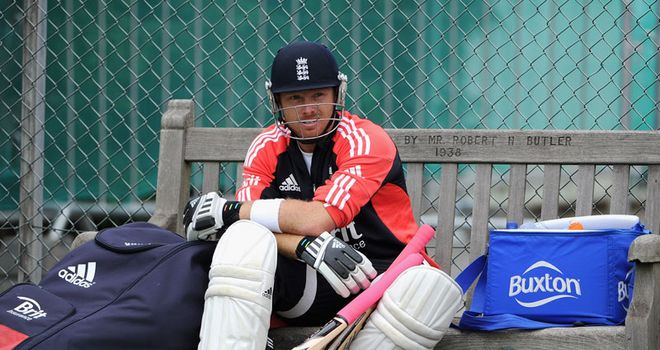 Providing he doesn't take his form for granted, this should be the most productive spell of Ian Bell's career.
Promoted to No 3 at Trent Bridge after Jonathan Trott damaged his shoulder, Bell's flowing 159 paved the way for England's 319-run victory.
Generally, every first-drop batsman should be technically competent and have the ability to dictate terms to the opposition.
At the age of 29 with 67 Tests behind him, Bell is able to do both without sacrificing style for substance.
Transformed
Before last week's century, the Warwickshire batsman hadn't scored a ton at first down in 17 Tests; even now, he averages 35.30 in that position - way down on his overall average of 47.58.
However, the vast majority of those innings came before he was dropped in the West Indies in 2009. Since he has fought his way back into the team he looks a player transformed.
I'd say he has got all the makings of a decent No 3 - there really isn't a lot wrong with his game as it stands. Sometimes he gets squared up around off-stump against the quicker bowlers but that really is picking holes; there isn't a player out there who doesn't have a little weakness here or there.
No international player wants to stand still so I'm sure there is more to come from Bell if he continues to work hard and take his chances.
I don't for one minute imagine he will stay at three once Trott is fit again, but having a ready-made replacement is certainly no bad thing.
Chance
England will be weaker for Trott's absence at Edgbaston but I don't think they'll miss him too much due to the quality of India's bowling attack, which is far from penetrative particularly now that Zaheer Khan is ruled out by injury.
That means this is the perfect moment for England's batsmen - Bell and the recalled Ravi Bopara especially - to cash in.
The selectors were right to select Bopara ahead of James Taylor for this Test because he deserves another chance.
Most people had the Essex all-rounder pencilled in for the first Test against Sri Lanka before Eoin Morgan stole his thunder on duty with the England Lions.
This is not yet Taylor's time, nor can it be when he averages just 31 in division two of the County Championship without a hundred to his name.
Nowadays you need to do much more than that to get into such a strong England team. That message should be filtering through the county game.
It is one that Tim Bresnan, who continues to go from strength-to-strength, has taken on board. A solid, unflappable, consistent cricketer, Bresnan is the type of guy who slots into a team without a worry.
Even if Chris Tremlett had been fit for this week's Test, the selectors would have been well advised to retain the same team and keep the Surrey seamer fresh for the Oval (if required).
Disinterested
In contrast, Indian options are in short supply and morale seems very low in the camp.
Someone who attended the two-day game at Northampton told me he'd never seen a more disinterested national team, which is saying something.
Some of the squad have been on the road for a very long time and now they must cope without some key players for the remaining two Tests.
When a guy like Gautam Gambhir sits out a Test with a bruised elbow, you get a pretty good idea of how low spirits are.
Of course, things can still turn around - it only takes one good morning to revive a team - but at this point in time it is difficult to imagine India getting back into this series, Virender Sehwag or no Virender Sehwag.
Leg-spinner Amit Mishra could come into the side but I don't think that will concern England greatly, particularly after the pasting he took at Taunton.
I've been really surprised that Murali Karthik hasn't played more for India over the years - he looks a really good left-arm spinner to me. I might have been tempted to drag him into my squad.
It may have made little, if any, difference because England have been exceptional over the last year or so and - while it may be a little bit unfair on South Africa - they probably deserve their place at the top of the world standings if they attain it.
Personally, I don't put much stock in the rankings; you're never quite top until you've beaten each team at home and away and by then things move on.
But it would be an achievement of sorts and deserved reward for 12 to 18 months of excellent endeavour.