Haye v Fury: Glenn McCrory says confidence will not be a problem for the youngster
Tyson Fury is a physical giant but Glenn McCrory also believes his confidence is sky-high too...
By Glenn McCrory
Last Updated: 21/09/13 11:41am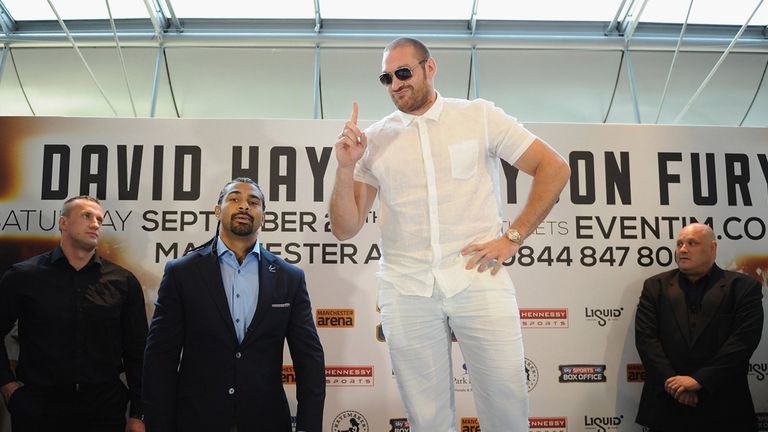 Yes, this is only his 22nd fight and the world will be watching, but don't expect him to get stage-fright either.
He has boxed abroad, he's boxed in America on big occasions and he has topped the bill there, too. He is bigger than you think when it comes to the challenge.
He's only 25; he's 6ft 9in, around 19 stone and is a big, athletic guy, who is technically going in against a cruiserweight.
I know at the early stages people thought Fury was going to be a bit of a joke in boxing, but not anymore. We have seen him get better in his past few fights, yet David Haye has been pretty inactive - boxing once in almost two years.
A fight like this gets the public going and although Haye is the number one, I am sure plenty of people are tuning in to see this young upstart and what he brings to the table.
Threats
While Haye has been fairly quiet since the Wladimir Klitschko defeat, Fury has, bit by bit, talked himself into a big fight, a massive step and a pivotal stage in his career.
A loss is not the end of the world for him because he is young enough to come back, but it will be significant. So he has to get his head together, work hard and get it all together.
You can say what you like about him but he is not stupid and he knows what threats Haye poses: he knows about his punch power, he knows about his speed and he has seen him build up his experience and ring-smartness.
To be honest, when this fight was mooted I thought it was going to be too much for Fury to deal with and be a routine win for Haye.
But once it was signed we saw a lot more of Tyson and after maybe discovering something he has always had, you can see he is brimming with confidence.
Boost
All of a sudden when you weigh everything up, it is not an easy fight for the two-weight world champion. If anything, I am starting to lean towards Tyson.
Oh and of course, one thing is obvious if you know your boxing and that is, a big man always beats a smaller one!
If Haye was busy, knocking out heavyweights left, right and centre, it would be a formality but that is another thing that suggests we might get an upset.
And yes, Fury has not been there, seen it, and done it like Haye. But he has not been beaten and he doesn't know what it's like to be beaten.
We have seen him get up off the canvas and win, we have seen that desire, that drive that you have - until you're beaten.
The one thing that does is boost your confidence. Call it naivety, call it what you want, but when it comes to calling this one, all of a sudden I am starting to think Fury might give us a surprise.