Haye v Fury: Jim Watt wants to see if David Haye still has that desire
Jim Watt considers whether David Haye still has the desire to dig deep, ahead of his Tyson Fury clash.
By Jim Watt
Last Updated: 21/09/13 11:41am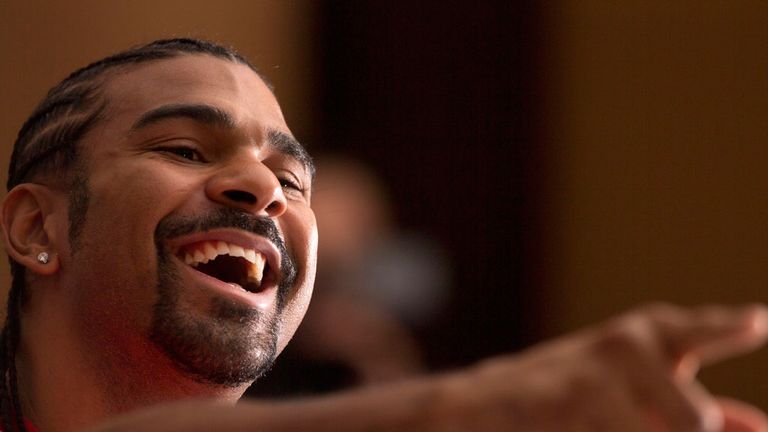 On paper, this doesn't look like a challenge but we know it is a money-spinner. At this stage of his career all David wants is those mega fights against top level opponents and who can blame him?
But is it just about money? Well, no matter how much is on offer when he takes on Tyson Fury, his reputation is on the line here.
An experiened former two-weight world champion is taking on a young, unbeaten guy but what will happen if Tyson Fury can make it tough, make it rough for Haye on the night? Will Haye have that grit he had earlier in his career, to dig in and win rather than settling for second place?
I don't know that David really wants to get in a toe-to-toe, head-to-head war, so he'll do everything he can do to avoid it.
David has two styles of heavyweight boxing. One is when he takes on guys his own size, like John Ruiz or Dereck Chisora, and stands there and just goes at them, much like he did when he was a cruiserweight.
The other style he uses when you put him in the ring with a giant; he flits around the ring, doesn't get in range and looks for a way to win without getting involved.
I am wondering what he is going to do against Fury.
His reputation is on the line so I don't think he'll want to flit around like he did against Nikolai Valuev and Wladimir Klitschko. If he tries to stay clear and steal the odd shot here and there against Fury he will take tremendous stick from the public.
Statement
A win and a statement would also get him right back in the mix. I hope that brings the best out of David because a live heavyweight will get a crack at the Klitschkos, simply because there aren't too many contenders out there. But David has to show he is a live oppnent again.
I am not sure Wladimir is worth going after but there is every chance he could get a shot at Vitali because David can always sell tickets and he can always generate interest - providing he beats Tyson Fury.
If David loses this one, it's over. End of story. If he wins this then I am sure he and Vitali can talk it up and agree a deal.
But that is why we want to see a spectacle. I am not expecting 12 rounds of edge-of-the-seat stuff and I don't think anyone else is, but we want to see an occasion that is value for money.
Ignore David's inactivity because he lives a healthy lifestyle even when he's not in training camp. He likes to look good and he always does and you know that he will be strong, he will be sharp and with only 28 fights to his name, he will be in good shape.
But does that mean that we will see him go back to that raw, entertaining puncher? Or will it be the businessman just looking to win and get paid?
Tyson Fury is what he is. He is a fighter with ambitions and has his career ahead of him, so he's going to give his all in this. We want to see David Haye to do the same.