Haye v Fury: The countdown is on and you can book the fight already!
Last Updated: September 21, 2013 11:07am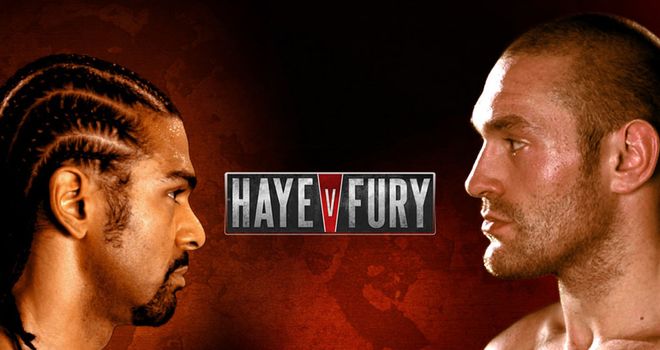 The biggest British heavyweight battle for 20 years is here!
David Haye and Tyson Fury finally get it on in Manchester, live and exclusive on Sky Sports Box Office, Sky Sports HD Box Office and Sky 3D.
This is the biggest domestic dust-up since Lennox Lewis and Frank Bruno fought for the world title in 1993 and although just honour is on the line, it has put the heavyweights back on the map!
Haye (28-2) is Britain's number one but has only fought once in nearly two years, while Fury (21-0) is unbeaten and on the up.
But will the experienced old head, who has been a world champion at two weights, put the challenger into his place? Or can the 6ft 9in giant produce the biggest shock we've seen this century?
Tune into Haye-Fury on Saturday, September 28.
The chief support will see another Brit going for world title glory as Scott Quigg takes on Yoandris Salinas for the vacant WBA World super-bantamweight title.
The Phones 4U Arena in Manchester has been sold out for ages and a full house will also see the likes of Andy Lee and Chris Eubank Jnr on the undercard.
And when that is finished we bring you more live world title fights as we switch to Canada, where the hard-hitting Adonis Stevenson will defend his WBC light-heavyweight title against a former world champion, Tavoris Clowd.
The undercard there will also show Jean Pascal, who has pushed Carl Froch all the way in an absolute cracker and Edison Miranda, who has just missed out on a world-title shot by losing to Tony Bellew.
With Haye v Fury top of the bill and world titles behind it, it couldn't be easier to book the event...
Booking information
David Haye v Tyson Fury (12 rounds heavyweight) will be live from the Phones 4U Arena, Manchester, plus a full undercard including Scott Quigg v Yoandris Salinas (Vacant WBA World super-bantamweight title) and Andy Lee v Domenico Spard (WBC Silver middleweight title). It will be followed live from The Bell Center, Montreal, Candada, featuring Adonis Stevenson v Tavoris Cloud (WBC light-heavyweight title), plus full undercard.
The event will start at 8.00pm, Saturday, September 28, live on Sky Sports Box Office (Channel 743), Sky Sports HD Box Office (Channel 752) and on Sky 3D (Channel 170).
NB: Only the Manchester part of the event will be shown on Sky 3D, so Sky 3D customers wanting to watch or record the Canadian bill will need to select the Channel 752 programme too. There is no additional charge for this as the purchase allows viewing of the live programmes and replays.
The event is priced at £14.95 for UK customers, €21.95 for customers in the Republic of Ireland.
You can book this event now via your phone or by your Sky Remote Control. Please note that you can only record the event if ordered by your Sky Remote, this method will be available from 8pm on Saturday 21st September.masont
BY PHONE
To order the event call 08442 410888 (There will be £1 booking fee for telephone bookings).
There is a £5/€5 surcharge for bookings made via the phone from midnight, Friday, September 27 to midnight, Saturday, September 28.