Froch v Kessler II: The panel on what's next for the winner
Will the winner face Andre Ward? What about the loser? The Panel assess where Froch and Kessler go next...
Last Updated: 23/05/13 6:25pm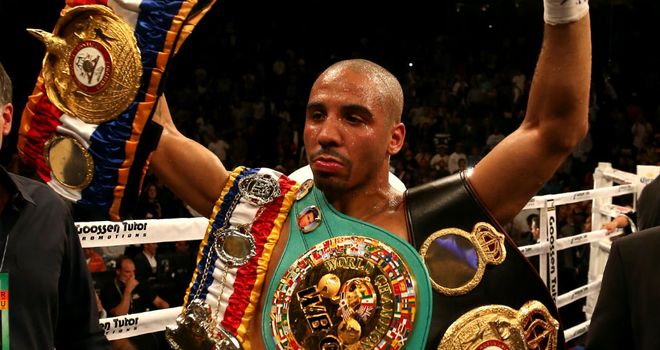 What will the winner of Froch-Kessler go on to do next? Can you see either of them challenging Andre Ward?
Jim Watt:
Froch is the one who went looking for this match. He called Kessler out. As soon as he'd beaten Lucian Bute he said he wanted to wipe out his two defeats - and if he beats Kessler there's only one man holding a victory over him. A showdown with Ward would be a massive fight financially and Froch is at a point in his career where he can cash in. This is the time for him to be involved in huge fights. I can see him calling out Ward if he wins on Saturday - and that would be huge.
Richie Woodhall:
I think both would fancy their chances of an improved showing against Ward. They'd have to box differently, of course. I certainly see improvements from Froch since the last Ward fight, so we'll see what Kessler's like. I'm thinking Froch is going to win this fight and set up the rematch with Ward. Kessler will be equally confident, though, and I think both are capable of causing Ward trouble in a rematch.
Glenn McCrory:
I'm not sure about the winner seeking a rematch with Ward. They were both beaten convincingly by the American. Ward has been out of the ring a long time having had surgery on his shoulder. Should the fight with the winner of Froch v Kessler and Ward get made, it'd be better for Froch to get him to come to England or Kessler to get him to come to Denmark. That would narrow up the chances a bit and both those fights would be huge.
Johnny Nelson:
I don't think either is looking for a rematch with Ward - and I don't think either needs it. Yes, he is the number one super-middleweight and I know it's not the right thing to say, but they do not need him. He's not entertaining which means the fight will not be as big as this for instance and also, he beat both Kessler and Froch fair and square. They both made noises straightaway about the result but in the cold light of day, they came up against a better man - and this was two guys who were at the top of their game. What can they do to beat him? You're not going to out-box him, that's for sure, so do you go in there and try and blow him away? Well, a boxer always beats a fighter. Maybe if these were a young Mike Tyson, they could rush him and take him out, but these two are not getting any younger. Also, we've had Bernard Hopkins and Nathan Cleverly offering them out at light-heavyweight, but those two don't need that.
Will defeat end Froch or Kessler's career? Or could there even be a third fight between them?
Jim Watt:
If it's another terrific fight and Froch narrowly wins people may well be calling for a third instalment. But I don't think Kessler would be up for that, to be honest. Win or lose it wouldn't surprise me if Kessler doesn't go on; I don't know if he has long-term plans. That, though, is another reason why he'll be dangerous - he won't want to go out on a loss. Both these fighters are now in their mid-30s so we know the end of their careers is coming soon. But for Froch, he is loving it at the moment. He's been reborn. He's finally getting the plaudits it took him so long to achieve after flying under the radar and, despite fighting the best, not getting credit or exposure. He is full of enthusiasm.
Glenn McCrory:
I think it could be the end for either fighter if they lose but it depends on how they lose; if either one of them was to suffer a crushing loss, they'd walk away. I've always foreseen a terrific fight and there's always the possibility of a third, but I don't want to get too carried away as I'm looking forward to this one so much! It's the sort of match-up where you can see a trilogy in the future though, because I think we'll get a cracking fight and one that maybe doesn't completely sort everything out. In the case that Froch pinches a narrow points decision in the same way Kessler did in Denmark, you'd want to have a decider. More than anything, though, we're looking forward to it and it's going to be mayhem.
Johnny Nelson:
I don't know about the trilogy. Maybe if they were a bit younger but whoever loses this is done for, I think. They've both made bold decision: Carl said he'd never climb back in the ring if Kessler beat him and Kessler just said if Froch beats me, I retire. So even if this is as close as the last one, this will be the end for one of them. It was so intense the first time and this will be no different, so this is going to drain whoever loses. Emotionally they will have nothing left and at their age they can't just brush it off, this one will hurt - in more ways than one. They will never be the same, whoever loses.
Richie Woodhall:
It's always down to the manner of defeat but I don't think either fighter will be hanging their gloves up if they lose. Both are coming to the end of their careers and have had hard careers - so I don't think there are too many fights left in either but I don't think this is the last fight for either of them. There's still some spark there. Physically they're both still in good shape and it's just mentally how the defeat will impact on them. People are already talking about the possibility of a trilogy and if this one's a close one too, then why not? If it's a landslide victory then I don't see the point but if it's what the public wants then it could happen. I don't think it would be an immediate rematch, though, because I think the winner would want to go on and try and avenge defeat to Ward.