Johnny Nelson doubts Andre Ward will come to the UK to face Carl Froch
Mikkel Kessler may call it a day but will Andre Ward face Carl Froch again? Johnny Nelson wonders...
Last Updated: 27/05/13 12:40pm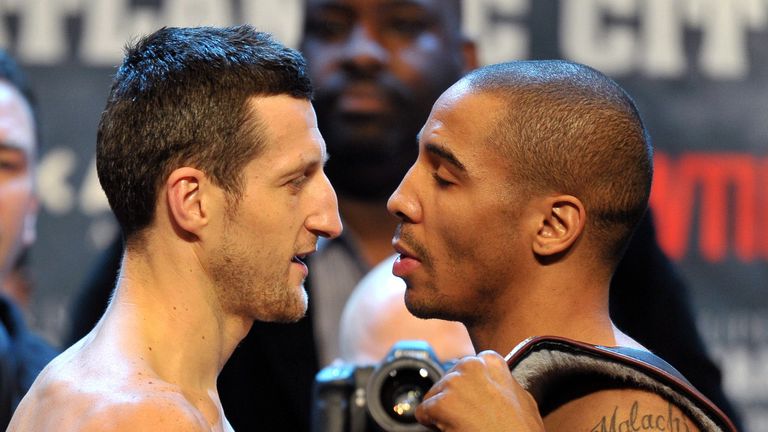 I have to say that Carl Froch and Mikkel Kessler's second fight was as good as we expected - and it may even have been better than we expected.
It is tough to meet expectations the second time around, but both fighters did that and more - and now we are wondering what happens next.
Andre Ward is, of course, the topic of conversation now, but I am not sure that he is going to face Froch.
Ward wants Froch to go back to America for the rematch. That's rubbish. A world champion will fight anyone, anywhere because he thinks he can beat them.
He was ringside at the O2 working for HBO and I can tell you he would have learned one thing above all else: British fight fans are the best in the world.
Michael Buffer has been there, seen it and done it here before, but even he was left stunned when that crowd took over.
Kessler was given a decent welcome but when Froch emerged? Well that was something else and they even took over Buffer's introduction!
The noise did die down briefly, but believe me, not for long once that bell sounded.
Humble
It was a cautious start, as we expected, but as soon as Froch or Kessler dropped a big shot, pride took control and the other just came firing back. It showed again that Froch and Kessler are warriors. Proper, proper fighters.
Their pride and their punch resistance is the one thing that sets them apart from the rest inn their sport but throw in desire and fitness and you can see why these two are so well respected. Not just by fight fans, or ex-fighters, but each other.
And after all that they proved that they are absolute gentleman. Kessler was so humble in defeat - applauding in the ring when it was given to Froch - and said the better man won.
I have to be honest and say that I expected Mikkel to announce his retirement after that - and he still might in a couple of days. Don't be surprised because, quite simply, he was a broken man.
If he was not the fighter he was when he first fought Carl then he lifted himself to get back to level - and he had nothing left. Nothing. Kessler will never be the same fighter again.
Improve
Froch, on the other hand, had to improve on that performance - and did.
There was no change to his defence, of course, but his fitness was unreal and that jab, that set the tone from the word go. The jab is the king and Froch knew that.
What it showed was that both of them are just proper, proper warriors. Those improvements Froch made set them apart - just - and I do think that if they were to meet again, it would be like the first two fights.
That said, I don't think there will be a third. Like I say, that might be the last of Kessler and you get the feeling that because of his huge respect for him, does Carl need to win 2-1 in a trilogy? I am not so sure.
His thirst has been quenched... for now.