Johnny Nelson gives the edge to Mikkel Kessler over Carl Froch
Johnny Nelson questions why Mikkel Kessler goes into the rematch with Carl Froch as the underdog.
Last Updated: 14/05/13 2:04pm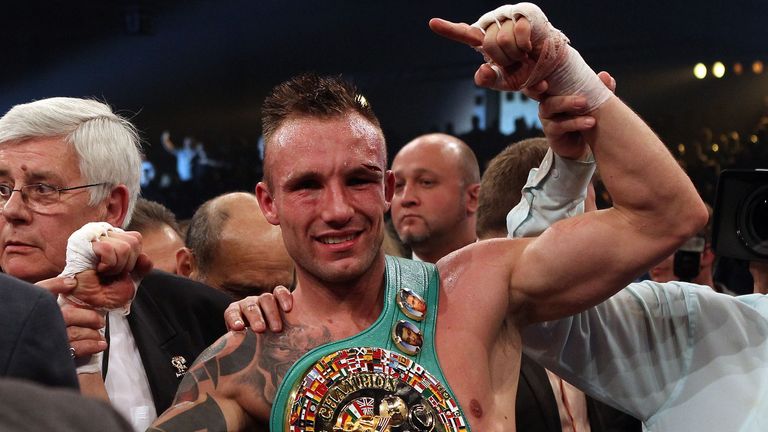 In front of the Sky Sports Box Office cameras, the two warriors, Carl Froch and Mikkel Kessler, face off at the O2 Arena in London just over three years since a memorable and narrow points victory for the Dane in Herning, Denmark.
Kessler's a fighter who will always recognise another fighter. He's not one of those who'll try and hustle you - he's straight down the middle and Carl Froch is very similar in his attitude.
I expected different when I met him in Denmark but in the gym he had nothing to hide. If he didn't want you there then he'd just ask you to go out.
In the media he's kind of robotic but he's very at home in the gym. The first time I saw him smile was when he was sparring, working with his pads and doing some exercises. He was having fun there and that's where he feels comfortable.
In Denmark, he gets the credit he deserves. If you go into the bars there all they talk about is Kessler - and he just takes it in his stride. It's not affected him whatsoever.
Record
Kessler has achieved so much. If you look at the guys he's beaten, there are so many top 10 fighters on his record. He's not craved the attention to the extent that he's taken himself out to America, based himself out there and tried to be a big superstar. He just wants to get on with his job.
The surprise is that he's coming in as the underdog against a man he's already beaten. He's smiling and said 'I've beaten him already so he has to prove something to me'.
He shows that he can fight as well as box. He's a better fighter than he is a boxer and that's why, if it comes to a toe-to-toe battle, then it's going to be unbelievable because Froch is the same.
You look at it on paper and Kessler should be the favourite because he won that first fight. Common sense tells you that the guy who won the last fight should be the favourite. It wasn't luck.
As far as Kessler is concerned, he learned something about Froch the same way that Froch says he learned about him, so he'll know where he needs to step his game up.
Calm
We look at Froch and say he should've done this, that and the other. Let's not kid ourselves - Kessler will have looked at it and said exactly the same thing. He's no idiot.
The only fight I thought would live up to the opener as a rematch would be the Nigel Benn-Chris Eubank second, and it didn't. Then you've got Marvin Hagler v Thomas Hearns - it was dog eat dog and no nonsense. It's the same with these guys.
When we saw the press work-out, we saw them be really nice to each other like two paid assassins, checking each other out.
I think they'll both be better fighters when they go into the ring for this second time. Carl Froch has changed - he's more aggressive and throws combinations rather than single shots while Kessler will be looking to hunt his man down too.