Froch v Kessler II: Jim Watt tips the Cobra to prevail
Jim Watt tips Carl Froch to outlast Mikkel Kessler in an epic battle of skill and strength on Saturday.
Last Updated: 24/05/13 9:46am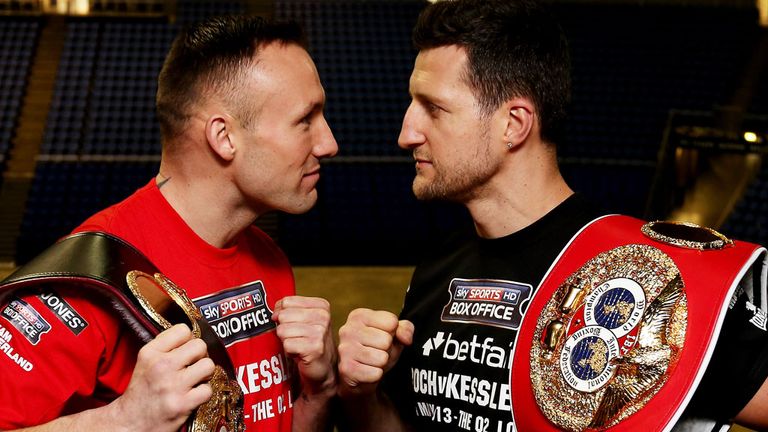 The wait is almost over.
On Saturday night two of the best fighters on the planet will go toe to toe in what should be a great contest, live on Sky Sports Box Office.
Carl Froch and Mikkel Kessler are unquestionably among the world's elite and their rematch at the O2 Arena is so intriguing because both the IBF and WBA champions are so evenly matched and have nothing else to prove.
They're both warriors and much of the pre-fight hype has surrounded the pair's toughness, but I think both of them are too classy to simply try and blast the other out as soon as they hear the first bell.
I don't see this being a type of fight like we saw when Marco Antonio Barrera fought Erik Morales in 2000, where they just stood there trading with each other. Instead, we're going to see a mixture of everything.
First of all we're going to see them both try to get a couple of early rounds in the bank with smart, skilful boxing and plenty of solid punches.
Froch's skills are underrated and Kessler is a smooth operator. The Dane is probably, in terms of textbook boxing, ahead of Froch; he's got better movement and he can put punches together better. But Froch has got an awkward style, which he's developed.
Then, after those opening exchanges, I expect the fight to follow the lines of their first contest, becoming more intense as it goes on.
Eventually they're going to have to lay it all on the line - and from that point on it's all about who is better in that kind of battle.
Tactics
In terms of Froch's tactics for the fight, I don't expect him to march out as he did against Lucien Bute because he has so much respect for Kessler - and rightly so, as he's a better fighter than the Canadian.
Froch surprised everybody - especially Bute - with his approach in that bout: doing nothing and then bursting into action with loads of punches, putting everything into each attack. Rather than trying to box carefully behind a jab he just pounced on him.
But, although I think Froch will again try to fight in bursts, he can't just charge into Kessler, who has proven his ability at the top level.
And make no mistake, Kessler isn't just in this fight for the money. He's had George Groves and Nathan Cleverly over in Denmark sparring with him which shows you this is a guy determined to win.
Toughness
A lot of people are saying Froch has more to prove, as he needs to avenge his defeat, but I don't see it that way. Kessler is boxing away from home and I think he realises he's the one up against it this time.
When he beat Froch last time, that was on the back of a defeat to Andre Ward. Kessler couldn't afford to lose again - and he delivered. That shows you he can perform when it matters and when the chips are down.
Also, I'm not sure how much longer his career has got to run - and he certainly won't want to end his boxing days with defeat in this huge fight.
That attitude will make him dangerous, but having said all of that, I fancy Froch to come out on top.
He has the momentum behind him and, if the fight comes down to sheer toughness, which I think it might, I reckon Froch will just edge it.