George Groves urges promoter Eddie Hearn to get him a world title shot
Last Updated: 25/05/13 10:00am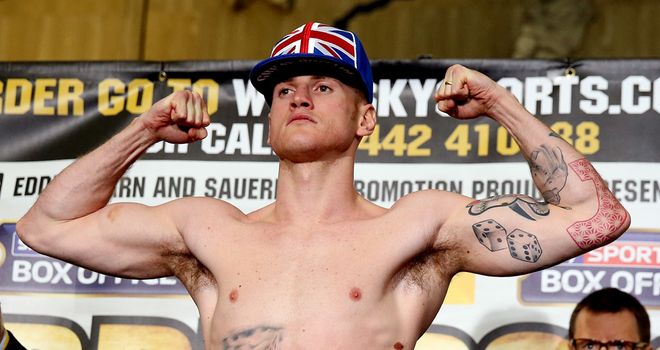 George Groves: is the chief support at the O2 Arena.
George Groves wants a world title next.
The 25-year-old super-middleweight believes a victory over Noe Gonzalez as the chief support for Carl Froch's rematch with Mikkel Kessler, will act as another step into the elite level in the division.
HOW TO BOOK THE FIGHT
VIA ONLINE
To book go to www.sky.com/orderboxoffice . There is no surcharge for online bookings.
BY SKY nnREMOTE
Press box office. Select sports and events. Use the arrow buttons to highlight the event. Press select and the buy screen will be displayed. nnPress select to confirm your orde. Enter your pin if prompted
BY PHONE
To order the event call 08442 410888. There will be £1 nnbooking fee for telephone bookings. There is a £5/5euros surcharge for bookings made via the phone from midnight, Friday, May 24 to midnight, Saturday, May 25.
Sky Box Office terms and conditions apply
Groves is expected to win live on Sky Sports Box Office, but is urging promoter Eddie Hearn to get him a shot at a world title next.
"This is going to be test and I need a test," he told skysports.com.
"But the biggest test after Saturday night will be what will Eddie deliver? He might be under the most pressure.
"Of course, Carl is for this huge fight but from my perspective Eddie will be under pressure.
"He's been moving up the rankings faster than any of his fighters and he's a serious promoter now. Eddie is doing great things for British boxing and he has promoted brilliantly.
"For me, that's why I am back at the O2 and that's why I am the chief support for a huge unification fight.
"It's a new chapter now I've joined Matchroom and Eddie has expressed a desire to promoter me correctly and he understands I am a talent."
Groves has had only 18 professional fights but is Commonwealth super-middleweight champion and was British champion after beating bitter rival James DeGale.
He had two fights in March after signing for Hearn and Matchroom and admits he is in a hurry to hit the top.
"Eddie is doing great things for British boxing and he has promoted brilliantly."
George Groves
And he has already said he will fight Froch or Kessler, preferably Froch as the winner, in the autumn.
"As much as anyone says you need more time or a couple more fighters, it is only really coming from the fighters I could fight," he said.
"I am ranked number one by the WBO, number two by WBA and three by the WBC, so there aren't too many in front of me.
"I have to take these fights like the one against Gonzalez. People who look him up will see he's a decent fighter but the risk-reward is what I want."