Rock 'N Crolla
Anthony Crolla could give Gavin Rees a tougher fight than many think says promoter Eddie Hearn.
Last Updated: 27/06/13 6:23pm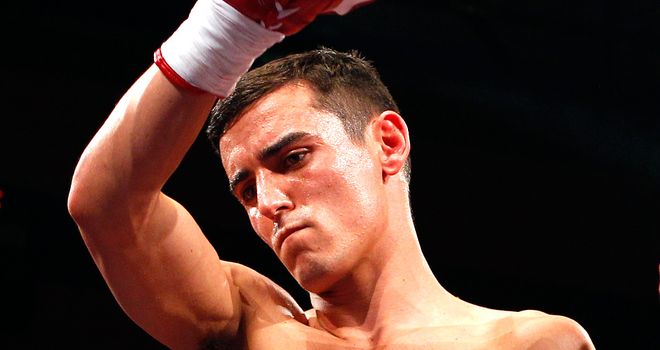 We've got a massive show this weekend at the Bolton Arena with Gavin Rees vs Anthony Crolla being the headline.
Gavin's the favourite but he has been in a lot of tough fights. I know Anthony has as well but he looks fresh and well and I think it's going to be a lot closer than people think.
I think it's going to be an all out war. It's the only way Gavin fights, but if Crolla can hang in there he can definitely cause some problems and he knows that if he can beat Rees, he could definitely fight Ricky Burns later this year.
At the end of the day, he drew with Derry Mathews. Derry gave Gavin a brilliant fight and it was close until he got stopped. A lot of people felt Crolla won his fight against Mathews and this was a fight that was supposed to happen a year ago, and stylistically it's a great fight.
It's not as if Gavin is coming off a win, he is coming back from a tough loss and so his bounce-back fight is against a kid who is European level, and is really hungry.
Most guys come back against an opponent who is basically there to make up the numbers. Crolla is here to get a world title shot so he is going to push Rees all the way and you don't know how Gavin is going to be after the Broner fight.
Scott Quigg returns against William Prado and has got a world title shot next, so I wouldn't be making a serious fight for him this time around.
He's coming back from a nine month lay-off but we all expect him to win. Prado will be game, tough and essentially be outclassed in the end, but it's all about blowing the cobwebs away and hopefully Scott can get some rounds in.
He's a future world champion and I'm hoping it goes as long as possible, but if he blows him away early it would send a good message.
You'll always get criticized but it's not top of the bill or even chief support, it is what it is and it's a comeback fight. I'm looking forward to see Scott perform.
Brian Rose had quite a tough fight last time but I didn't want to wait until September for him to fight again. Let's get him out, make a statement and try new things, experience more of the limelight and exposure and get him out in a big fight in September.
I think he was a little overwhelmed against Joachim Alcine but that was another level to what he's operated at before, and that's no disrespect to the likes of Sam Webb. Alcine has been around but he was bright and clever that night.
Sometimes it takes a while to find your feet on the big stage and that's why I wanted to get him out again, to experience another big show and continue to build him.
Paul Smith vs Tony Dodson for the vacant British title could be the fight of the night. At the first press conference they were quite pally but then today at the face-off I had to say 'right, that's enough lads' and they were still looking.
Basically the loser is finished. He has to walk round in Liverpool with that defeat and local rivalry brings a whole new element to a fight. I like both guys and I'm looking forward to sitting there and soaking it up. I'll just be enjoying the fight.
My head tells me Smith, my heart tells me Dodson. I think it will be about desire down the home stretch. I just hope Dodson doesn't get cut and that spoils the fight. There won't be any messing about in this fight, they won't be thinking about going 12 rounds. I think it'll be a tear-up and it could be over early.
Erick Ochieng is also out on the undercard and it's been a frustrating time for him. Until we won the bid for the Liam Smith fight he has been waiting for the British title shot and that's why I want to get him out and he'll have a nice six-rounder. I didn't want to go from March until September without a fight.
I think it's important to get some rounds in before the Smith fight and that will be a tough fight, Liam is a really good fighter so Erick's up against it.
It should be a great show and we're all looking forward to it.
Saturday fight night is live on Sky Sports HD1 from 8pm.