Dodging a bullet
Ricky Burns will go into his next fight in September with momentum behind him, says Eddie Hearn.
Last Updated: 17/05/13 10:04am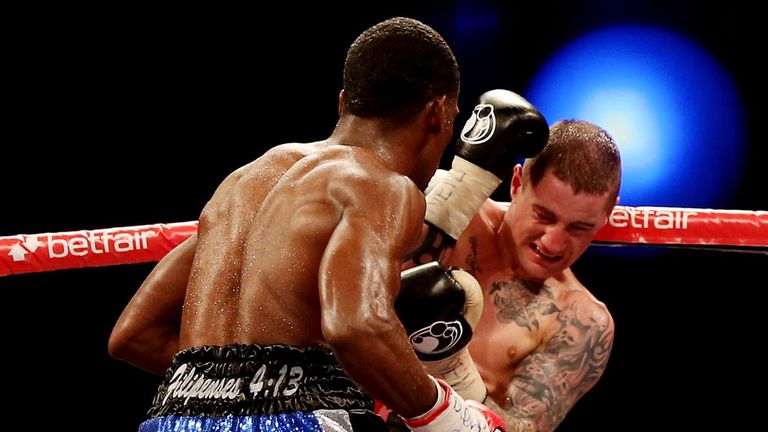 Well, what a night it was in Glasgow as Ricky Burns retained his WBO lightweight title against an exceptional challenger in Jose Gonzalez.
Sometimes I think you've got to understand all that goes on behind the scenes - Ricky says he wasn't rusty, but he definitely was. He hadn't boxed since September and he also over-trained in my opinion. He's been training solidly from October and with everything surrounding the move to Matchroom I think he was up against it.
He felt it didn't affect his preparation but it definitely did. But he also came up against a brilliant fighter in Gonzalez, who no-one knew how good he was.
When you get an unbeaten fighter from Latin American you just hope he's got a padded record and is not that good, but actually he was brilliant and it's only that he lacked experience and durability and that Ricky was so stubborn and fit that we ended up getting the win.
He obviously hurt his hand but at the end of the day when you're ahead in a title fight with three rounds to go you have to find a way, switch to southpaw or fiddle around and just try and share a round or two. Ricky was three points behind and Gonzalez only had to share one more round to be world champion.
But in that seventh round he just thought he'd hit him with everything and now he really felt it in his legs. In the eighth and ninth I was screaming at Ricky telling him he's gone, you could see he was ready to quit. It was unbelievable when he didn't get up because we were up against it.
You're going to get people saying that it was lucky but it wasn't, if Ricky hadn't have stayed in there in the seventh and come back at him he would have lost the fight. You've got to give credit to Ricky Burns. Sometimes you've got to win ugly and that's what he did.
He'll be out again in September and he'll have momentum, which is what I always talk about. He will fight Broner if he still wants it but you've got to have momentum going into it, and after being out since September he didn't have that this time. But the atmosphere was incredible, not just from the fans but the media as well. It makes you realise how much they care about boxing and Ricky Burns.
When you look around and you see people literally screaming for Ricky it's great, it's what you need. That's how you build the sport because people watch it at home and think 'wow, I want to be there'. Obviously the fight we want to make is with Miguel Vazquez and we've already been in talks with his team. Names like Yuriorkis Gamboa, Ray Beltran and Sharif Bogere are in the mix and we'll look to make an announcement in the coming weeks.
Purdy the puncher
We move on swiftly though and this week sees Lee Purdy take a shot at Devon Alexander's IBF welterweight title. Lee is in it to win it and all the old adages apply to this fight.
As long as you can see a way to win it's okay and the way Lee Purdy wins the fight is by knocking Devon Alexander out. He's a heavy puncher in both hands and is very strong and therefore is in with a shout. He's never fought anyone as good as Devon Alexander but he's not an idiot, he knows this is a huge opportunity for him and it's a total shot to nothing to change your life.
It's a fight he could never have turned down and why would you? Fighting in Atlantic City for a world title and a lot of money. He's not going to outbox or out-think Devon Alexander and probably not out-work him so he's got to stop him or knock him out. He's got to make it very uncomfortable and that's all he can do, rough him up and try to knock him out.
Of course Devon can punch but he's not a devastating knockout artist, so you'll see Lee trying to walk him down and land big shots. But it's going to be difficult and I'm sure he will be out-classed at times, however that may not be the end of the world if what you're trying to do is knock him out. Can he take Lee's strength and power if he gets hit? It's not rocket science. But it's difficult when you are up against someone who has operated at a level above you.
But it makes you proud as a promoter when you see this kid from Colchester stand on a stage in New York facing off on Showtime. It's cheesy but it's what dreams are made of and I would never count him out and I can't wait.
Straight after that fight on Sky we've got Lamont Peterson vs Lucas Matthysse. It's a brilliant fight. When we lost the Kell Brook (v Devon Alexander) fight I was gutted that we lost Peterson v Matthysse. So when the Purdy fight came through it was great for Sky Sports fans that they get to see it.
Matthysse has dynamite in his hands, Peterson is coming back and has still has his credibility questioned after the failed sample issue. But he's very effective and skilful while Matthysse can end it at any moment and is hugely avoided and I don't blame people for that. It's going to be a fantastic fight.
Preceding all that we've got another edition of Prizefighter and this time it's the cruiserweights. You always think you can name the winner and looking through this you pick out Neil Dawson, but at the same time you've got Wadi Camacho and Conall Carmichael from Ireland, and of course Shane McPhilbin.
There's a few people who are chinny and can whack at the same time so it's a great line up and a great night all round and I hope my £2k per stoppage doesn't come about, but at the same time I hope it happens as it means there'll be some great entertainment. We've got Larry Ekundayo opening the night in an eight-rounder after winning Prizefighter last time out.
Ambassadors
Obviously I couldn't leave this week without mentioning Carl Froch, whose fight with Mikkel Kessler is little more than a week away. I'm here at the O2 for the Premier League darts and one can only imagine the atmosphere there's going to be there on the night.
Not just that but we've got two great fighters and ambassadors for the sport of boxing. There's no animosity between the pair, don't get me wrong they want to beat each other, but at the same time it's just going to be such a thrilling and brutal fight.
They'll both come in with a gameplan but that'll go out of the window. They like to stand and go to war and I don't think there's a fight that's been so heavily anticipated for many years. It's a special night and they don't come around that often.
I think Carl's going to do the business. Both camps have gone fantastically but I've not known Carl to be as confident or in this great shape for a fight. I think he feels his time has come, this is his career-defining night that really sets him apart from the rest and what makes him a true great of all time in British boxing.
I just think he's so confident and I feel he's almost unbreakable. That's what his mentality is like. You don't want to stand in front of Kessler and take shots but this time I think he's capable of doing that if he has to, he's in the frame of mind that nothing's going to stop him. It's going to be a fantastic occasion for boxing.