Pressure on
Ricky Burns needs to come up with a big performance in Glasgow on Saturday says Eddie Hearn.
Last Updated: 10/05/13 3:58pm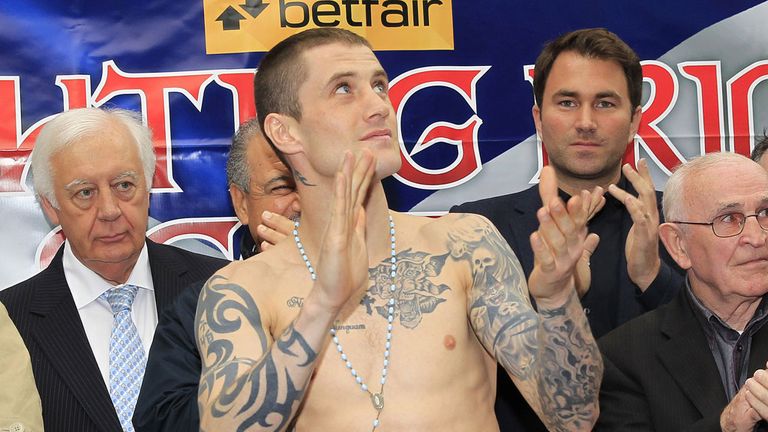 We're in Glasgow this weekend in our first promotion of Ricky Burns as he defends his WBO lightweight title against Jose Gonzalez of Puerto Rico.
It's great when you come to a town where there's massive interest and not just from the media. Every press conference, every workout, every promotion has been well attended and we'll have around 6,000 in the arena on Saturday night.
I've tried to build a card where a lot of the top Scottish boys are on and they are going to grow with Ricky Burns as we start a new era of boxing in Scotland. It's a very dangerous fight for Ricky and Gonzalez's team are very professional and they're here to win.
He's a mandatory challenger and this is their golden opportunity to basically have it off. As far as they're concerned they're going to win on Saturday and Ricky's got to go in there and put on a great performance.
He's not fought since September so he's chomping at the bit to get in there and the fans have been really responsive, there'll be another great turnout at the weigh-in and everyone's just excited to see Ricky back in action.
He's smiling all the time, very excited and just ready to go. It's been a long while out and another long camp but he's ready for it and I'm expecting a great fight.
If you look at the job us and Sky have done for Carl Froch I look at Ricky the same way - he's a down to earth, humble, hard-working professional who gives his life and soul to the sport.
Sometimes you don't need frills, sometimes it's enough to have a nice bloke who's an entertaining fighter who will fight anyone and that's how you sell Ricky Burns. But there's a lot of pressure on him, he's back on Sky on a big show at a big new arena and he's expected to win.
The undercard is an interesting one and everyone is going mad about the John Simpson vs Choi fight. It will be an absolute war for the WBC international title - you know what you're going to get with Choi, he's very entertaining and Simpson is too. People in the industry are talking about it as a potential fight of the year.
You've also got Stephen Simmons fighting Michael Sweeney for the Celtic cruiserweight title and Simmons in particular is seen as a future star to emerge from Scotland, he's very popular up here.
Our own Rocky Fielding fights Michael Nieroda in an eight-rounder and there are lots of future stars of Scottish boxing lower down the show. We are going to be coming back here very often so we need these other fighters like Jon Slowey and Michael Roberts to grow with us.
All being well Ricky will win on Saturday and be fighting again in Scotland in September and then we'll look again for him to back in December.
Earlier this week I was delighted to win purse bids for Billy Joe Saunders vs John Ryder for the British title, which will be a brilliant fight, and it makes sense for Erick Ochieng to fight Liam Smith as chief support - we've made Liam an offer - in a London show possibly on June 15. We'll hope to confirm that early next week.
We should also have some exciting news concerning Darren Barker - we've been in discussions with Julio Cesar Chavez Jr's camp and also Daniel Geale's camp regarding a big fight in the summer and we'll be making a big announcement next week.
Follow Ricky Burns vs Jose Gonzalez via our live and interactive text commentary on Saturday night from 7pm.