A welter burden
Eddie Hearn says Amir Khan will be in trouble if he steps up, especially against Kell Brook.
Last Updated: 12/05/13 1:08pm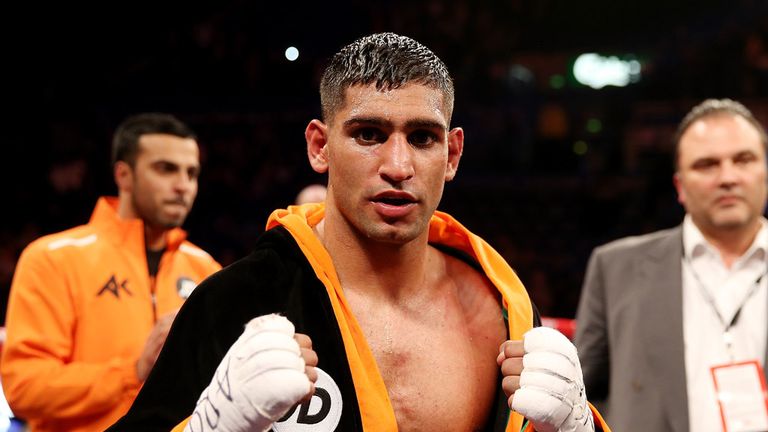 One thing you can always say about Amir Khan is that he's hugely entertaining because you never know what's going to happen. He's very susceptible to being hurt, especially by a left hook, but he's got a very exciting style - he's fast, he's a brave kid.
But I do worry about him at world level. Julio Diaz is a former lightweight who is coming to the end of his career. We matched him with Paul McCloskey 10 months ago, and he pulled out two weeks before.
He's a decent fighter but he's not up there with the likes of Danny Garcia and Lucas Matthysse and he's shown up Khan's weaknesses again. That said you can't take anything away from Amir, he's very entertaining to watch, but I can't see him ever being a force at 147lb because they will just walk him down and out-strength him.
Amir has achieved a lot, more than many will in their careers. But, he's not looking good when he's getting hit - and he's still getting hit. What he did very well this time was his response when he did get hit, he was holding and defended rather than going on the attack, if he did that against Diaz he would probably have lost the fight. But he's still getting hurt and by a light-puncher at the weight.
It was what it was, an entertaining fight, but I'm sure if Amir and his team were honest they won't be happy with what they saw because of the level of opposition. It's easy for me to say Kell Brook would do this and that but at 147lb Amir couldn't live with Kell Brook. That's not taking anything away from Amir - he's not a welterweight. There is no way that Kell could lose for that reason.
Devon Alexander might be a reasonable fight for him. Alexander can't punch that hard and if I was Amir's promoter I'd never put him near a puncher. He's been knocked out at lightweight, knocked out at light-welterweight - at welter it would be even worse for him.
You've got to match him very carefully and Alexander is one of the few fights you could get away with because he's very skilful but not a big puncher. It would make sense.
Kell is still mandatory for Alexander in nine months time. So Alexander could defend his title in a voluntary defence (providing he beats Lee Purdy on May 18) against Amir in the meantime. Should Amir beat Alexander then Brook would be his first mandatory. It's a nice little situation and they say everything happens for a reason, but there's a long way to go and I don't necessarily believe that fight will ever happen.
I'd actually like to see Kell fight Julio Diaz. Kell will fight in Hull in July and will probably come back in a 10-rounder to blow away the cobwebs. But I'd like to look at the Diaz fight for Sheffield in September and I think he'd destroy Diaz. It has to be a high-profile fight and the Diaz fight makes sense as it will show you what level he's at.
Limited
People are already talking about the possibility of our new signing David Haye fighting Tyson Fury later this year.
Fury is very entertaining but at the same time reasonably limited at world level. I think David would see the Fury fight as an easy one, for a lot of money. Tyson and his promoter Mick Hennessy may not be interested in that fight because it is high risk, but it's also high reward and that's what they have to look at. Fury could fight Kubrat Pulev next in a final eliminator and that's a very difficult fight.
Fury would get a fraction of the purse he would get if he fought Haye. It's a difficult time for Fury because he's shown some vulnerabilities but he's at a stage where to be taken seriously he has to have these big fights, where he could get beaten. And if you're going to get beaten you have to make sure you're well rewarded for the potential risk associated with a loss, and that normally comes financially. And that brings us back to David Haye.
The only place that would attract the kind of revenue to make that fight happen is on Sky Sports. It is a Box Office fight in my opinion and there is no other broadcaster that could deliver what you need to make that fight. But it's still early days and we've got to deal with Manuel Charr first.
I talked to his manager Adam Booth and stressed that I would love David to be part of the team. If British boxing is going to develop we need personalities and superstars like David Haye. My job is to deliver the best fights and the best fighters for my broadcaster, so to have David back on Sky is a major coup, both for Sky and for us.
It's a four-fight deal which solidifies our team and makes us a real force. The only thing we were missing was an association with a heavyweight so we're obviously delighted to be working with, in our opinion, the best in the world.
Audley Harrison retired this week and his statement was beautifully written. David made a very good point when he said that Audley achieved more in his career than 99.9 percent of people in the world. You have to understand that all he failed to do is win a world title. He won the European title and challenged for a world title and failed. He wasn't necessarily good enough to win world titles, there was just something missing in his DNA to be an elite level.
I would never accuse him of lacking the heart, just sometimes a lack of mental toughness. It's very easy to criticize, but anyone who gets in the ring with 18st huge pounchers has to have heart and bottle. Unfortunately, Audley talked himself up so well that he put himself on a pedestal to be knocked down, and he did it in the Haye fight and the David Price fight and against Deontay Wilder.
But when he dropped down to the Prizefighter level he looked good and he was a European level fighter, not world level. But he had a tough upbringing and didn't lace up a pair of gloves until he was 19. He got a degree, became an Olympic champion and fought for a world title. He achieved an unbelievable amount, but unfortunately the game he played he had to deliver, and he didn't.
He's a wonderful bloke and if you met him you couldn't dislike the man. Everything he said he believed, it wasn't like he was a con artist - he believed it all. Unfortunately it's one thing talking about it - if you haven't got the ability to do it, it doesn't matter. But he brought a lot to the sport and I think we should celebrate Audley - there will be critics but he is a nice bloke who did bloody well for himself.