Time to bloom
Brian Rose needs to win well on Saturday to prove he is up to a world title shot, says Eddie Hearn.
Last Updated: 18/04/13 8:57am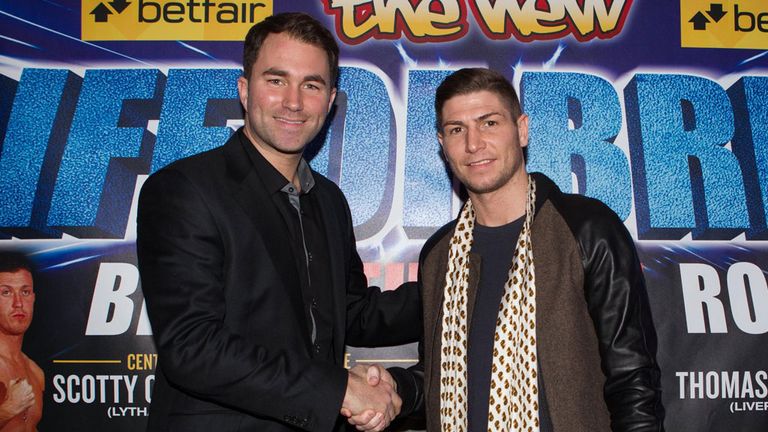 On Saturday Brian Rose takes on former WBA light-middleweight champion Joachim Alcine at the Winter Gardens in Blackpool, his first step on the road to finding out how good he really is.
He's taking on a former world champion who is very clever, very knowledgeable, has been around a hell of a lot and doesn't see any reason why he can't beat Brian Rose. It's time to find out how good Brian is and I think Alcine will do that.
Like Brian, I want to see the best Alcine because I want him to be tested, of course I want him to win, but if he's good enough he will win. Alcine is delighted to be back at light-middleweight after being knocked out by Matthew Macklin last year.
I'm expecting Brian to win but sometimes it's how they win that's important. If he struggles, he's not ready, if he boxes beautifully and wins well he could be ready for that world title fight. Alcine is very placid, I'm sure he won't be fazed by the Blackpool crowd, and he just believes Brian hasn't achieved anything yet and of course there is an argument for that.
He's beaten some good opponents domestically but they're nothing like what Alcine's been in with, and I think he looks at Brian's record and thinks 'why not'. He will be motivated by getting the WBO inter-continental title and getting back in the top-10 in the world and another big payday. If he can come off another big win he could be looking at a title shot. So I'm sure he'll be well prepared and coming to win.
Talent
Lee Selby defends his Commonwealth title against Corey McConnell, a game Aussie who is going to come out all guns blazing and he's going to run into the brightest British talent.
I'm so excited about Lee, he's a phenomenal talent. I don't know what it is about him, he's got so much skill, inner confidence and belief and in my opinion he'll be a world champion within 12 months. There's a lot of pressure on him on Saturday and he's expected to beat McConnell. Corey has never lost, he thinks he can win and has very fast hands, is all action, but unfortunately for him I think that will play into Selby's hands.
In our third live fight we have Scott Cardle and Maxi Hughes which I think you could see the fight of the night. You've got two undefeated young fighters coming together which you don't often see.
Scott's boxed 10 times in a year and has had the perfect education, and he's ready for the first acid test of his career. It's a must-win for Scotty but sometimes you need that test, fighting four and six rounders it's very easy to switch off but Maxi Hughes has got a real chance to win and if he's not on his game then everything we've built up with Scotty will be blown.
I'm really excited about the fight because there is so much at stake for two young prospects. He's been sparring with Terry Flannigan, and it's been going great. And for Maxi Hughes, victory all of a sudden could land him a British title shot.
As Matty Askin said himself, it's win or bust in his fight against China Clarke which is live on the red button. Clarke was involved in a brilliant fight with Wadi Camacho last time, while Askin, touted once as a promising young fighter, has got a lot of talent. But Clarke is very awkward and can punch a bit so it's another 50-50 fight that can go either way.
Blow
>
The news regarding Kell Brook earlier this week was totally devastating for all concerned. What happens now we'll have to see. Golden Boy and Devon Alexander will have to go down the IBF rankings for his next fight, Kell will remain the No 1 mandatory but will have to wait nine months for his shot. In the meantime, the next in line is Jan Zaveck, who won't be ready after fighting quite recently, and then there's Rafal Jackiewicz, who Kell beat in six rounds.
I've told Golden Boy Kell needs five to six weeks. Nobody wants to see the Jackiewicz fight, so there is a slight glimmer of hope that it could be re-scheduled again. It's a brilliant and interesting fight and I hope it will happen. Alexander will want to fight, Kell is desperate to fight. They may ask for a voluntary defence but I doubt if they'll get it. I hope they'll wait and give us another shot.
Next week we'll be announcing another new signing, a great young fighter and one who I'm very excited about.