Memories of Michael
Michael Norgrove's death has shaken boxing, says Eddie Hearn, but the sport is as safe as it has ever been.
Last Updated: 11/04/13 6:39pm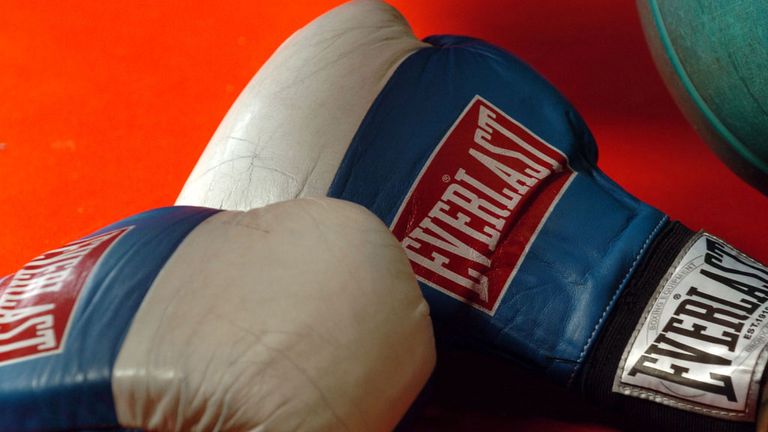 This week I want to reflect on the sad death of Michael Norgrove at the weekend, nine days after he collapsed in the ring midway through a small-hall show in London
The sport of boxing will come under criticism again, but the measures that the board have taken in recent times are making the sport safer than it's ever been.
Michael apparently collapsed without taking any serious punishment, so it's difficult to know when the injury came about - but we mustn't forget that just because it happened on a bill that wasn't high profile, the loss means a great deal to everybody - obviously Michael Norgrove's family but also the sport of boxing.
It's at times like this in a sport as unified as boxing where people come together. When I heard the news I felt sick, I'd never met Michael Norgrove but I was just devastated. You wouldn't have known what he'd put into his career and what the sport meant to him.
Every fighter understands the risks, rather like motor racing, you know what the risks are but you put them to the back of your mind, that something like that will never happen to you.
As harsh as it seems these people do give their life to the sport and are that aware of the consequences that it's hard to understand the passion that fighters have for the game, and you know that every fighter who heard last week's news would have been shaken to the core.
We must never forget any boxer who has been fatally injured in the ring, whatever the level. Michael was an unbeaten prospect but it doesn't matter if it is a world champion or a journeyman, it's still the same loss of a life. Everyone in the sport should make sure Michael is not forgotten, he was a great talent and you've seen a lot of the Repton Amateur club boys like Darren Barker come together.
I do feel that the board have taken great strides to improve response time and facilities and are constantly reviewing and improving the safety of the sport. I do think they are very proactive in that area.
Kieran Farrell, who collapsed after his fight with Anthony Crolla last year, would have been devastated to be told he can no longer box, but then an injury like Michael Norgrove's comes along and you realise that Kieran was the lucky one.
When you see the response time of the paramedics and their work around the ring, the care and attention that they gave Kieran Farrell could have ultimately saved his life. Getting in that ring as quickly as they can is the difference.
Risks
But the news shook the community because you know there are so many fighters who give their all. And of course it will bring up that argument of should boxing be allowed, and there will always be those arguments.
But fighters and everyone in the sport knows the risks, and whilst the board continues to make the sport as safe as possible these incidents are isolated. But every now and again it makes you realise how serious this sport is.
Again I do think the board is doing a great job. I think the response time is so important and now you see the paramedics in the ring even when they are not needed, and you never used to see that. I don't know the medical side of things but it seems those first few moments are crucial.
The role of the referee is very important and British referees in particular are more responsive to stopping a fight sooner rather than later.
I appreciate that sometimes fans don't want that but I think the referee will know when a fight should be stopped. When you're that close to a fight you can tell in the body language whether a fight should be stopped.
The referee is pivotal and critical to the safety of fighters, and everyone can criticise referees for stopping it too early but at the end of the day if he stops a fighter from taking serious punishment then I'm happy with that.
Longevity
A great example of that is Gavin Rees and Adrien Broner. He lost the fight but he never got hurt. He was stunned and he was shocked but Gary Lockett threw the towel in.
Gavin is so brave he would have stood there all night trying to fight Broner, but it's when you realise you've lost the fight getting that timing right is not only important for the safety of the boxer, it's important for the longevity of the fighter.
The next day Gavin said it was almost like he hadn't been in a fight - he wasn't hurt in the slightest. It's those nights when you take too much damage, too many shots that will affect you long term and they are the incidents that shorten your career.
So the referee is very important but so too are the cornermen, and that's why I'm never disappointed to see a towel come in because they know a fighter better than anyone.
You rarely see a British referee allow too much punishment before stopping a fight. You do get the occasional one where you think he might have stepped in one punch too early but generally they don't.
And fans have got to realise there's nothing brave or clever about taking five or six more shots than you should. Sometimes the corner has to be brave enough to say 'we cannot win this fight'. And that was what happened in the Rees-Broner fight. They are the smart corners who help to prolong a fighter's career.
Another good example is the stoppage of Wayne Reed against Rocky Fielding last weekend. He gave it a great go, took a few shots but didn't get hurt. It was a good fight and everyone was happy, but Wayne can come again as he's still Central Area champion. If he was badly knocked out it could have ended his career.
Let us hope that if it has to happen, it's many, many years before another boxer gives their life in the ring.