Take two
Eddie Hearn thinks Tony Bellew should get another chance to beat Isaac Chilemba after their draw.
Last Updated: 05/04/13 11:16am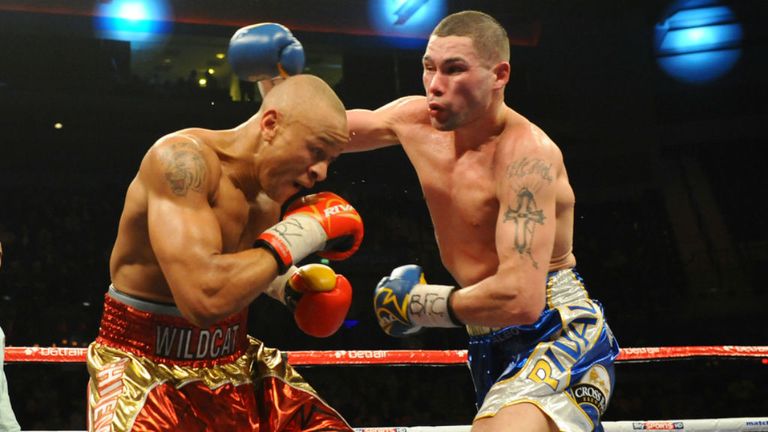 It was a fantastic night at the Liverpool Echo Arena on Saturday. Anthony Crolla v Derry Mathews was great, Tony Bellew was disappointing but Rocky Fielding was entertaining and it was a super atmosphere in there.
When you talk up a fight as well as he does there's always a huge amount of pressure on you to deliver. Tony's still inexperienced, still learning and the problem is he's in the deep end of the light-heavyweight division.
He was thrown in deep against Cleverly and against Chilemba, a high level of opposition where if you're not on your A-game, you're not going to look great.
Tony was disappointing at times because after the first four rounds he looked quite domineering, when he backed his opponent up and used the middle of the ring he looked like he was in control.
In the middle rounds he decided to take his foot of the pedal and it gave Chilemba a bit more heart and belief to have a bit more confidence. Then it was Chilemba who took the centre of the ring and when he did that Tony looked uncomfortable.
Chilemba is awkward and slick, so I preferred it when he had the rough and tough mentality of backing him up, throwing a lot of punches and working on the inside, wrestling in clinches. I felt if he'd kept his foot on the gas he might even have got him out of there.
It was a difficult night and I know the fans won't have a lot of sympathy for him, but it's a lonely place when you step out of the ring and all you see is criticism.
You could have made a case for him winning the fight, I thought he just nicked it, but at that level and fighting for a shot at the world title, it's not enough to nick it - you've got to take it - he had the opportunity and he didn't perform, and that stays with you. You've got to deal with the interviews, forums, twitter and everyone's saying the same thing - you blew it - but he didn't, he drew, although the difficulty now is that it's not a fight people want to see again.
I still think it's quite interesting though, and I'm already in talks to make it on the Froch v Kessler undercard, and I think I might be able to get it done. Both of them want the fight, it's just a question of timing. But if we can get our way you'll see Bellew v Chilemba II on May 25.
Sometimes I think Tony uses up too much energy before the first bell goes. But you've got to find a way to win and I just don't feel either of them did enough to deserve the win. But hopefully we can move on, do it again and get a different result. We're still number one with the WBC so nothing's changed in that respect. We are in a great position but reputation-wise we've got unfinished business with Chilemba, and the best thing to do is go out and deal with it.
Tony showed on Saturday that he's not in Dawson's class but styles make fights, he certainly needs more experience and maybe it is a blessing in disguise, maybe he can go and blast out Chilemba and then fight Dawson. He's an engaging character, he's usually great to watch and he's got a lot to offer. As long as he learns from it, it's an exercise well worth the time.
Approach
Over in Monaco, middleweight Gennady Golovkin proved his devastating power once again by knocking out Nobuhiro Ishida. Golovkin is a beast, and nobody wants to fight him. Obviously people will fight him if the money's right but he's definitely one to avoid. Top Rank have approached us about Darren Barker to face Julio Cesar Chavez Jr on June 22 and that's one we're definitely interested in.
We'd be keen to make it as close to 160 as possible, they've talked about a catchweight but we want to take that fight as close to the middleweight limit as possible. It's a fight Darren believes he can win and he's at the stage of his career where he's got to take those big fights. Of course it's going to be tough out in Texas, but it's a fight to put him back on the map on the world stage and it would be a huge occasion on HBO.
We're waiting for a big fight and the ones we want are Chavez, Peter Quillan, Dmitri Pirog, Macklin, Murray, Lee - any of those, Darren will grab them with both hands.
I was keen to make Andy Lee vs Craig McEwan in Glasgow but I don't think that's going to happen. Darren is ready for Lee now but I think his trainer Adam Booth wants a couple of fights to work with him and improve him before he steps into a big fight like Barker.
Obviously you've got Murray, he's right up against it with Martinez and if he doesn't win the Barker fight is in play. These fights take time and I know fans get frustrated but everyone's working behind the scenes to make them happen, but it's all about timing.
We've got loads of guys on the shortlist for the Froch v Kessler undercard and we'll be making some decisions over the next week or so, but with Bellew-Chilemba becoming a possibility that will probably freeze out Barker because there's no fight for him at the moment really other than a 10-rounder to keep him busy. But that's not ideal at this stage of his career, so we've got to somehow make those big fights. It will come to a head, but it just takes time. It's not really gelling right now, but it will.