Time to deliver
Terrestrial TV still has a role to play in boxing if it's done right, according to promoter Eddie Hearn.
Last Updated: 19/03/13 6:46pm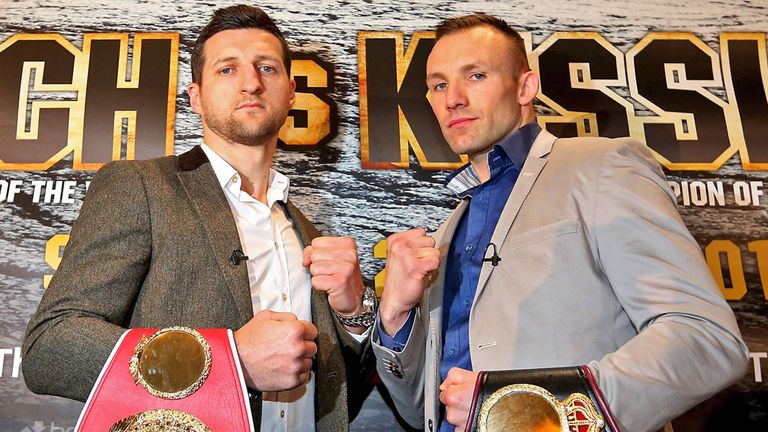 In the last few days discussion in boxing has centred on the broadcasters, with HBO and Golden Boy going their separate ways across the pond and rumours this side of the atlantic that Channel Five are withdrawing from the market.
I think terrestrial TV is important, but for me the importance lies with having the number of dates you need to fulfil your stable's demands and to develop fighters in the right way. I don't think there's been that kind of opportunity on terrestrial TV for a long time.
If you're talking about a stable like us with over 20 fighters, to receive up to five shows on terrestrial per year is just not enough. You can't give them the fights they need or develop them in they way you want.
No-one can deny the numbers that a terrestrial broadcaster will deliver, but what you need is regularity for your fighter and a broadcaster that is committed long-term to the sport, not just taking an interest for two or three shows. You need someone with the same kind of plan and strategy as you to develop those fighters on that specific channel.
There are a number of reasons why it doesn't happen. Firstly, I don't think the
numbers add up for a lot of these stations. To give away a slot at nine or 10 o'clock on a Saturday night, it's still not delivering what you want from a peak time. So it's affecting your advertising, your revenue, and with the rights fees involved the numbers are just not working.
And as well, the ups and downs with injuries, withdrawals and cancelled shows, these are things that demoralise heads of sport and broadcasters, and Sky have suffered with this over the years. Everyone can lose faith in the sport and you've got to be able to counter all that can go wrong at the last minute by getting foreign content or making another fight, always be thinking on your feet.
It's difficult for these big broadcasters to publicise these huge events only to see them fall through and unfortunately that's the nature of the sport.
I think ITV have been a big player, it's not on their agenda and it's certainly not on the agenda at the BBC. Channel Five are rumoured to be pulling out but I'm not sure what strength those rumours carry. I don't think they've got a long-term plan though, and the only broadcaster giving long term commitment to the sport is Sky, other than BoxNation which is a niche channel. At the moment they are the only long term players although with the imminent arrival of BT, I'm sure they will be interested in taking boxing content.
Contingency
We've got a lot of work to do in boxing to make the sport attractive to broadcasters. That includes building stars and personalities, viewing figures and getting a format in place where if fights do fall through you do have a contingency plan and you can save the day. I think too many promoters pull the plugs on shows rather than see it through.
You've got to think on your feet. Shows are so big now that fighters are being paid to stand by, to make the weight and be ready to step in. Froch vs Kessler is a good example, if one of those got injured it would be a disaster. It can happen but it's unlikely, so you need to have ideas of what you do when it all goes wrong.
Broadcasters have spent too long rolling their eyes and tutting about boxing in terms of being let down. To come up with those kind of solutions can impress people and you need to show that side to your game and to come up with ideas to solve last minute problems. It can kick you in the nuts sometimes and you just think - why? It happens but with anything in life you just get used to it.
Over in America there's been a storm brewing for a long time and I think the Mayweather move from HBO to Showtime was the last straw. Golden Boy have got a strong relationship with Showtime and I think perhaps 80-90 per cent of their content was on Showtime anyway, and moving such an asset like Mayweather over would have prompted HBO to sever ties.
Reading between the lines it seems there's quite a bit of animosity between Oscar De La Hoya and HBO, but sometimes a promoter will have their allegiances with one broadcaster - it's certainly not standard to work with two or three. It doesn't happen in the UK so I did see that coming, and so HBO will have to forfeit Broner, but I'm sure they've got their own strategies about who they want to build next.
I think it's probably good news for European promoters as well, because there is the opportunity to pick up quality content from Europe, particularly Britain, relatively cheaply. Froch vs Kessler will be on HBO, and they will pay a fraction of the fee they'd pay for a big American fight.
I think Golden Boy are happy to put all their eggs in one basket with Showtime and I think HBO decided enough was enough and they'll have to put a new strategy together. It's certainly an historic landmark in American boxing, it will change the landscape with other promoters clamouring for HBO dates, as they would here.
These situations are a given in the sport. Tyson Fury and David Price is a classic example. If Fury loses to Price, Mick Hennessy is in a terrible position with Channel Five - he hasn't got his star fighter anymore. And the same would go for Frank Maloney.
Obviously I want my fighters to box on Sky - Frank Warren wants his to fight on BoxNation. It's very simple. Sometimes you'll find common ground but it's nothing new in boxing, and I think a lot of the time it will add to the comptetitiveness of the promoters, making them try harder for their broadcasters and their fighters.
People are making a big fuss of my relationship with Frank Warren, but it's a good thing as it's going to make us both work harder and try to put on better fights, which is a good thing for the fans I think. If the money's there, fights will get made anyway so it all comes down to money at the end of the day.
Things are tough, boxing is still not in a place where we need it to be, and when it is you'll see a lot more broadcasters interested in taking the sport on. But we've got a lot of work to do to make it as attractive as it used to be.