Payback time
Eddie Hearn is on a mission to ensure promoters pay boxers their dues - or face the penalties.
Last Updated: 12/03/13 4:40pm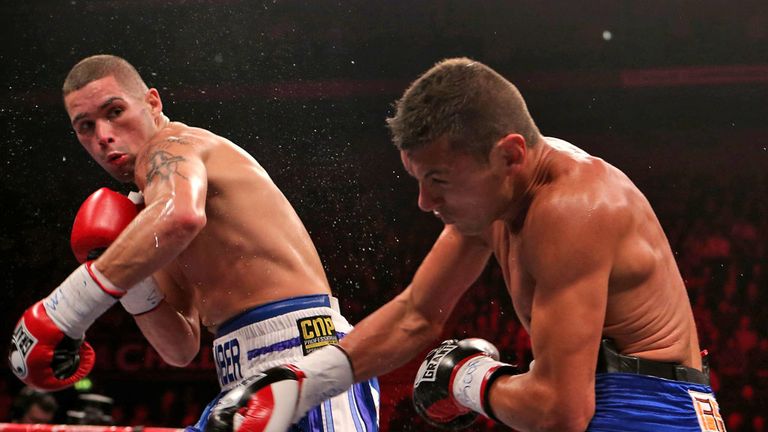 For my first column I want to address the issue of fighters not being paid by their promoters, as I believe it's time for the British Boxing Board of Control to act. All I'm hearing from fighters is that they're not getting paid within the regulations.
Every promoter and manager has to abide by the board's green book, which clearly states that if a fighter receives a purse of £3,000 or less, they must receive it on the night of the bout.
Anything over that must be paid within seven days. However, there's hardly any fighters getting paid within the seven day period, and I just don't understand why the board don't act.
I've been urging fighters to stand up for themselves. They go through a 12-week camp, put themselves and their livelihood on the line in the ring, and they deserve to get paid immediately - not in five or six months.
There are so many cheques bouncing at the moment and it's time those promoters were exposed. It's got to be a level playing field. This is important for fighters but also for promoters.
Only now are fighters starting to stand up for themselves. It's been going on since I've been involved but it's getting worse and worse. I'd rather not be involved in the sport than let this go on.
Fighters are being abused and it's disgusting that promoters think they can let a fighter go through camp and not get the money for three or four months. I'd rather walk away from the sport than be involved in a sport that encourages that.
It's all very well for the board to say they are dealing with it, but if they are finding out that fighters are not getting paid and there are problems, what are they doing about that? Any promoter that is not abiding by the rules and regulations need to be punished.
I'm calling for any promoter who is not paying their fighters, or bouncing cheques on their fighters, to have their licence removed or suspended by the board of control. It's the only way around it. If you can't afford to pay a fighter, don't tell him you pay him - tell him you'll give him a smaller purse.
I spoke to (board secretary) Robert Smith and I've written to him. I said if you don't expose the promoters then I will, or I'll get the fighters to expose them. It's not on, it's disgusting. But finally the fighters are going to the board and starting to complain.
If you can't afford to pay the fighter you shouldn't be in business. It's as simple as that. If we've got a proper governing body they've got to ensure this type of thing doesn't happen. This is a pivotal moment for the board because they need to act, and if they don't act then they're not doing their job.
Also, if they don't act there is a chance they could put themselves in a difficult legal position where a fighter could sue the board for not acting the right way. Their primary concern must always be to abide by the rules and regulations within their handbook.
Robert Smith is actively looking to recover money that is owed to fighters, but once they've recovered that money what is the punishment to the promoter? They've broken the rules, it's not a case of 'it's okay now we've got the money', what is the punishment going to be? It has to be to remove the licence of the promoter that doesn't pay within that period.
Any promoter that's bouncing cheques to their fighters should be immediately stripped of their licence. There are a lot of unhappy fighters out there that are not getting paid. It's all I'm hearing. It's rife, and it's giving the sport a bad name.
Exciting times
Our next show is on March 30 in Liverpool and it's going to be very exciting. Tony Bellew has been out in America sparring the last few weeks, he was at the Hopkins vs Cloud fight he's been looking fantastic apparently.
Isaac Chilemba really fancies his chances, Lou DiBella is coming over and they want to have a big bet with me as they think they'll beat Bellew. Everyone's looking forward to Crolla against Mathews of course, and the Rocky Fielding - Wayne Reed field is a really good match-up.
We also have Callum Smith, Scotty Cardle, Tom Stalker and Kal Yafai on the undercard. I just wanted Yafai to have a little rest. He's been boxing every month and I wanted him to have a little rest. I'm going to drop him down to super-fly and we'll see how he gets on. He could clean up there domestically and even fight for a world title once he's in double figures fight-wise. We'll see how easy he makes 8st 3lb and take it from there.
The bigs news from across the pond is that Adrien Broner will next fight WBA welterweight champion Paul Malignaggi. It's fascinating. You're talking about a guy who was at super-featherweight, moved up to lightweight and now they're talking about challenging for the 147lb world title. I would think if they do agree the fight it will be at a catchweight.
But the problem you have with Malignaggi as a promoter is that I don't believe the broadcasters want a guy like Malignaggi (32-4) to headline a show, so you can't pay him the money he wants, so therefore you have to match him with someone like Broner to give him what he wants. But I think he (Broner) will eat him for breakfast.
And while we're on the subject of Broner, the first thing our new signing Ricky Burns said to me was that he really wants the Broner fight. I told him I'd him I'd seen him first hand and that he isn't half good! I'd want him to go into that fight with some momentum, so we want to get a solid defence out of the way before possibly the Vazquez fight in September.
But who knows where Broner will be, he might stay at light-welter and move through the weights, but I want to build Ricky in Scotland and maybe we can bring Broner over. For a fight like that home advantage would be massive. But I definitely think unifying the division has got to be the long-term aim for Ricky.