Froch-Groves II: The panel consider which each man will have learnt from their first fight
By The Panel. Last Updated: 22/05/14 8:37pm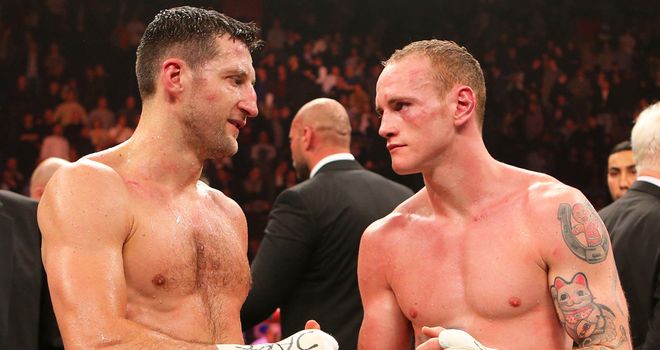 Froch and Groves: What will they have learnt from their first meeting?
skysports.com: What will Carl Froch and George Groves have learnt from their first fight - and how will that affect their preparations for the rematch?
JOHNNY: The first thing Froch will have learned is to respect George Groves! Before that first fight he didn't have any respect for his challenger and that was almost his downfall. He still got the win but he was floored in the first round and Groves gave him real problems throughout the fight.
Froch had no fear going into that fight. While you would think that is all you need to be a successful world champion, it is the last thing you need! Froch wasn't worried about getting hit by a right in the first round, like Groves had predicted. He didn't believe it simply because he didn't think Groves was good enough and just thought his challenger was full of it. Now he has that respect for him and will be wary not to let those rights do all the damage again.
GLENN: I think it's hard, though, Johnny, for Froch to keep his cool when he comes up against Groves. I chatted to him in Stuttgart after their fight and I always call it as I see it, so I asked him why he let Groves get to him. He said: "I know, I know. I wanted to smash his face in and yes, he really got to me - even though I said he didn't." I said: "So that's good, you must have learned?" But the very next time we saw him on TV, a couple of weeks later, he was trying to ridicule Groves. It proved that just the sight of Groves winds him up good and proper.
"Froch can't be cool, calm or collected around Groves. Just the sight of Groves winds him up good and proper."
Glenn McCrory
Froch can't be cool, calm or collected around Groves. His career stands on its own - he's been in with top, top, top world-class fighters and only Andre Ward has beaten him decisively - but he cannot be at his best against Groves. For the rematch he will be more focused, will be training harder and know how dangerous Groves can be but Groves will still wind him up.
JIM: Regardless of whether Groves wound him up, we all saw that Carl Froch didn't think George Groves was worth two-bob before that first fight. I remember saying during his ringwalk 'it's very, very dangerous to think your opponent is not in your league'. Rob McCracken would've got Froch as fit as he's ever been but if you go into the ring thinking you are a league above, you are going to under-perform and that is what happened.
The major difference in the second fight will be Froch's attitude - it will be right this time. Froch is expecting a hard fight - physically and mentally - at Wembley.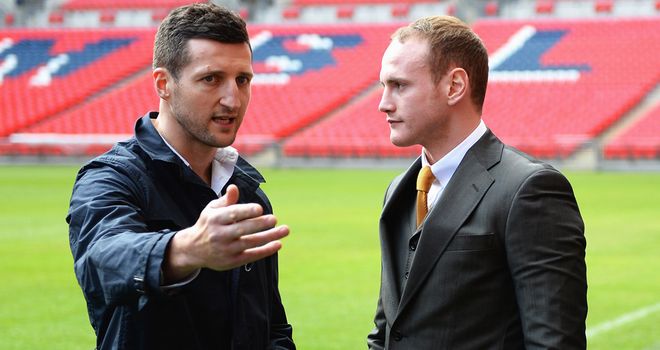 JOHNNY: It's not all about Carl's changing attitude, though - George has taken SO much belief out of that first fight. Yes he was confident in his ability before but now he KNOWS he can do it at a world-class level.
GLENN: There's no doubt about that. But I am still convinced that the best Carl Froch beats the best George Groves, so George has to think about what he does different tactically.
Whatever you say about the stoppage, Groves was standing in the zone for too long and there is no doubt that Froch was starting to get to him, so that is the first thing he has to try and avoid second time around. He made such a fantastic start he could - and should - have got on his bike for a few rounds. I know it is easier said than done and I am sure he just wanted to smash Carl Froch out of there but he can't be drawn into a fight like that.
JIM: One thing I'm sure of is we won't see Carl Froch as bad as he was in that first fight. He badly under-performed. He was hurt in round one but from then on, he was caught by big punches all the way through. He was actually dominated on several occasions in the first six rounds but his natural toughness, his natural fitness and his natural stamina started to turn things around for him.
Froch is still good enough and young enough to bridge the gap and get closer to his opponent and close him down. That is where he had success first time around and what he'll be trying to repeat.
JOHNNY: Carl likes to learn the hard way, that's for sure! But that is exactly what he's done. Now I think he will be doing everything properly - because there is far more at stake than just his titles.
Book now
Carl Froch v George Groves II - Unfinished Business, is live and exclusive on Sky Sports Box Office and Sky Sports HD Box Office on Saturday, May 31.