Johnny Nelson, Glenn McCrory and Jim Watt on Carl Froch v Yusaf Mack
Johnny Nelson, Glenn McCrory and Jim Watt say Carl Froch will pounce on Yusaf Mack this Saturday.
Last Updated: 16/11/12 9:37am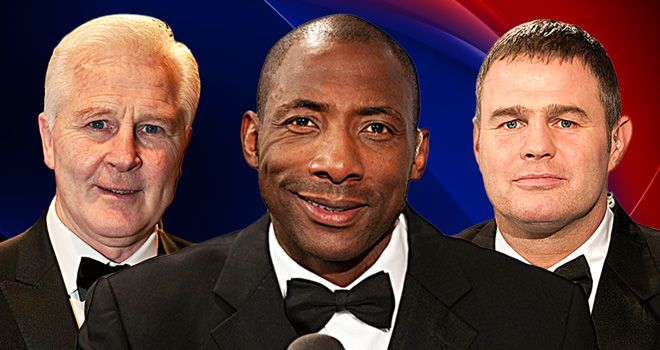 The Cobra dispatched Lucien Bute with an impressive fifth-round stoppage last time out and there is talk of lucrative rematches with the Canadian, Andre Ward and Mikkel Kessler in 2013.
But first the Brit must negotiate the challenge of American Yusaf Mack.
Despite facing the champion and his vociferous home-town crowd in Nottingham, Mack is determined to seize his world title chance.
You can see how the Cobra gets on live on Sky Sports 1 HD, but first read the predictions of our expert panel...
Jim Watt
Already a lot of us are looking beyond this fight to his return with Bute, but Carl is experienced and knows he can't afford to do that. He's given Mack a huge opportunity which Mack wasn't expecting to get. It's a challenge at a world title and Mack is going to give it everything he's got.
Mack has been stopped four times, but he's always been stopped in good company and in some of those fights he was doing well points-wise. He's got an exciting style, he takes chances and that's what makes it an interesting match.
However, the longer it goes, the more Froch's strength and class will take over. I can't make a case for Mack winning this one. I expect after the halfway mark Froch may start to hit him too often and stop him.
Glenn McCrory
Yusaf Mack is nothing more than a good honest pro but he is a big guy and can throw a punch, so I don't expect this to be an easy victory for Carl Froch. Plus, the public think he is the guy that the Cobra knocks off convincingly before he moves on to bigger things - and that makes him dangerous; Mack has nothing to lose and, therefore, will have a right good go.
Carl has had to get up for every one of his recent fights because he has been facing top-quality world champions one after another but Mack, whilst talented, is not in that class, so Froch's focus and intensity MAY drop - and if it has, even for one second, or of he believes it will be simple, it will be difficult to get back into gear.
I don't expect Carl to be as blistering as he was against Lucian Bute, though, as Mack could come at him wildly. I reckon he will be pretty cautious and gradually wear Mack down for the first five or six rounds and probably secure victory in the eighth. It won't be a procession, that's for sure.
Johnny Nelson
The danger is in underestimating Mack and thinking he's a pushover. We've seen so many fighters in the past who have made that mistake with a fighter they shouldn't really lose to. Carl's very focused, very professional but it's hard for him not to look past Mack and that is the danger.
Getting into that ring you need something to get you into gear and make your instincts tick. Carl was looking for any little thing in Mack to wind himself up and he found a few words Mack said when he came onto Ringside, saying he was a poor version of Joe Calzaghe. He picked on that and told Mack to say it to his face. So, maybe we'll see him try to beat Mack up, but he's not got to underestimate him.
Mack is tough, he's come down from light-heavyweight and I think he looks well at the weight - despite what some others say. Reports are he's looked well in the gym back in the States and I think he's come to put a good war on.
He's easy to hit, though, so it is all about how tough he is as to how far the fight goes. I wouldn't be surprised if it went the distance but if Carl boxes to the best of his ability this is a shutout and he'll stop him, it's a done deal. But if he leaves anything to chance or thinks this guy isn't at my level, that's when you make mistakes. I'm going for a Carl Froch late win, if not a points win.
More from our experts