A legend of the ring
Jim Watt, Johnny Nelson, Glenn McCrory and Barry McGuigan pay tribute to the late Joe Frazier...
Last Updated: 10/11/11 6:58pm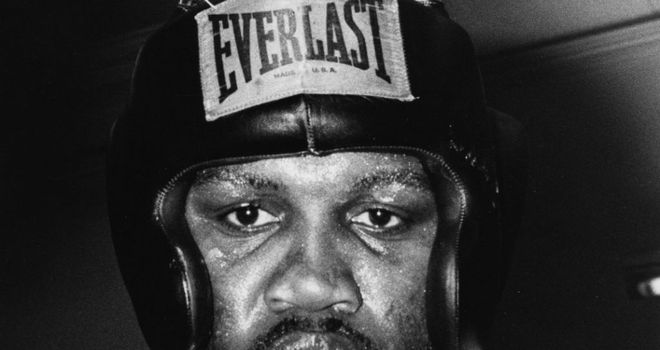 Smokin' Joe Frazier has passed away at the age of 67.
The two-time world heavyweight champion was best remembered for his trilogy with Muhammad Ali, including the Fight of the Century - which he won - and the Thrilla in Manila, which he lost.
His only four professional defeats came at the hands of Ali and George Foreman, but how will he be remembered?
Sky Sports' Jim Watt, Johnny Nelson, Glenn McCrory and Barry McGuigan react to the sad news and tell us what Joe Frazier will always mean to them...
Jim Watt
He's probably my favourite heavyweight. I don't think there's ever been a fighter like Joe Frazier, with his intensity and excitement and the pace he boxed at for 15 rounds. He was a phenomenal athlete and a phenomenal fighter.
Joe boxed in the 1970s, which has always been known as a golden era for heavyweight boxing, when everyone in the world knew who the heavyweight champion of the world was. There were so many great fighters in the 1970s and Joe faced them all. The only people to beat him were George Foreman and Muhammad Ali, a couple of great fighters, but Joe was a definite legend.
You knew when Joe Frazier was boxing you were going to get thrills for every second of the action, because of his non-stop aggression. He was a fantastic fighter; the closest we have seen to that style was probably the early Mike Tyson.
If Muhammad Ali was boxing in one room and Joe Frazier was boxing in another, I'd have gone in to watch Joe - I just thought he was fantastic. I'm not saying he was the greatest of all-time but he was certainly in the top five of everbody's list.
Joe was a warrior, a fighter through and through, Muhammad Ali was an entertainer. He knew you had to sell tickets, get pay-per-view buys, get people watching, so Muhammad could do the act and in the course of doing that act he did say some things to rile Joe up.
Some of the things he said about Joe were too personal and it's a pity because fighters who have had a trilogy like they had, have the greatest respect and admiration for each other when it's all over. But Joe could never forgive Muhammad and that's a greay pity. It got a little bit easier towards the end, but he didn't realise it was part of the act to sell tickets.
They fought three times and Muhammad won two of those, but skill wasn't enough to beat Joe Frazier, so it proved how brave Muhammad Ali was. If you're asking me who was the greatest heavyweight ever, I'd have to say Muhammad Ali. But Joe wasn't too far behind.
Johnny Nelson
Working in TV after fighting has been wonderful and I have got to meet many people, but the one regret is that we didn't get to meet Joe Frazier when we were out in Philadelphia last year.
We couldn't get our schedules to match up and apparently he was not in very good spirits at the time - and I do think there is a certain amount of sadness to his life after boxing. I hope I am wrong, but I remember seeing a documentary on him a few years ago when he was broke, living in the gym and still cutting a bitter figure.
Frazier was a fighter who had boxing in his blood. I always say most people take five years to get it out of their system once they've retired, but I don't think Joe ever got rid of it. I saw him put on an exhibition about 10 years ago and even then, it was clear he still fancied it!
A lot of that was to do with the things Muhammad Ali said about him. I think the Uncle Tom jibe, in particular, scarred him emotionally for life. People said the bitterness was dead and buried, but I am not so sure.
But that was Frazier. No airs and no graces. He couldn't laugh it off because he wasn't like that. He was a fighter, nothing else, and probably remained that way until his dying day.
He was also one of the history makers of our game and will always be remembered for that. If you talk about the greatest heavyweight fights of our time, then Joe was probably in it. He was the first man to beat Ali as part of that trilogy and then when that was done, he came up against George Foreman and got blasted in two rounds. He will forever be synonomous with the biggest fights of my lifetime.
People underestimate him as well, because as he showed in The Fight of the Century, he was far more than just a digger. He could box damned well, too. Just ask Muhammad Ali if Joe Frazier was just a slugger!
He was a history-maker in our sport and indeed sport in general. He was a proper, proper fighter and a real grass-roots fighter. There are only a few of those that come along - Mike Tyson being one - and that is what I will always remember Joe Frazier for. A guy that just lived for boxing.
Glenn McCrory
The nickname Smokin' said it all. He was always red-hot, always intense and you knew when you watched Joe that the action would be non-stop. He was like a rampaging bull; always on the move, he was always bobbing and weaving, always looking to land first and that left hook of his must go down as one of boxing's greatest shots.
He was not big either, but his spirit and attitude meant he could match bigger guys - and beat most of them. Every small fighter since, like Mike Tyson, has adopted the Joe Frazier style because it was the best way of compensating for a lack of inches. The ferocity he brought to the ring has rarely been matched and the way he put his life on the line to win a fight on more than one occasion, set him apart as an all-time great.
Had Joe boxed in any other era, he would have been the stand-out fighter of his time. It was just his bad luck to be around at the same time as Ali - or was it his good fortune? I say that because everyone needs something, a challenge or a comparison to bring the best out of them and Frazier did that to Ali. Yes, Ali was the greatest in my opinion, but I don't think he would have been without Joe to test him, and I am sure he will admit that himself.
Every rivarly needs a good and bad guy and it was just that that was Joe's lot. He wasn't into the talking, selling tickets; he was just a proper fighter who wanted to fight, wanted to do his talking in the ring. He didn't need gimmicks.
Joe was a pure fighter. Philadelphia is a fighting city and he is their most famous boxing son and epitomised everything about the place. Life wasn't easy and you had to fight to survive and Joe showed in his trilogy with Ali that it was in him to go beyond human expectations and give his complete and utter all to try and win.
They have a famous statue in Philly paying tribute to a boxer and it is a crime that it is the fictional character Rocky and not Joe Frazier. I am sure it won't be too long before that wrong is righted.
Barry McGuigan
I remember the greatest fight he had in Madison Square Garden in 1971, where he beat the recently-returned-to-boxing Muhammad Ali.
The feeling politically at the time was that he didn't care much for Ali and Frazier beat him convincingly, broke his jaw in the 12th round. It was a remarkable fight; his energy, his natural movement, the fact that I never saw a heavyweight work so hard and throw so many punches. It was a great era in the heavyweight division. You had Ali, you had (George) Foreman, you had (Ken) Norton and you had Frazier.
Smokin' Joe was a remarkable man and will go down as one of the greatest heavyweight champions of all time; 5ft 11½in, a ball of energy, a thrashing machine. He'd walk forward, hook to the body, hook to the head. I loved his left hook. And he was relentless, he was so resilient, he had so much heart and determination. Everybody loved him.
He was a huge inspiration. I met him as a young man a number of times, while he also watched me as a professional. He and his son Marvis used to send me messages and he once said: 'McGuigan, your left hook is similar to mine'. He was lovely, very encouraging and a great guy.
It's a huge loss to professional boxing and terribly sad because he didn't end up with an awful lot of money and lived in relative poverty in the last years of his life. But that's boxing: the stereotypical rags to riches to rags again tale.