US on the charge
American golf is building momentum ahead of the Ryder Cup, says Simon Verness.
Last Updated: 19/06/12 9:42am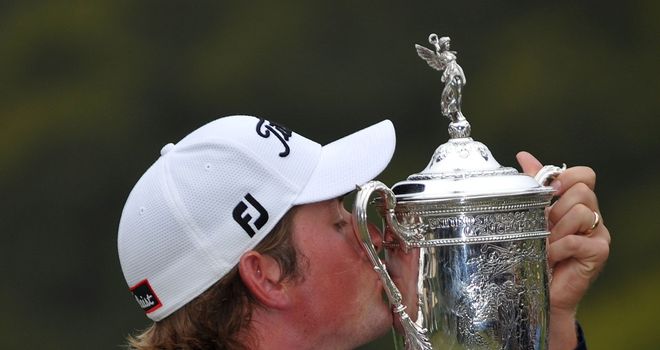 Whisper it quietly but the Americans are coming! And it sets the scene for a sizzling few months on the fairways and greens of Lytham St Anne's, Kiawah Island and Medinah.
With apologies to 'Chariots of Fire' screenwriter Colin Welland and his famous Hollywood promise that "The British are coming!" (which totally failed to happen after the film's 1982 Oscar success), there is that kind of feel - and sound - to the US golf scene in the wake of Webb Simpson's 'surprise' US Open victory.
I say 'surprise' advisedly as it may well be something of a shock to those on the UK side of the Atlantic, but it is anything but over here.
OK, there were probably 10 Americans in the rankings ahead of the totally likeable Simpson prior to last Thursday at The Olympic Club who you might have listed as 'most likely' to win a Major on recent form.
The likes of Matt Kuchar, Jason Dufner, Hunter Mahan, Dustin Johnson, Zach Johnson, Rickie Fowler, Bill Haas, Keegan Bradley, David Toms and Nick Watney have all been quietly - almost apologetically - knocking at the door of Great Sporting Achievement in the past year or so.
Simpson had enjoyed a transcendent 2011, losing out in the American tour money-list race only to the prolific Luke Donald in a thrilling final event of the season - the Children's Miracle Network Classic right here in little old Orlando.
But this season he had been left at the starting post, most notably by Masters champion Bubba Watson but also by Kuchar (two wins and a second in the run-up to last week), Dustin Johnson (a win and three other top 10 finishes), Zach Johnson (a win and two seconds) and Fowler (a win, a second and a fifth).
Simpson started the year with a respectable third place finish in the Hyundai Tournament of Champions in Hawaii, but some extremely modest form in the past two months - including two missed cuts - ensured his pre-Olympic Club profile was fairly low (along with most Americans not called Woods, Mickelson or Watson). That is a fairly major mistake for anyone to make in this era of the New Tiger and total golfing parity all round (witness 15 different Major winners in the last 15 events).
Because the essential lesson to learn - as several commentators over here have not been slow to point out since Sunday night - is that the US now has almost any number of genuine contenders for the big prizes and Simpson is really just the tip of the golfing iceberg.
Yes, Europe may still have numbers one, two and three in the world, but only one of that trio has actually won a Major (Rory McIlroy) and, if you overlook Woods and his 14 Majors (just for the moment), there are still another four Americans with big-boy titles to their name inside the world's top 25 (Watson, Bradley, Mickelson and Zach Johnson), against just one European (Graeme McDowell).
Ryder Cup momentum
Then you start to consider all three of the last Majors have now been won by players with the Star Spangled Banner next to their name and there is a certain momentum building up in Uncle Sam's camp this year - especially with the Ryder Cup awaiting at the Medinah Country Club in Illinois in September.
And, make no mistake, the rest of this year in golfing terms, including The Open next month at Royal Lytham & St Anne's and the US PGA Championship at Kiawah Island (ironically the scene of the infamous 'War on the Shore' Ryder set-to in 1991), is all just a rehearsal for another memorable Cup event, with the US grimly determined to wrest back the trophy they conceded by the margin of just one point in 2010.
Lest anyone forget, the American team under Paul Azinger was a dominant 16½-11½ winner the last time Samuel Ryder's competition was contested on their soil, and Corey Pavin's narrow losers of two years ago will provide some tried-and-tested matchplay combatants this time around.
The likes of Watson, Dustin Johnson, Kuchar and Fowler were all raw rookies in 2010, but have gone on to prove they belong on the biggest stages and they will be far more formidable opposition in September.
All four are likely to be shoo-ins (as they like to say here) when Davis Love III unveils his 12-man line-up, along with Woods (seventh appearance), Mickelson (ninth), Mahan (third), Jim Furyk (eighth) and Steve Stricker (third).
The streaking Dufner, who has roared up the rankings from 74 less than a year ago to the current No 8, could well be one of only two rookies on Love's team, giving the US quite an advantage in experience terms. Europe, by contrast, could have as many as four first-timers in the team if the Spanish contingent not named Garcia or Jimenez continue their upsurge.
American ascendancy
And that all adds to the growing feeling of American ascendancy in these parts, especially since Lee Westwood's coach Pete Cowen stirred the metaphorical hornet's nest last month by insisting Europe's B-team could still beat the best of Uncle Sam's.
You won't hear a huge groundswell of US saber-rattling at this stage (after all, Europe have won four of the past five), but there are certainly plenty of darts being thrown around to the effect that this is going to be America's year.
Several pundits have already insisted the balance of power has shifted back to this side of the Atlantic with Simpson's US Open win, and Love III has to be feeling quietly confident with the way this year is shaping up.
Which returns to Unlikely Lad Simpson, who I was fortunate enough to see at close quarters last November during his four-day duel with Donald at Walt Disney World, when the Brit finally came out on top with a final-round birdie blitz.
If there is a more unassuming and down to earth player on the circuit (not named Bubba Watson), then his reputation hasn't yet made it to this part of Florida, but suffice it to say Simpson isn't likely to be earning any code violations or tabloid headlines of the salacious variety.
In fact, with caddie Paul Tesori, they form possibly the most calm and polite duo to have walked the fairways in many a year. I remember one conversation with Tesori last November that didn't quite end up with him saying "Well, shucks, I guess my parents done bring me up right," but it was pretty close.
It was a distinct eye-opener in today's world of me-first stars and the 'advisors' who enable them and the only sad note is that we are unlikely to see the pair of them in Lytham as Simpson has already promised to stay close to his wife, who will be 8½ months pregnant come Open tee-off time.
But, if he is also the epitome of the new breed of US golfer - and a clear testament to the renewed strength in depth on this side of the pond - then the Americans will definitely be coming. And they will be hard to keep at bay.