Glenn McCrory previews Gavin Rees' fight with Anthony Crolla
Glenn McCrory says Gavin Rees' long career could catch up with him against an improving Anthony Crolla.
Last Updated: 30/06/13 1:09pm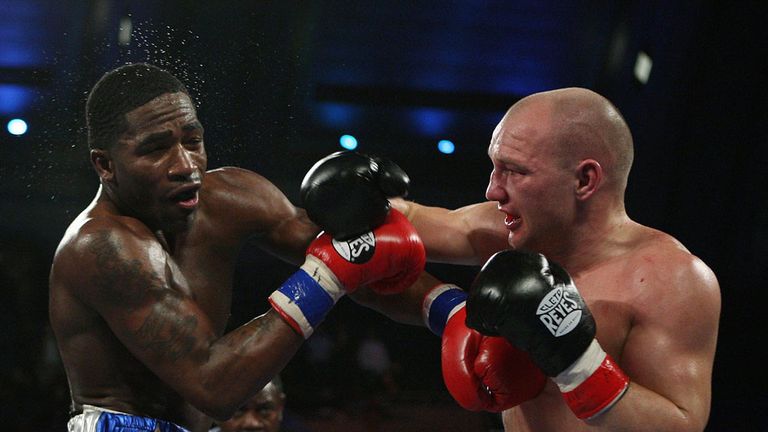 Paulie Malignaggi did it last weekend, Daniel Ponce de Leon did it in 2011 and many more fighters will suffer the same fate in the future, so I cannot criticise Gavin Rees for coming up short in February.
But I reckon the fifth-round beating he took in Atlantic City will have really affected the Welshman and even though he may tell you that he is the same fighter physically and mentally, I'm not sure he is.
Rees has had a tough career and he has had to fight and scrap for everything he has got, which has included spells as British and European lightweight champion and WBA light-welterweight champion.
He has always had to battle against bigger men and boxers with bigger promoters and, at the age of 33, things may be starting to catch up with him - though I'm sure that he will give Anthony Crolla a proper fight in Bolton on Saturday night.
Game-plan
If Rees is on the fade, then Crolla is on the rise and I think his future looks bright; he has good people around him in trainer Joe Gallagher and promoter Eddie Hearn and seems to have made big strides in the last year.
Anthony lost inside six rounds to Derry Mathews in April 2012 and I thought he would get beaten in March's rematch, too, but he put in a much-improved display in Liverpool and ended up drawing a really exciting fight.
Crolla proved he could stick to a game-plan but also showed he was able to think on his feet, and I think those abilities, combined with the fact he is younger and fresher than Rees, will ensure that he gets the victory in Bolton.
And if he does, I can't wait to see where it propels him.
Paul Smith and Tony Dodson will fight each other on the Crolla-Rees undercard for the British super-middleweight title; both men are in the last-chance saloon and I'm not really sure if there is anywhere for the loser to go but retirement.
The winner, though, will get another roll of the dice and could potentially score a match for a European or Commonwealth - perhaps even a world - title down the road, not to mention a big pay-day, as while belts are monumental, it is money that pays the bills.
I have to back Smith to come through as he has beaten Dodson before, on points in 2010 in Liverpool, and is part of the growing Matchroom stable, which has real momentum at the moment with the success of Carl Froch and others.
Maturity
Scott Quigg, who I spoke about last week, will be desperate to put on a good show in his Matchroom debut against Brazilian William Prado - and I'm sure he will because he has got a good level of maturity now.
He has had to deal with spells of inactivity, not being seen enough on TV and perhaps slipping behind Carl Frampton in the super-bantamweight reckoning, but all that will have been character-building and will help him on his road to becoming a successful pro and winning championships.
Brian Rose is also in action, two months after his win over Joachim Alcine, as he takes on Bulgarian Alexey Ribchev, who, with six defeats in his 21 fights and just four knockout wins, seems like a bit of a journeyman.
However, Brian seemed a little nervous against Alcine and I don't think he quite believes in himself just yet, so a match that should be relatively straightforward is just what he needs at the minute to boost his confidence.
Rose was the star attraction in his home town of Blackpool when he fought Alcine, but with Crolla-Rees and Quigg's first Matchroom appearance, all the pressure won't be on him this time, so I am hopeful he can relax and show his skills.
Brian has probably done more than he ever thought he would but I believe he can achieve a lot more - it will just take a bit of time.
Click the video below to hear how the fighters on the Bolton bill are gearing up for Saturday night.