Glenn McCrory reflects on world title wins for Ricky Burns and Jamie McDonnell
Glenn McCrory reflects on Saturday night world title victories for Ricky Burns and Jamie McDonnell.
Last Updated: 13/05/13 4:01pm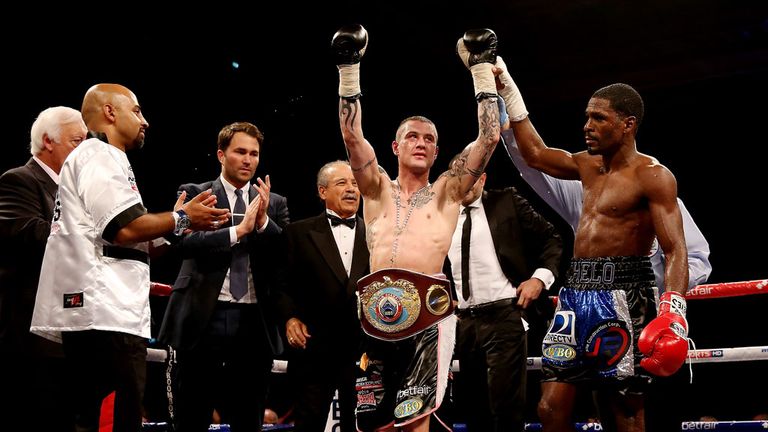 It was a brilliant performance from Ricky. He wasn't scared of the reputation of Gonzalez; he went straight into the middle of the ring on the front foot and straight after him.
Gonzalez was a bit more than a banger - he was a tasty counter-puncher. He was moving around the ring and making Ricky miss and making him make mistakes. He was nicking the points.
Then Gonzalez decided he'd show his power in round seven and throw everything at Burns, who took the lot and came roaring back at him, which was enough to hurt Gonzalez's hand, break his heart or both. Gonzalez decided he didn't want any more of the rough and rugged Scot.
At that level, I like the fact that Ricky went into a fight against an undefeated puncher and took the fight to him. It shows a massive level of confidence. As it happened, Gonzalez had a Plan B and counter-punched to nick the points, which he did well - but Burns, who was outpointed early on and took some lumps and bumps in the seventh, had the heart to stay unfazed and take the fight to him again in rounds eight and nine. He had too much heart.
It just shows another side to his game. He's a tough and durable kid as well. I thought it was a fabulous performance.
Down to earth
He's a very humble kid. I think the world of Ricky and Billy Nelson, his trainer, who I think is an excellent trainer. He's just one of those guys who tells it like it is - when Ricky's not doing it and things aren't going right, he says so without getting over-excited.
Every world title fight is tough and you've got to find a way. That's the mark of a great fighter - finding a way to win when things aren't going right. Things weren't going right for Ricky but he found a way to win.
When you're at this level, the key is getting the fights that people want to see. Whether it's unifcation or defending your title, it doesn't matter. Ricky would go unnoticed in his own neighbourhood and now with Sky Sports, he's got the outlet to become a star. We want to see him fight regularly in good fights.
It's hard to get atmospheres like the one we got in Glasgow. It was a tremendous atmosphere and as I said in commentary, it looked like Gonzalez knew what it was like to stand on Hadrian's Wall. We love to see that kind of passion.
Future
As for him fighting WBC champion Adrien Broner, Broner may already have outgrown the lightweight division because he's moving up to light-welterweight to fight Paulie Malignaggi. That chance may be gone but I'm not too worried. It'd be a great fight and a big fight but if Broner wants to go his own way, let him go.
There's nothing wrong with Burns staying at lightweight for longer, dominating the division and then looking at getting a light-welterweight belt and becoming the first ever Scot to be a three-weight world champion. He can make his own destiny and doesn't necessarily need Broner.
Ricky definitely has the scope to move up to light-welter. He's a big, big lightweight and certainly has the opportunity to move up. He's 30 and there's still bags of fight and fire left in him. He doesn't get carried away by the pressures of fame - he keeps his feet on the floor and doesn't act famous. It's a lovely quality.
There are still things to learn, things to work on and ways to get better. I think that's what he should look at doing. In the meantime, he can defend his title. Before getting in super fights, we want the whole of Great Britain to know what a great fighter we've got.
He's a normal kid. On the day of the fight, he was on the phone saying he was going to appear at my golf day on June 3. The camp were on the phone saying that he'd love to play in the golf day. He's just so humble.
Donny rocking
On the same evening, Jamie McDonnell was at his best to seize the IBF bantamweight title as Doncaster roared him to a points victory over Julie Cesar Ceja Pedraza.
I've always been a particular fan of Jamie McDonnell. Dennis Hobson stuck his neck out and put his hand in his pocket to get the fight in Doncaster and give Jamie hometown advantage and good on him.
McDonnell has always been a talent. He rose to the challenge and became a world champion and it's great for Britain. It shows the kids that these world titles can be achieved with hard work. You can do it by coming through the ranks.
He's got that bit of Northern grit, the same as Ricky has. They haven't had the celebrity superstar build-up and have had to learn it the hard way. That brings that bit of toughness. He's also got great boxing skills. He can box and he can fight.
It was a great night for British boxing. Two world champions. I think Stuart Hall also did well that night in beating the Mexican Sergio Perales, and British boxing continues to go from strength to strength.
The confidence that McDonnell will have taken from that win will be tremendous. He's in a decent division there with the likes of Anselmo Moreno, Koki Kameda, Shinsuke Yamanaka and Paulus Ambunda. They aren't big names themselves but they are some quality fighters.
There are good fights for him and it's a division in which he can make money. What's more, he can keep Doncaster singing!