Glenn McCrory on Martin Murray and British middleweight division
Glenn McCrory ruminates on Martin Murray's world title chances and Kazakh puncher Gennady Golovkin.
Last Updated: 03/05/13 7:35am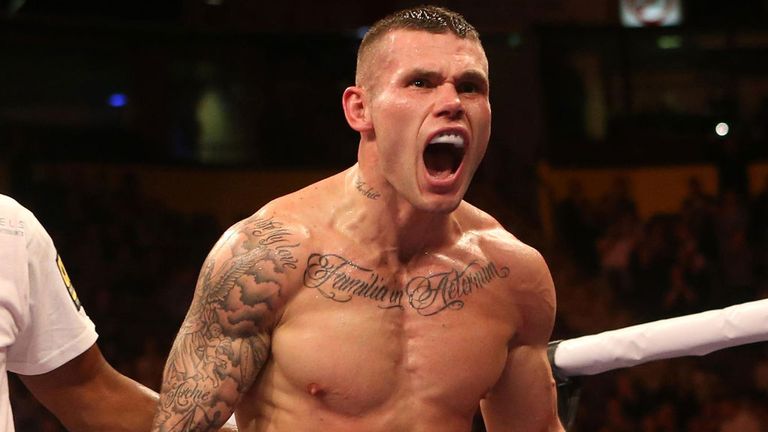 Martinez is a legend in Argentina and his fight with Murray in Buenos Aires was supposed to be a glorious homecoming, with the 38-year-old having not boxed in his country since February 2002.
But Murray made life far from easy for his opponent, knocking him to the floor in the eighth round and looking the stronger fighter as the bout wore on, and he looks like he is a match for anybody in the middleweight division.
The St Helens man is powerful and aggressive and proved on Saturday that he can deal with boxers who have an awkward style, so instead of dwelling on this loss - which was always likely to happen with Martinez fighting in his own back yard - he must use the experience and push on.
I doubt Murray will get Martinez over to somewhere like Sheffield or Manchester for a rematch and as he has proved his credentials you wonder if the Argentine's people will fight tooth and nail to avoid him.
But I suppose there is a chance they could meet again in the States and if they did I think Murray would have a great opportunity because as good as Martinez is, he is now a veteran and has had a very busy career, and nothing lasts forever.
Progress
If nothing materialises, however, I still think Murray, who drew with Felix Sturm when he fought for the WBA strap in 2011, can pluck a world title - but I really want to see him mix it with fellow Brits Matthew Macklin and Darren Barker, both of whom have also lost to Martinez.
All three are 30, so it will be really interesting seeing how they progress over the next few years, but I would expect Murray to get the most success because he is a little bit fresher than the other two.
Barker has had a few injury problems, while Macklin has a lot of mileage on the clock so those factors could halt their prospects, but we will never really know who the best British middleweight is until they step between the ropes and face each other.
I think the three boxers want to lock horns and I reckon there is a really good chance that they will because Eddie Hearn, who promotes Barker, is proving himself adept at getting big matches made, such as Carl Froch's clash with Mikkel Kessler.
For now, though, Macklin must focus on his June bout with unbeaten WBA and IBO champion Gennady Golovkin, who I think is the best middleweight in the world right now.
The Kazakh makes me hold my breath when he throws punches and looks really special; Daniel Geale and Peter Quillin, the IBF and WBO titlists respectively, are talented but Golovkin seems destined to be the kingpin of the middleweights.
Sell
Audley Harrison, meanwhile has announced his retirement from boxing after he was blown away by Deontay Wilder, and I think that is probably wise as it must have been very difficult for him to keep picking himself up from so many knocks.
I think the targets Harrison set himself - most notably to be heavyweight champion of the world - were too high and when he faltered he became the butt of many jokes, but he certainly got people interested in the sport with his ability to talk and sell the product.
Audley has engineered himself into big fights, become Olympic and European champion, and made a lorry-load of money, so he doesn't have a disastrous CV, and I wish him all the best in the future because underneath the bravado there is a really nice man.
David Haye, who beat Harrison in 2011, has signed a deal with Matchroom and looks like he will be boxing on Sky Sports for the foreseeable future, which delights me because I think he is the finest British heavyweight we have at the moment.
Haye accomplished a lot in the cruiserweight division and he has achieved a lot at the weight above, too, but at 32 he is still young enough to do so much more, and I am looking forward to watching him in some big bouts, which will hopefully result in him becoming world champion again.
We will get to see David's speed, skill and punch power on June 29 when he combats Manuel Charr and that will be a real test for him, because the German has only suffered one loss in his 24 fights - and that was to Vitali Klitschko.