British passion should be rewarded with big fights, says Glenn McCrory
Will British fans get to see the superstars of American boxing in the flesh? You bet, says Glenn McCrory.
Last Updated: 02/05/13 11:36am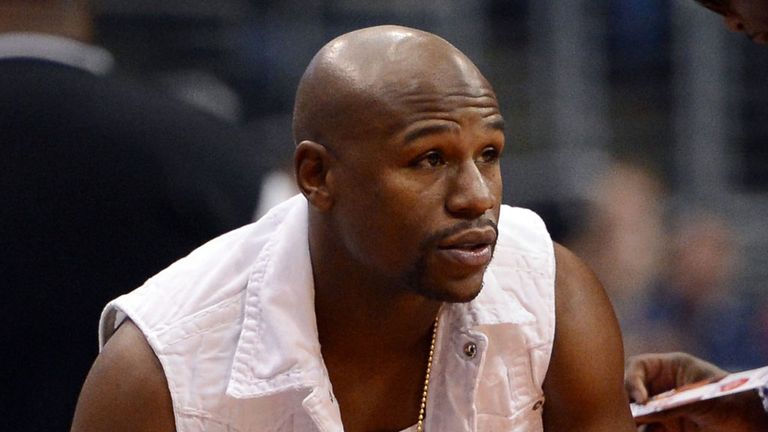 Schaefer and some of the other major US promoters are cottoning on to how passionate us Brits are about our boxing and the men that set foot in the ring, and realising that there is plenty of money to be made on this side of the Atlantic.
We prove our passion weekly on the terraces at football matches and at PDC darts events, while there is always plenty of excitement when big franchises from the NBA and NFL come over to Britain to play games, too.
But big fight nights are something else; I've been to shows in New Jersey, New York and Las Vegas, but the atmosphere over there is nothing compared to what we get in our country when the best fans in the world, most of whom are colourful and some of whom are crazy, are in attendance.
Brits have a genuine affection for fighters - no-one supports Mike Tyson like we do, no-one supports Floyd Mayweather like we do - and will shell out their hard-earned cash to watch them fight anywhere, but even more so if they are on our doorstep.
Boxing has been starved of some enormous fights recently - Mayweather versus Manny Pacquiao is the one that immediately springs to mind - because politics is having more influence than ever in the sport.
But in Britain we have been particularly famished, with world title fights and big names facing off too infrequently here, and without Carl Froch's matches that number would have dropped even more dramatically.
However, I get the sense that things will soon change.
Build
Golden Boy fighter Amir Khan returns to Britain this weekend for the first time since 2011 to take on Mexican Julio Diaz - and I would expect him to follow on from where he left off against Carlos Molina in December and record a solid homecoming win.
I've questioned Amir's temperament in the past, though never his ability, and I think he now needs to spend a bit of time on British soil building himself and his confidence up and would not lob him straight in with a Danny Garcia if he beats Diaz.
Khan wants to be the best and prove what he is capable of but he can't really afford another loss after his defeats to Garcia and Lamont Peterson, and I think he needs to iron out some flaws with new trainer Virgil Hunter before he meets a name again.
That said, I'm still not sure switching from Freddie Roach's stewardship to Hunter's is the perfect move for Amir at a time when he was on the verge of becoming Roach's number one priority.
Khan had played second fiddle to Pacquiao in Freddie's stable but with the Filipino's career seemingly coming to an end, Roach would have had more time to nurture Amir and improve his skills.
As it is, though, the Brit looked for a different direction and while working with someone new initially paid off - he managed to stop Molina in the 10th round in Los Angles just before Christmas - I fear he could be an afterthought, as Hunter's allegiances undoubtedly lie with Andre Ward.
Heartbreak
I was in the Ringside studio last week to watch Johnny Nelson's interview with Kell Brook after the Sheffield fighter's bout with Devon Alexander was postponed for a third time, on this occasion due to his foot injury.
Brook seemed incredibly down after suffering the latest in a long line of setbacks and I hope he realises that you sometimes have to go through heartbreak before the glory arrives - but I do fear for him a little bit.
Kell's injury could easily become career-threatening if he dwells on it and tries to cheer himself up by going to a few extra parties; that's fine for a normal 26-year-old lad, but Brook wants to be a world champion and you cannot live a normal life if that is your goal.
One's man misfortune, though, is another man's chance and Lee Purdy, who I'm sure most people didn't have down as a potential world champion, will now face Alexander on May 18 in Atlantic City for the American's IBF welterweight belt.
Purdy will be a huge underdog but Alexander will not be as up for him as he would have been for Brook and that could play into the Essex man's hands, as it did for me in 1989 when Patrick Lumumba underestimated me and I won the world cruiserweight title.
Plus, the one thing Purdy has got that gives him more than a slight chance of upsetting the applecart is that he is a puncher; they don't call him Lights Out for nothing and if he can land a bomb on his opponent's chin he may be able to grab the strap.