Manny Pacquiao will be full of energy on return, says Glenn McCrory
Manny Pacquiao will be a hungry fighter when he returns to the ring later this year, says Glenn McCrory.
Last Updated: 11/04/13 11:46am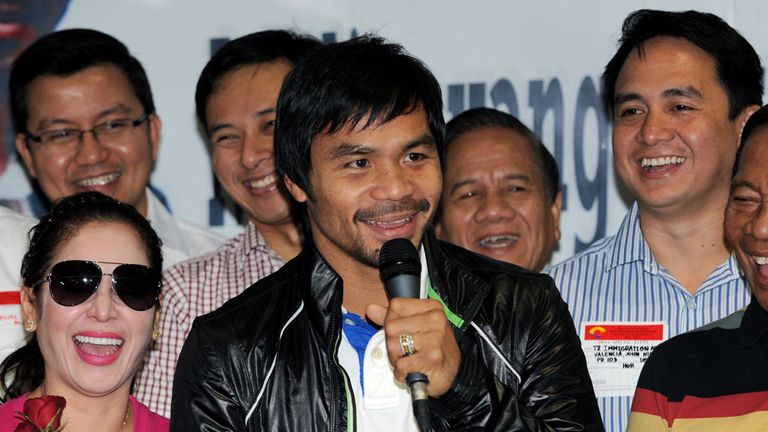 Pacquiao is extremely talented and extremely professional and even though he was knocked out by a blistering sixth-round punch by Juan Manuel Marquez in December, he showed in that fight that he still has something to offer.
The Filipino has had a wonderful career, becoming the first-ever eight-weight world champion and the pound-for-pound king, and captivating audiences worldwide, which is all the more impressive considering the pressure on him.
Pacquiao is treated like a god in the Philippines and to cope with that with the humility he has and still produce results is testament to the man and shows, that despite having so many other things going on in his life, he still loves boxing.
He is 34 now and probably not as good as he was a few years ago, but those are hard standards to maintain because he was exceptional; he had skill, athletic prowess and a fighting heart and he had those traits in abundance.
I remember commentating on some of his early bouts alongside Ian Darke and there were many times when we looked at each other and said: 'Wow, this guy is going to be a superstar' and we weren't wrong.
Pacquiao has the ability to turn a good bill into a great one and I think we are in for a treat when he fights this autumn because he will be desperate to ensure he doesn't lose three matches in a row, following the reverses to Timothy Bradley and Marquez.
Manny was riding on a cloud at the end of 2011 but realised last year that boxing is a great leveller and was floored - albeit controversially against Bradley - and I expect him to be as hungry as anything when he makes his comeback.
People are talking about a potential fifth meeting with Marquez and I would not be adverse to that because their last clash was so good, but Pacquiao could have a quality fight with anyone in the welterweight and light-welterweight divisions
And anyone who gets to face him will know one thing: they won't be short of a few bob at the end of the fight.
Respect
Audley Harrison, meanwhile, will soon be back in action, when he meets unbeaten American heavyweight Deontay Wilder in Sheffield towards the end of April.
Harrison has been much-maligned throughout his boxing career, but he is a decent fighter and anybody in the game who has an Olympic gold medal in their back pocket deserves respect and to be taken seriously.
The frustrating is that Audley has rarely used his talent; a lot of his fights have put you to sleep and when he has stepped in the ring with the big boys he has struggled.
The heavyweight division - the Klitschkos aside - is not the strongest it has ever been, but Harrison's dream of becoming a world champion will almost certainly end in failure, just like it did when he fought David Haye in 2011.
The Londoner says he hopes to get a world title shot by the end of the year but also says he will retire if he loses to Wilder - and the later scenario seems far more likely to me.
Harrison does have a legitimate chance of beating Wilder - the 27-year-old has not been past four rounds and fought very few, if any, recognised names - but if he does win it won't be pretty.
Audley has, in the main, fought very cagily and even though he now appears in a more positive frame of mind, a leopard doesn't change its spots; he will try to negate Wilder and hope to force a mistake.
However, this fight is all about showcasing the American and if he is going to be the next big thing in heavyweight boxing he has to brush Harrison aside.
I think he will.