Glenn McCrory on World Series of Boxing, Olympics and Anthony Joshua
Glenn McCrory talks the World Series of Boxing and whether Anthony Joshua is ready to turn professional.
Last Updated: 02/04/13 1:13pm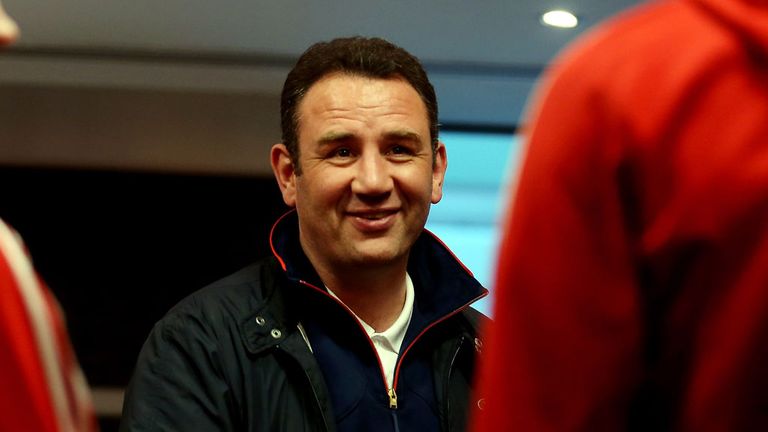 The team, led by Carl Froch's trainer Robert McCracken, made it out of the group stage and into the quarter-finals, where they were beaten by the Mexico Guerreros in South America.
However, the event, which sees amateurs get paid to fight in five-three-minute rounds, hasn't really captured my imagination; I love amateur and professional boxing but I'm not a fan of this mish-mash of the two.
Amateur boxing takes place across the globe week in, week out and is very popular, while there are plenty of tournaments for these guys to take part in, including the Olympics, Commonwealth Games, World Championships and European Championships.
And while I think our amateur fighters should be funded as they won't be able to compete with the rest of the world if they aren't full-time, I'm not sure they should be getting paid for the World Series of Boxing and then return to the amateurs.
Shambles
On the flip side, though, anything that can boost the profile of amateur boxing is positive and I do think the unpaid game is booming after a period of time in the doldrums.
It suffered a little due to the popularity of professional boxing and the introduction of head guards, which resulted in so many bad decisions at the Olympics and the judging process turning into a shambles.
A prime example was when Roy Jones, Jr, lost to South Korean fighter Park-Si Hun in the 1988 Olympics in Seoul, despite destroying his opponent for three rounds, and episodes like that turned people off the sport.
However, the boxing at the 2012 Games in London was really entertaining and I think it could be even better in Rio in three years' time if, as reported, head guards are removed.
The aim of the amateur game should be to prepare guys for the professionals and the ones who thrive in Brazil with no head protection will be the ones that should be better equipped to step up to the paid ranks.
Negative
I think Anthony Joshua, who has the potential to be as good as Lennox Lewis, is ready to do just that; the Brit has done well to weigh up his options since he won super-heavyweight gold in London but I don't reckon he should box in Rio.
The 24-year-old can only match what he did in 2012 - which will be great, don't get me wrong - and if he ends up getting silver, bronze or worse it will be a negative and take away some of the shine that he earned in his home Games.
He should get cracking in the pros and begin his path to becoming a world heavyweight champion - but only once he has got the right team around him, a group of people that can not only take him to the top of the sport but keep him there.
Another amateur fighter making waves is Ukraine's Vasyl Lomachenko; I haven't seen too much of him but his record is fantastic and plenty of experts expect him to take the pro game by storm.
It's not a given that Lomachenko, who won Olympic featherweight gold in Beijing and lightweight gold in London, will flourish if he steps up - we have seen plenty of amateur medallists given hell by tough little pros with just two or three fights to their name.
But someone with his pedigree should be able to adapt.