Matchroom's George Groves can learn from Carl Froch, says Glenn McCrory
George Groves can develop into a fine boxer under the Matchroom team's tutelage, says Glenn McCrory.
Last Updated: 07/03/13 1:59pm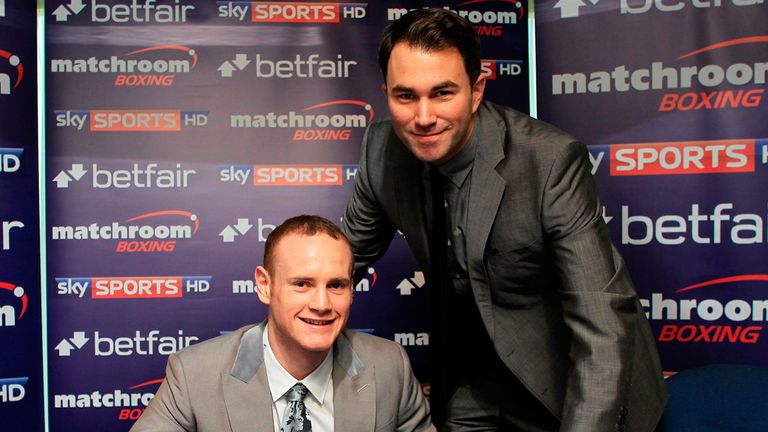 The Londoner still has a lot to do, as I explained in this column a couple of months ago, but he is not a kid anymore; he has a decent number of fights under his belt and should be heading into the best years of his career.
Matchroom is a good fit for George, too, because they will ensure that he fights regularly, which is a big thing for boxers, especially young ones; you can do as much work in the gym as you like but unless you have frequent matches you won't improve.
Groves will, however, be able to spar with new stablemates Carl Froch and Darren Barker and that should also aid his development, while listening to little pearls of wisdom from them won't do him any harm either.
He can learn a lot from Carl's attitude; when the Cobra started out he was a bit like George is now and had a bit too much to say.
But because he didn't always have the glare of the TV cameras on him, he changed into a no-nonsense individual.
Froch doesn't get caught up in the celebrity game and just focusses on training hard and winning fights and, ultimately, world titles, and he has become a star off the back of that.
If that mentality can rub off onto Groves he could go far.
Better
George's major task, though, is to find out what his greatest strength in the ring is because at the moment he is a jack of all trades; he is good at various aspects but not great at anything, though I think that could, and will, change.
I hope Groves' future involves a rematch with James DeGale - who I thought just edged their initial bout at London's 02 Arena in May 2011 which George won on a majority decision - because I don't think there is much between them.
Groves has the victory over DeGale but I think James has probably gone on to better things since that match, enjoying a spell as European super-middleweight champion, so another dust-up could really tell us which one of them is the better man.
George will add to Matchroom's impressive roster of boxers and I have been very impressed by the way promoter Eddie Hearn has gone about his business - though that was probably to be expected considering how successful his dad, Barry, has been.
The senior Hearn made some big fights happen, while he also brought excitement to the worlds of darts and snooker, and I'm sure Eddie has picked up many tricks of the trade from watching Barry.
However, he has also brought his own style into boxing and his youth, his flamboyance, his approachability and the way he says things in layman's terms has made him an interesting and popular character.
Eddie doesn't make himself bigger than his fighters or more important than the punters but he knows how to get a job done, as proved by the fact he was able to lure Mikkel Kessler over to Britain for the upcoming showdown with Froch.
Affection
Matthew Hatton, meanwhile, saw his hope of winning a world title quashed again at the weekend when he lost to IBO welterweight champion Chris van Heerden in South Africa, but he is a man you have to admire.
He has, in the shadow of his more famous brother, Ricky, forged out a very credible career and done himself and the Hatton name very proud, so whether he chooses to have a couple more fights or walk away from the ring, he can hold his head up high.
Matthew never tried to steal Ricky's spotlight but when he was at the forefront he would stand up and stand out on a good show, despite not being the most talented fighter around, and it took top boxers to beat him.
Hatton was never afraid to go out of his comfort zone, either - he has been to America to take on Mexican golden boy Saul Avarez and tangled with Kell Brook in Sheffield - which is why I think he will be remembered with a great deal of affection.
I am also glad that Amir Khan's next bout, against Julio Diaz, in April, will take place in Britain because I've been saying for some time that he should come home and give our fans some good shows.
Khan has been in the bear pit over in America and I think that boxing back on familiar shores and having the supporters cheering for him could raise his game and make life easier for him as he tries to return to world-title level.
You can earn a lot of respect from fighting on the road, but you have to remember who your fans are, too; Amir might want to crack the States, and, to a large extent, he has done, but guys in America are never going to be his people.
It is vital that he performs in front of the spectators that have made him a big name and lets them see first-hand how good he is - and I think he'll show how good he is against Diaz, before moving on to bigger and better things.