Lamont Peterson deserves chance to redeem himself after drug scandal, says Glenn McCrory
Glenn McCrory says Lamont Peterson deserves a chance to redeem himself following his drug scandal.
Last Updated: 25/02/13 8:13pm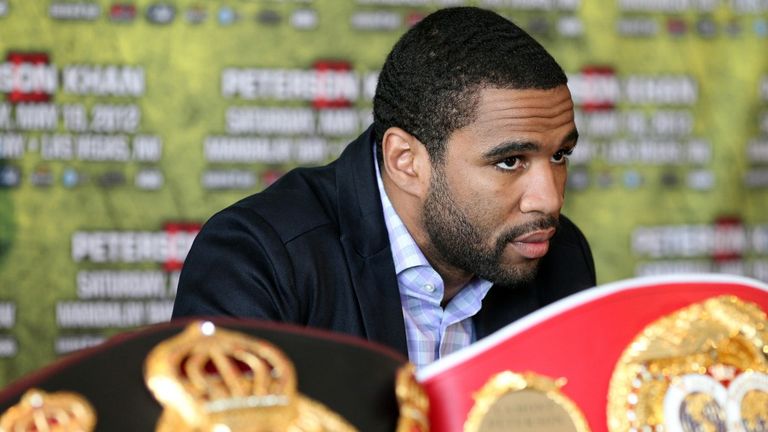 He hasn't been seen in the ring since that fight, but will make his return in his home state of Washington, DC, on Friday night to defend his IBF strap against Kendall Holt.
I think Peterson knowingly broke the rules when he took testosterone pellets, but if he did he wouldn't be the first man to do so, and provided he has learnt his lesson and never makes the same error again, I have no problem with him lacing up his gloves once more.
A lot of boxers are ignorant when it comes to these sorts of things and rely on the advice of fitness coaches or managers or get pressured into taking an illegal substance, so I don't think it would have been fair to hand the American a life ban.
Everyone deserves a second chance and I will be interested to watch Peterson's clash with Holt to see whether the excellent performance he put in against Khan 14 months ago was because he was filled with drugs or because he is actually a very talented boxer.
There was a lot of controversy after that fight with IBF affiliate Mustafa Ameen - dubbed "The Man in the Hat" - lurking around the judges' table, and many people thought Khan had been the victim of daylight robbery when he lost on points.
However, I believed that Peterson, who was clinical and aggressive throughout, just edged it; we can't give him much credit for that now because we know he might have been under the influence, but I still think has real ability.
The task now for Peterson - whose only defeat has come against Timothy Bradley - is to prove he can launch those powerful hooks of his while unassisted by drugs, and that he has the mental strength to recover from what he has been through, which won't be easy.
I hope he puts in a faultless display against Holt to prove to himself that he has the natural skills to be a force in the ring and I would expect him to beat the New Jersey fighter, who is a former world champion but has lost three of his last six bouts.
If Peterson does come though this, I hope his future includes a rematch with Khan, because the whole episode in Washington threw Amir into complete disarray and was probably the main reason he was flattened by Danny Garcia last summer.
Khan certainly has a score to settle.
Talent
Adrien Broner successfully defended his WBC lightweight championship against Gavin Rees last weekend and I definitely think he would be capable of stepping up to the light-welterweight division with ease.
Broner had recorded good wins over Antonio DeMarco and Daniel Ponce de Leon, but I needed to see him outclass a seasoned fighter like Rees before deciding whether or not he is a superstar in the making.
He is.
I compared him to Sugar Ray Leonard on the night and that is high praise indeed, but becuase of his talent, the way he forces his opponents to think and the fact he is still only 23, I am certain he will be a multi-weight maestro for many years to come.
Broner seems to want to create a charismatic persona and play the joker all the time, and his speech in the ring after he beat Rees was pretty pompous.
But he showed some genuine respect to his rival when the Welshman was chatting to my colleague Adam Smith and, by all he accounts, works his socks off in the gym, too.
He might act like an idiot - but I don't think he is one.
Test
From a lightweight star to a heavyweight one, and David Price will continue his path towards a world title shot when he faces American veteran Tony Thompson on Saturday.
Price has been waltzing through his opponents - he floored John McDermott in 73 seconds last January and has since beaten Sam Sexton in four rounds, Audley Harrison in one and Matt Skelton in two - so a stern test from Thompson won't do him any harm.
The 2008 Olympic bronze medallist is not the finished article but he is getting pretty close to it - and I think we are looking at the next heavyweight champion of the world.
Price might not be as experienced or as knowledgeable as WBA champion Alexander Povetkin - the only man outside of the Klitshckos to currently hold a world heavyweight title - but I think in two or three fights time he will be ready to take the Russian down.
And I reckon that if he has enough self-belief he could beat the Klitschkos, too; Wladimir will be a very tough man to conquer, but if he really went at Vitali, I would expect Price to win.