Carl Frampton proved he has the chin to take on punchers, says Glenn McCrory
Carl Frampton showed composure and a granite chin to stop Kiko Martinez, says Glenn McCrory.
Last Updated: 12/02/13 12:59pm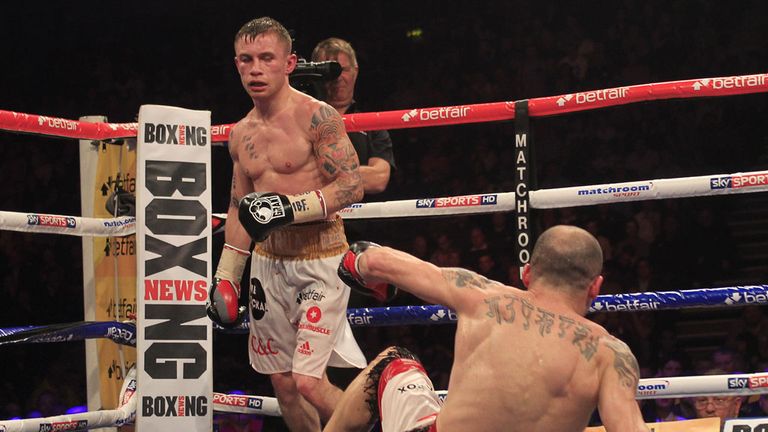 We saw Belfast celebrate a European champion on Saturday night when Frampton dethroned hard-hitting Spaniard Kiko Martinez - taking a huge step towards the big time in the process.
I thought it was a very good, and very telling, performance. It wasn't without fault - defensively, he held his hands low and got hit with silly punches a few times. Overall, though, against a tough opponent who can punch, he stayed calm under pressure.
He drew him on to the knockout punch wonderfully well and it was a fine display all in all, one that could be a defining one. I'm looking for that to take him up to bigger and better fights.
The good thing is that he's pretty rounded - Frampton can do pretty much anything, which is impressive. He was pushed back and that's not really his natural style, even though he showed he could do that against Raul Hirales Jr. Naturally, he likes to be an attacking fighter like we saw against Steve Molitor.
Martinez was a very 'live' champion and Frampton coped with him well, taking whichever punches he had to take. He ticked a lot of boxes and the most pleasing one for me was temperament, which was spot on.
Frampton took a few good shots to the head and body that seemed to hurt him a little at times, but he came out of it very well. Then in the ninth round, to come with a one-punch knockout just shows the sort of calibre of fighter he is.
It was a fabulous night and Belfast showed us once again what great fans they are because it was a superb occasion.
In terms of the future, some people suggest a showdown with Scott Quigg would be a step backward but I disagree. Quigg is the British champion and just put away Rendall Munroe, who beat Martinez twice - so you could even argue the Lancastrian is the more accomplished.
I think it's one of those fights that we'd love to happen. It should happen. Whether it does or not, I don't know. If it was down to the boxers, I think both of them would want the fight - but it's all just about the people putting it together. I hope they can agree on terms.
They are both good kids. I like them both. They've both got so much to offer and have great futures. The only problem is they're in the same division and have to fight eachother.
When you're looking at guys on the world stage like Guillermo Rigondeaux, Abner Mares and Nonito Donaire, you're talking top, top fighters. Any one of them is a massive challenge, so I think for Frampton the Quigg fight makes sense.
Both fighters want to be at that world level and will deserve a world title shot when it comes, but they need some tough fights before that. Frampton has just come through one but he'll have to show that again if he's going to get to the big boys.
Martinez can hold his own in terms of punch power with anyone, but the lapses in concentration would cost Frampton more at the very top. That being said, you can't take a bath without getting wet and he took those punches well.
If he'd have been rocking all over the show like Amir Khan does sometimes, you'd say there was a problem but he stood up to the test.
Promising
Lee Selby outpointed Martin Lindsay to retain his British and Commonwealth featherweight titles and his trainer, Chris Sanigar, said afterwards that they want to keep the Lonsdale belt before going after the European title.
The Lonsdale belt is fantastic. I never lost my British title in the ring and it's one of my deepest regrets that I wasn't allowed to defend my title and get my Lonsdale belt. Every fighter wants one - it's the crown jewel if you're British.
Selby has got habits he needs to get out of, but I think overall he's a very good fighter. He looks tough and hard and has that languid style.
They're right to go and get that Lonsdale belt because he's only 25. They should make some fights they can win, earn some money and then move up to riskier fights.
Selby has been in the gym with Floyd Mayweather Jr, who he wants to watch a little bit more if he's to tighten up that defence. He's just a kid who's come from nowhere, proved he's gutsy and can punch - but needs to learn a bit more.
There's more tweaking to do before he's let loose with the big guns but I would put money on him fighting for a world title one day.
Comeback
Andy Lee battled past Anthony Fitzgerald on points to bounce back from his stoppage defeat to Julio Cesar Chavez Jr with a victory and it will have been an emotional night for him.
He is targeting the likes of Darren Barker and Martin Murray in a stellar British middleweight division, but he may be a step behind those two at the moment.
He's been through an awful lot and was often on the back foot against a very pedestrian opponent, but you can forgive him for that as it's understandable. Fitzgerald showed great tenacity and came to fight and that's what made the fight.
It wasn't the most inspired from Lee, but after a stoppage defeat and losing his mentor and great friend Emanuel Steward, you can forgive him for not being on fire. I'm sure there were demons and a few memories of Manny every time he sat down on his stool. The two were very close.
It's a great division with the likes of Macklin, Barker, Martin Murray and now Lee. We've seen this kind of thing in the past with great domestic fighters grouped in the middleweight or super middleweight division with Tony Sibson, Kevin Finnegan and Alan Minter, then we had Chris Eubank, Nigel Benn and Michael Watson.
I think the crop are all fractionally short of world level even though Murray has a shot at Sergio Martinez coming up, so I think it would be great to see them fight it out and see who is the best on these islands.
We've got some great fighters there who have fought at world level even though they've failed, and I think they know that the best fights out there for them are with each other.