Glenn McCrory blogs on Tyson Fury's rant at the Klitschkos and why Lennox Lewis should never have been beaten
Tyson Fury needs to cut out the verbals and prove he has what it takes in the ring, says Glenn McCrory.
Last Updated: 31/01/13 10:31am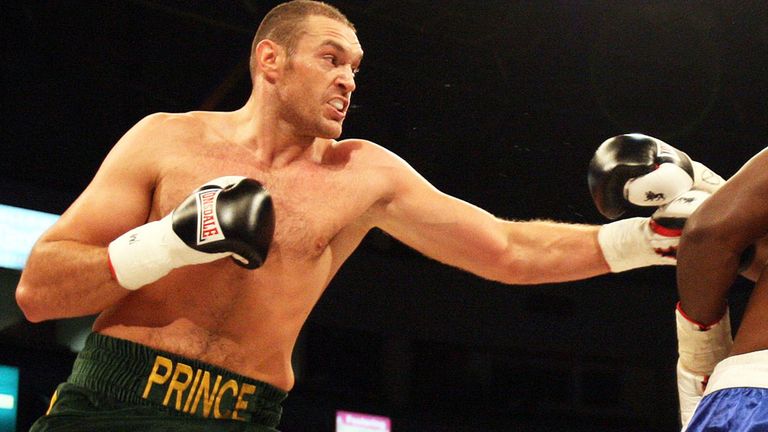 I don't really know him and people I know that do say he is actually a very nice guy, but he seems to have this idea in his head that he needs to be controversial.
David Haye was similar in the build-up to his fight with Wladimir, but at that point he was a current world heavyweight champion and a former cruiserweight titlist; his words, however crude and unwise, had come off the back of tangible success.
Fury, though, is still making his way and his rant on Ringside's Toe 2 Toe podcast about the Klitschkos - which you can listen to here and read here - has seen him come off as crass, as have some nasty comments he has made in the past on Twitter, including one questioning David Price's sexuality.
No-one can say our sport is all sweetness and light as the fact of the matter is you are punching people in the face and there needs to be a little bit of needle to get the juices flowing.
But boxing is a noble art and you have to pay your opponents or potential opponents respect - and Fury is not doing that. He has crossed the line on multiple occasions and is in danger of becoming a laughing stock.
It's a massive shame for two reasons.
Firstly, because boxers are role models; in the main, we are uneducated and come from under-privileged backgrounds, so kids experiencing the same problems look up to us for inspiration and as proof that you can make something of your life, and they shouldn't be seeing these kinds of outbursts.
And secondly, because Fury does not need to slag people off to go far; his in-ring career is progressing nicely, he has a great physique for a heavyweight, very solid basic skills, and, at 24, still has plenty of years ahead of him.
I think the Klitschkos would need to drop down a rung or two before Fury would have a chance to beat them, but once they are out of the way, there are very few reasons why the Brit could not capture a world title.
But his temperament is one of them.
Spiteful
It could be quite some time before we have a British heavyweight as talented as Lennox Lewis, who ruled the division for a generation due to his excellent mix of size, athleticism, and smartness.
And even though Lennox - who spoke about his glittering career on the latest episode of Sporting Heroes, which you can sign in here to watch - is one of the most laid-back men you could ever wish to meet, he could get nasty, too; if you stoked him the wrong way his spiteful side would come out.
I know that all too well as I had to wind him up to get my shot at the British heavyweight title in 1991 as I wasn't in a place to earn it by right, but he just watched on and smiled as I went for him verbally - and then kicked my butt!
Had I fought Lennox - definitely the most fearsome man I set foot in the ring with - a couple of years earlier when I was a hungry cruiserweight it may have been different, as I had been handling Mike Tyson in sparring pretty well, but our bout was a step too far for me; his mind was in gear and he was very, very good.
He also had a fantastic temperament - one that Fury would do well to match - as he worked incredibly hard and always responded to setbacks, most notably when he demolished Hasim Rahman in four rounds, seven months after the American had flattened him in five.
Lennox's only fault was that, occasionally, he got overconfident and carried away with how good he was. If he had always had his foot to the pedal he would not have lost to Rahman and Oliver McCall and would have ended with an unblemished record.
Had that happened we would be talking about one of the top two or three heavyweights in history, as it is he will have to be content with a place in the top 10 - which is not too bad.
I think Lennox's greatest performance - other than beating me! - was his draw with Evander Holyfield in Madison Square Garden, a fight he really should have won.
But what sticks in my mind most about his career was when he flattened Mike Tyson in 2002 in Memphis; at a time when Mike was at his worst, it proved that nice guys do win.