David Haye should fight David Price and Tyson Fury to bring glamour to British heavyweight scene, says Glenn McCrory
David Haye has eyes on Vitali Klitschko, but Glenn McCrory wants him to fight a little closer to home.
Last Updated: 09/01/13 1:13pm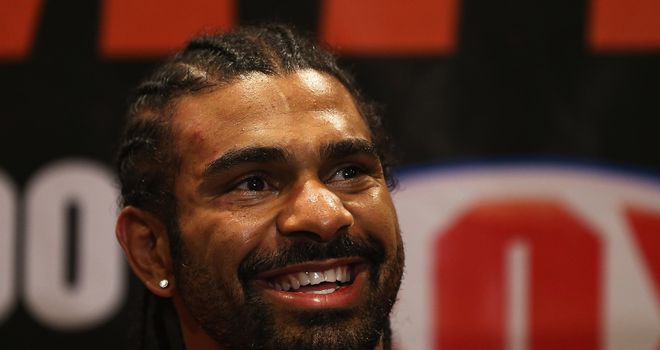 The Briton's stock took a nosedive after he put in such a disappointing performance against Wladimir Klitschko, while Vitali is on the slide and no longer the top fighter in his family, so the lustre has been lost a little bit.
What I'd really like to see David do is lock horns with our two great heavyweight prospects - David Price and Tyson Fury - both of whom are on TV, winning matches and making great strides.
Clashes with them will surely generate more excitement than a dust-up with Vitali and bring some real glamour to the domestic heavyweight scene, which has been severely lacking in recent years.
David is still one of the best heavyweights in the world, even though he was exposed by Wladimir, and he remains a huge name.
Therefore, he would only raise the profile of Price and Fury if he stepped in the ring with them and I'm sure their bouts could sell out football stadiums.
I don't think that is in David's mind as he only seems to talk about Vitali, but I definitely believe he is fit enough to go toe-to-toe with Price and Fury because, as far as I'm concerned, he is still a full-time fighter.
He said he was pretty much done after he lost to Wladimir in July 2011, but he knocked out Dereck Chisora in the summer and is still training, and I don't see him lighting up Hollywood, something he said he wanted to do when he hung up the gloves.
I also think people have warmed to David again after his stint in the jungle on I'm a Celebrity... Get Me Out of Here!, in which he finished third.
David's reputation was in tatters after his brawl with Chisora in Munich in February, so appearing on reality TV was a masterstroke; he fixed his image by showing the real David Haye and proving that he is actually an extremely nice guy.
So now he is back in a decent place, my ideal scenario - though I doubt it will happen - would be for him to fight the winner of Price-Fury, with the victor then facing Vitali for the world title.
Talent
This could be a huge year for Adrien Broner.
The WBC lightweight champion, who has won each of his 25 professional fights, 21 via knockout, has been hailed as the Second Coming and the next Floyd Mayweather, which is mega praise indeed.
People want the 23-year-old, who has a real wacky streak, to be the next star of American boxing, and I think he looks like a real talent and someone who could definitely be a multi-weight world champion.
The American's next test will be against Welshman Gavin Rees, whom he defends his belt against in Atlantic City on February 16, and it will be interesting to see how he fares against a good solid pro.
Rees has only lost the one contest, to Andriy Kotelnik in 2008, and is a very underrated and unheralded boxer; he won't show Broner any respect and will go in looking for a fight - but if Broner is as good as he is meant to be, he should come through it looking strong.
I have high hopes for that fight but also that Juan Manuel Marquez and Manny Pacquiao square off for a fifth time this year, as their bout in December, which Marquez won after knocking out his opponent in the sixth round, was a belter.
It would be a shame if they didn't clash at least once more so we could gauge whether Pacquiao really is done.