Glenn McCrory looks at the relationship between boxers and referees and reviews Saturday's Prizefighter
Glenn McCrory looks at the rapport between boxers and referees, and Larry Ekundayo's Prizefighter win.
Last Updated: 07/11/12 10:36am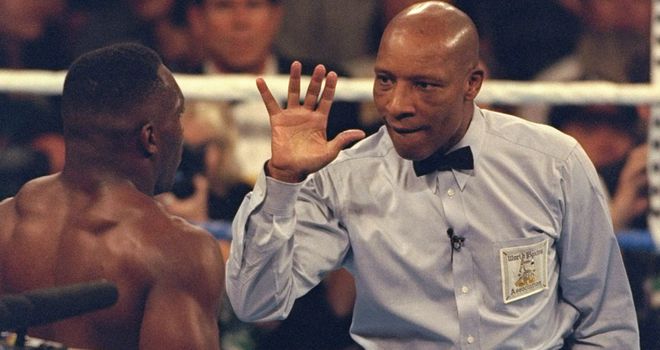 I don't think I ever had an issue with a referee throughout my professional career - even when I thought he had held up the wrong person's hand at the end of the fight!
In football, players seem to holler at referees after every collision, but there are very few altercations between official and boxer because both hold each other in such high regard.
I think the standard of refereeing has been very good in boxing for a long time and a lot of that is down to the mutual respect shared between referees - many of whom, like Richard Steele and the late Harry Gibbs, I got to know personally - and fighters.
Plus, referees are often ex-fighters themselves so have a deep understanding for what these guys are doing and the dangers they are facing
That's not to say that referees are faultless and some do like to take the spotlight away from the fighters; I think that's what happened with Joseph Cooper in that highly-controversial fight between Amir Khan and Lamont Peterson.
But, and this seems strange to say when you consider the aim of the sport is to punch your opponent in the face, there is a real gentlemanly aspect to boxing, which I think will always keep it one rung above MMA and kickboxing.
There is very much a 'take your coats off, stand six yards apart, engage in battle, respect the rules and when a man is down you stand off' mentality, and those fundamentals are what make the sport great.
Talent
The light-middleweights were in action at the latest Prizefighter extravaganza on Saturday night and I thoroughly enjoyed commentating on them; it was a really entertaining event.
Larry Ekundayo came out on top, beating Terry Carruthers in the final, and showed offensive and defensive solidity and a lot more talent than his two-fight record suggested.
Like other winners before him - such as Audley Harrison and Martin Rogan - Ekundayo's name will now be elevated and he may get a shot at a title, but with so many former champions fading into obscurity, there is no guarantee of further success.
I do like Ekundayo and at the age of 30 he needs to be moved up the ranks pretty quickly, but we have no idea whether he will thrive in the 12-round game yet.
I think he would perhaps be better served fighting a couple of eight or 10-rounders before he gets a title shot, possibly at his natural welterweight level.
I was slightly disappointed by Craig McEwan's performance in Bethnall Green, even though I thought he nicked his first-round bout with Ekundayo.
But a lot of the favourites tend to falter in Prizefighter as they think they can come in and make the switch from 12 rounds to three rounds with ease, when, in fact, it is so different.
Class fighters can fall by the wayside and journeymen, like Carruthers, can look good.
Carruthers has not improved a great deal recently and if he fought Joe Selkirk again he would get smashed, just as he was in 2011, but he put in a tremendous effort in Prizefighter and made the final.
Ekundayo has ability but has beaten nobody of note and proved nothing - yet.
Enigma
The Nigerian-born star could potentially face Frankie Gavin for the British welterweight title, after the 27-year-old took the strap from Junior Witter on Thursday night.
Gavin has had trouble making weights in the past and remains something of an enigma; he has bundles of talent and a good personality, but that doesn't always ensure a smooth transition from the amateurs to the pros.
Guys like Errol Christie and the Collins brothers, George and Tony, have looked bright in the unpaid ranks but did not make the grade at the higher level and Gavin could suffer the same fate; I don't think he ever puts in 100 per cent and may not realise his potential.
I also think he lacks a bit of power, compared to someone like Kell Brook; you don't need to have mind-numbing strength to make it as a pro, but you need enough to get people's respect - and to be able to knock someone out.
Boxing skills alone won't fend off a young and hungry world-level fighter.