Andrew Flintoff is taking his move into the boxing world very seriously, says Glenn McCrory
Glenn McCrory says a 'very fit' Andrew Flintoff is lacing up his boxing gloves for the right reasons.
Last Updated: 30/10/12 2:18pm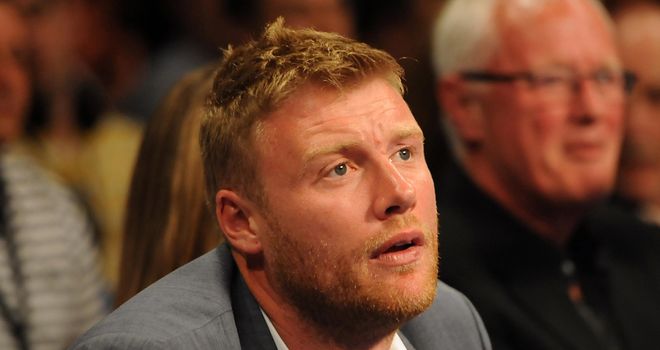 I was sceptical when I first heard that he was going to enter the ring - I even told him I thought he was crazy - but I have been converted now as he is doing it for the right reasons.
He's not going in thinking he is the best in the world, he is doing it because he loves boxing, so much so that he has a son called Rocky, and respects everyone that does it.
He wants to show the positive side of the sport and how hard it is to be a professional, and I think that's wonderful.
Andrew understands the risks involved and so he is taking things very seriously; he is on a strict diet, is working really hard and looks very fit, and I think he deserves a lot of credit as not many sportsmen would take up such a tough challenge.
I don't think he has been blessed with a great amount of natural boxing talent, but that's to be expected as he is a 34-year-old former cricketer! He is a big, strong man, though, and that will serve him well, as will the amount of graft he is putting in.
It will be fascinating viewing when Andrew makes his bow in the heavyweight division at the end of November and as he is such a top bloke, I hope he makes a great fist of his new career - however long it lasts.
Re-establish
Former world super-middleweight champion Lucian Bute will step back into the ring this weekend for a light-heavyweight bout with Russian fighter Denis Grachev and he needs a massive performance.
The Romanian-Canadian was destroyed by Carl Froch in May en route to losing his IBF strap and if he wants to re-establish himself as a top fighter, he must deal with Grachev convincingly - and I think there's a very good chance he will.
Bute was given a big shock by Froch, which didn't come as a huge surprise to me because up until facing the Cobra he had not really had a major test, and that could be a career-threatening loss, but he is a good fighter and will be a vastly different proposition on his home soil in Montreal.
Froch has proved himself after losses, dealt with mental scars, fought through criticism from boxing fans and pundits, and turned out to be a great champion, and this weekend we will see if Bute has any of that mettle.
I hope he does because if he can collect a comprehensive victory it will set us up nicely for the Bute-Froch II, which should take place in Canada sometime next year.
Froch, who tackles Yusaf Mack at the Capital FM Arena in a few weeks' time, still has things to prove overseas after his loss to Andre Ward in Atlantic City last December and that will make Bute even more confident that he can turn him over.
I can't wait for these two to get it on again.
Created
Boxing moves on and there will be other great trainers in the future - but there will only ever be one Manny Steward, who sadly passed away last week at the age of 68.
A lot of trainers do great jobs with already established fighters - Freddie Roach did just that when he took then world champion Virgil Hill under his wing - but Manny was great because he created guys from nothing.
He honed the likes of Tommy Hearns, Hilmer Kenty, and Milton McCrory at the Kronk Gym in Detroit, taking them from kids to world beaters and that's why he deserves to be spoken about in the same breath as legendary trainers Angelo Dundee and Ray Arcel.
Manny was also a wonderful guy and did everything with charisma and respect. He cared about the little man as well as the star and that will be his legacy.