Kell Brook booked an IBF title shot with Devon Alexander by stopping Hector Saldivia
Glenn McCrory believes Kell Brook has sent out a message to new champion Devon Alexander.
Last Updated: 01/11/12 4:33pm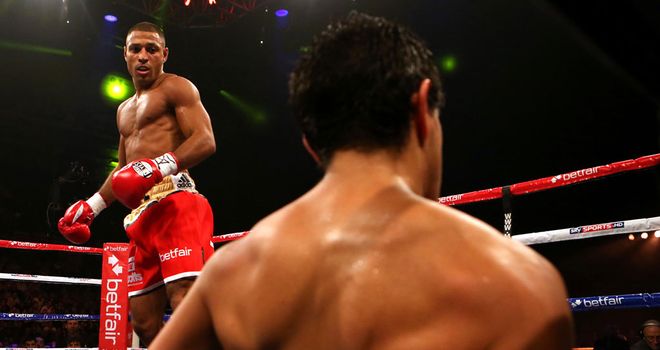 First impressions of Saldivia - the ones that you get when you see a fighter warming up and hear what they've done in training - was 'uh oh, Kell's going to have a fight on his hands here'.
I remember seeing Breidis Prescott when he was warming up before he knocked Amir Khan out and to a man in the studio we thought 'uh oh'... You could just tell.
Saldivia looked the same. He looked like a live opponent and someone who had really come to win. Then there were reports that he'd been sparring in the Wildcard gym with Jose Benavidez - a really good young up-and-coming fighter from the States.
When you take all that into account, it was very good that Kell wanted to meet him right from the off and nullify him as quickly as possible. Brook could've gone into his shell and tried to soften him up by boxing him but he didn't - he went straight off with him and beat him to the punch.
You couldn't pick fault with what Brook did. Saldivia hit him with one shot and Brook just walked through it and never even flinched. Brook was totally focused and it was a great win.
Patience
The pre-match hype suggested Saldivia would come out and march forward in the hope of slugging it out, but he knew a bit more than that. He was stepping about well and knew his stuff. He didn't come in just straight forward with his hands up and tough it out.
Brook's always had patience and maturity as a fighter, but it was very obvious right from the start that he looked and felt very good. I think he felt invincible and that's the way he fought, with a really strong mental attitude and a real physical presence. It paid off. He hurt his man pretty much every time he hit him.
It's rare to see a fight stopped by a jab but Saldivia walked onto it. He jumped into it and walked on to a stiff sort of straight left hand. Normally a jab wouldn't have that kind of impact but it hit him like a right hand would.
Obviously there'd be no criticism of Brook because he did exactly what he had to do, but if there was a criticism of Saldivia it would be that maybe his punch resistance might not have been there having been knocked out so convincingly by Said Ouali.
That was a chink in the armour and Brook took advantage of it and did so in great style.
Next
If you missed the title fight between Devon Alexander v Randall Bailey, you didn't miss much. It was a dull and dreary bore and the fight broke Compu-Box records all over the show.
Bailey, who was defending his IBF title, landed an all-time low 45 of 198 punches thrown and Alexander fared little better despite snaring a unanimous decision from the judges.
This tells you that at this stage, I'd be making Brook a favourite over Alexander. Brook is the man to beat and I don't think it matters whether it'll be abroad or whether it is on British soil.
We might even find that Alexander gives up the title. He could vacate and Brook will fight someone else for the belt.
The world is Brook's oyster now. He's in prime position now and anything could come up. All the possibilities are out there because he's proven himself to be world-class and ready for that level of competition.
He made easy work of Saldivia. It will get harder but Brook at his best is suited to being there. We expect some great, great fights now. He's over that hurdle and now it's on to the big one.
Mac's attack
Doncaster bantamweight Jamie McDonnell stopped Darwin Zamora after Vusi Malinga's late withdrawal, and is likely to need to get through another IBF eliminator fight before getting his shot at IBF king Leo Santa Cruz.
He did what he had to do against the opponent he had in front of him. If that does turn out to be a final eliminator, if I'm brutally honest then I'd have to say that was a fortunate opponent to get.
You have to take your luck when you get it and if that does bag him a shot at Santa Cruz then I'm very happy for him, but I'm not sure it will as Zamora was ranked outside the top 10.
Zamora was small in stature and although he had a big heart, he was very limited.
McDonnell's done it the hard way doing British, Commonwealth and European so nobody deserves their shot more. He's a lovely kid and has great boxing ability.
We knew the Olympics would set off some great results in British boxing. The sport is on a massive high on these isles now.
We've got Carl Froch coming up very soon and we look forward to that with great anticipation.