Yorkshire pride
Can McDonnell shine on the big stage? Can Reid roll back the years? Glenn McCrory has his say...
Last Updated: 18/10/12 5:33pm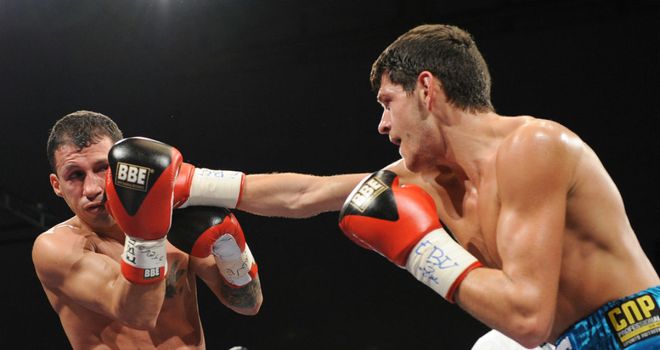 The super-bantamweight division features some glowing names such as Rafael Marquez, Guillermo Rigondeaux and Nonito Donaire.
However, the bantamweight reckoning is a bit more level; there are some decent fighters - Joseph Agbeko and Julio Ceja spring to mind - but no really big names, and that is good news for Jamie McDonnell.
The Doncaster fighter will face Nicaraguan Darwin Zamora in an IBF title eliminator this weekend and now has a great chance to not only fight for and win a world belt - which would be a monumental achievement - but also to make a far bigger name for himself.
It is very difficult to become a huge name in boxing and over the last couple of decades in Britain there have only been a handful that have reached those heights; I'm thinking of Naseem Hamed, Ricky Hatton, Joe Calzaghe, Lennox Lewis and Carl Froch.
McDonnell might not reach those levels but he could certainly make himself more widely known to the British public if he beats Zamora on Kell Brook's undercard in Sheffield on Saturday night.
The 26-year-old deserves this bout after winning the British, Commonwealth, and European titles and beating everyone on our shores. He is a good character, a good fighter, has good boxing skills and he has got a bit of heart, too.
McDonnell's scheduled opponent, Vusi Malinga, pulled out of this match earlier this week after picking up an injury in sparring, but I don't envisage that flustering Jamie, with both Malinga and Zamora adopting the southpaw stance.
The Yorkshireman has not been in the ring since March, when he conquered Spain's Ivan Pozo, but he is experienced enough to deal with that and I don't expect any ring-rust. When you are making your way it is important to have regular fights, but when you have reached a certain point it is about picking the right bouts.
There is an old saying in boxing circles of "20 to learn, 20 to earn"; the first half of your career is about gaining the necessary tools and the second is about making money and winning championships. Jamie, who is 19-2-1, is entering phase two now which means he is not going to have a load of fights, just important ones.
However, the leap from domestic and European level to world level is pretty big, especially when you are getting in with some tough-bred Central and Southern Americans who know how to have wars.
It will be a test for Jamie; he has learnt his trade at the Doncaster Dome but now we will see if he has the mentality to perform and make an impression on big bills, under big pressure in front of a big crowd.
Warrior
Robin Reid, meanwhile, has resurrected himself in good style; a lot of people scratched their head when he came out of retirement but he has proved that he still has something to offer.
The 41-year-old showed that he could perform at the very top level when he won the super-middleweight world title in the late 1990s, so for him to have the desire to fight for a British title, something he will do against Kenny Anderson on Saturday night, says a lot.
Anderson is 12 years Reid's junior and will be looking for a good win to get towards world level, somewhere he thinks he deserves to be, but I have known Robin for a long time and he won't give up easily. He is a warrior and I don't see an Audley Harrison-type performance from him; if he is going to go down he will go out on his heels.
It's easy to forget how good Robin was; he won light-middleweight bronze in the 1992 Olympics and had some glorious nights in his prime, some of which I was fortunate enough to commentate on.
I was there when he took Calzaghe to the limit a fight which a lot of people thought Robin should have won, while I also witnessed him capture his world title in Italy; he won over the Milanese fans and showed strength and bravery to defeat Vincenzo Nardiello.
I guess we will find out if he is still capable of that on Saturday night but I certainly wouldn't rule out the possibility of him beating Anderson, who is no world beater and probably not in George Groves or James De Gale's class.
Robin's know-how could swing it his way, or the brutal Scot could take the spoils. Either way, I expect plenty of action and think we are in for a great match-up.
The main event of the night, though, is undoubtedly Kell Brook's IBF welterweight title eliminator against Hector Saldivia, a fight in which Kell must show his class.
He was hanging on against Carson Jones in the summer and has realised just how tough this game is. He now knows that you are only 'The Special One' if you put the work in and that if you don't, you are 'The Ordinary One'.
Saldivia is a tough guy but he is a bit limited and I expect Kell to record a convincing victory - and put himself on the road to super stardom.