Mind over matter
Amir Khan, Scott Quigg and Alexander Povetkin... Glenn McCrory looks at the fighters in the news.
Last Updated: 23/10/12 11:25am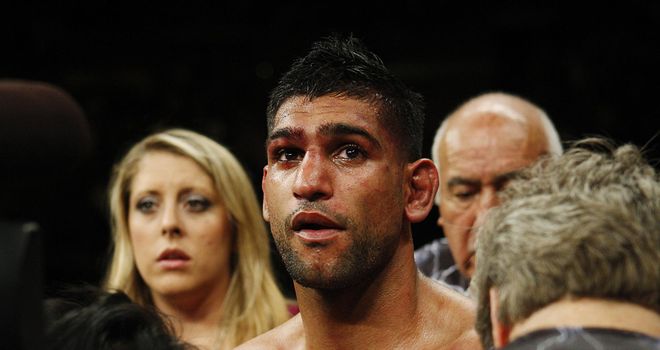 I never thought Amir Khan's people would be looking to send him in with a big name for his next fight after what happened to him last time out against Danny Garcia.
Amir had to go back to drawing board after that shattering defeat and he has done that by facing the unheralded Carlos Molina, who has fought most of his career at lightweight.
Khan did not lose to a mug in May - he was bettered by a talented and undefeated fighter - and he is only 25, but any bad loss at this stage, or any loss for that matter, would probably bring the curtain down on his boxing tenure.
With that in mind, I think Molina - who has accrued 17 wins and a draw in his professional career but not been tested beyond 10 rounds - is a perfect opponent for Amir.
If the Bolton man can get the win with relative ease and restore some of his confidence, then who knows where he could go from there?
But in a way the opponent is irrelevant, because it really is all about Amir. The next time he sets foot in the ring he needs to not get hurt and prove he has the capabilities to be a force in the boxing world.
That won't be easy, though, as every one of Amir's opponents will be gunning for his chin.
What I want to see from Amir, however, is a bit more thought and calculation.
He is an Olympic silver medallist and has tremendous boxing abilities, but you would have thought by now that he would have used his brain a little more when inside the ropes.
He needs to think more like a chess master and less like a kamikaze pilot.
Plateaued
Scott Quigg will face Rendall Munroe in a rematch in November after their initial bout in June was curtailed in the fourth round due to the latter picking up a cut above his eye.
I thought it was a 50-50 fight until that point, but if I had to pick the man who had the slight advantage I would have said Munroe, so I reckon Quigg will have his work cut out against an up-for-it opponent.
The Bury fighter has looked good in the past and is a tip-top kid, but while his fellow super-bantamweight Carl Frampton has continued to develop, Quigg has plateaued a little bit. Hopefully he can fire again against Munroe, in what should be a cracking contest.
Russian heavyweight Alexander Povetkin garnered another victory this weekend, beating former two-time world champion Hasim Rahman inside two rounds in Hamburg to keep hold of his WBA title.
Povetkin is the silent figure in the heavyweight division and doesn't get many column inches over here with the likes of the Klitschko brothers and David Haye the ones usually in the limelight - but he is a quality boxer.
He could be the next man to try and topple one of the mighty Klitschkos and he does deserve the shot, but even though he is unbeaten, his record is not littered with star names and does not make you think he would beat one of the mighty Ukrainians.
Rahman, meanwhile, is 39-years-old now and could be done as a pro after his disappointing loss to Povetkin. The American has been a B-list heavyweight; he had his up and downs and had his fair share of losses.
But he has always been a tough competitor and enjoyed his golden moment in the sun back in 2001 when he conquered Lennox Lewis. That night will ensure he maintains a place in boxing history.