Day of the Jackal
Glenn McCrory says Carl Frampton proved his class by dispatching former world champ Steve Molitor.
Last Updated: 15/10/12 9:58am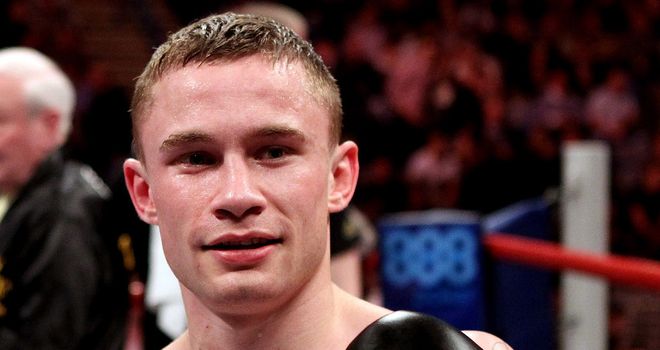 We saw Carl Frampton stop two-time world champion Steve Molitor in the sixth round in Belfast on Saturday - and what a night it was for Barry McGuigan's rising star.
It was great being in Ireland because the Irish boxing fans are really something. It's fantastic that they've got someone to cheer about now.
It's always easy after the event to say the opponent looked shot, but Frampton made Steve Molitor look shot. There was nothing before the fight that suggested Molitor was a shot fighter. He didn't talk like a shot fighter, he didn't train like one and his recent results didn't suggest he was shot.
Straight away, people wanted to take Frampton's glory away but the fact is he made Molitor look average. If he'd have showed him respect and stood off him, it would have been a very different fight - but he jumped on him. He imposed his will from the start and Molitor couldn't cope with that.
Yes, Molitor is not what he was five years ago because he was a world champion then. But he's not shot by any means and it looked a difficult fight for Frampton - he just made it look easy.
Improvement
The Frampton that took on Raul Hirales Jnr gave his opponent far too much respect and even though he won that fight easily, he stood off too much. Our only disappointment with him that night was that he didn't go in when he had the guy beaten to finish the job in spectacular fashion.
I know Frampton well and he takes constructive criticism very well. He listens and is a kid who's open to ideas. It really shows - in a fight like Molitor, he executed what he had to do perfectly. He also excited the crowd because he could have stepped off and won easily on points but didn't; he went in this time and finished the job in style. It was a great performance.
At the last Scott Quigg fight in Manchester, Frampton was there as a spectator and we had a good chat in the hotel afterwards. He comes across as a very level-headed kid.
There's more ways to judge a fighter than on what they do in the ring, and he quickly convinced me that he's more than just a good fighter. He's a solid guy and has the qualities to be a good champion.
Most fighters act like superstars but Frampton came and sat with us and talked with us for a long time. He's not full of his self-importance - he knows he's learning and he listened to our criticism and took it on board. Now this fight was the making of him and for me, Frampton is now a top-drawer fighter.
Next step
I know for a fact he'd fight any of those guys on the domestic scene - Quigg, Rendall Munroe, Kid Galahad - but he's ready for a world title shot without doubt. The domestic scene is behind him but the mark of him is that if he had to fight Quigg, Munroe or Galahad, he would. He knows he's the best fighter.
I think the European champion, Kiko Martinez, is shrewd enough to duck him and knows that Frampton would be a fight in which he'd get knocked out and probably retired, so the Spaniard probably won't have anything to do with him.
The WBA champion, Guillermo Rigondeaux, is managed by an Irishman in Gary Hyde, who's a friend of mine. I spoke to Gary the day after the Frampton fight and they'll be more than happy to talk about giving him a shot.
Frampton's still only 25 and in no rush. I would personally like to see him deal with Quigg and Munroe. Certainly the Molitor win puts Frampton above them, but why not? They're good fights and let's see them - it's means more to us seeing Quigg and Munroe in the ring than Rigondeaux because people don't know who these world champions are.
It's a very good division domestically and people want to see the big fights between British fighters. They're all good boxers and that will bring the crowds in. It's what we want to see. I know Eddie Hearn is a promoter who wants to see the best fights. He wants to give the public what they want and that's big fights.
If it was me fighting, I'd take whatever opportunity presented itself. If Munroe was ready and he wanted to fight in November, I'd do that. If they said he could fight one of the world champions - and there are some great names like Rigondeaux, Abner Mares and Nonito Doanire - then that's fine too because I think he belongs at that level.
Burns' night
Ricky Burns went about defending his WBO lightweight champion with similar ruthlessness - halting Kevin Mitchell with a clinical fourth-round stoppage.
I always saw something in Burns and now it's been proven. He showed he's got the mettle and like Frampton, he exceeded expectations. Everybody thought it'd be a tough fight and he might scrape through, but he went out and proved he was the boss.
We heard Mitchell say in the post-fight press conference that he doesn't think any of the other champions of the division could trouble Burns, so let's see Ricky Burns in with them.
I think Burns is a good champion. I'm a big fan of the kid and he's so down to earth, such a grounded kid that you only want the very best for him. He's flying the flag with pride and any chance I get to hear 'Flower of Scotland' is a bonus for me!
Mitchell's been a good fighter but I fear his heart has not been in it at times. He's a terrific fighter who's had some great results - the way he beat Breidis Prescott suggested he could beat anyone in the world. He's always entertaining and will always be in a scrap.