States of disrepair
Glenn McCrory assesses the dramatic slide in the fortunes of American heavyweight boxing.
Last Updated: 18/09/12 4:53pm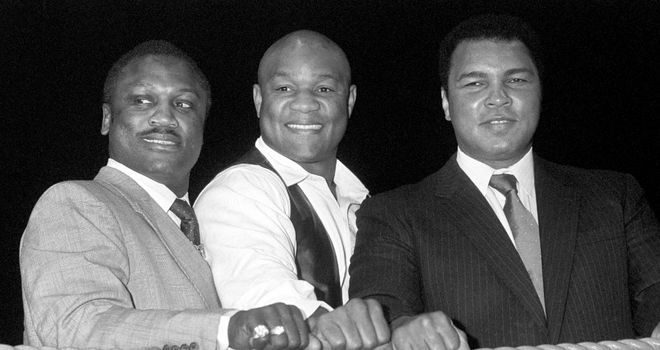 Who was the last American heavyweight champion? It's a good quiz question.... I can tell you it was Shannon Briggs, who held the WBO belt back between 2006 and 2007.
During the 50 years between 1950 and 2000, despite four versions of the heavyweight title on offer for much of that time, only ten champions hailed from somewhere besides the United States. Nowadays, they're not doing so well at this boxing game.
The big names in American boxing are Hispanic these days. Floyd Mayweather Jnr is the obvious exception but you only have to look at their failure at the Olympics to work out that there are problems at the very basic level.
Boxing in Britain is booming all the way through - right the way through from the kids, the amateurs and the pros. We have started it at the ground level and that's where it comes from; Muhammad Ali, Joe Frazier and George Foreman obviously started out as kids in the US.
What makes kids wants to get into the boxing ring is having great champions to look up to. In days gone by, you'd have kids sneaking into venues but it's all about big money and big TV prices these days and these kids just can't afford to see their heroes. Half the time, in the States, these fights are pay-per-view so the kids are not even getting to see these fighters.
Legends
Since time immemorial, boxers have often come from under-privileged backgrounds and nobody got the crowd excited like a young Mike Tyson when he was coming up. He was the classic 'bad kid made good' and boxing helped him do that. Obviously he ended up going over the top but this was a kid from the ghetto, who'd been in trouble and they harnessed his energy to become the best fighter of a generation.
Going back further, you see what Ali did. What an inspiration for kids! He stood up not just for his rights but for the rights of black America and became an icon and one of the most famous people of all time. That's the kind of inspiration that America's not getting these days.
Jack Dempsey came from nothing. Joe Louis too. Then you have Rocky Marciano, who did for Italian-Americans what nobody else could do and became heavyweight champion of the world.
There's a void there now. Which heavyweights stand out as great characters now? We're just not getting that anymore.
For the American male boxing team to fail to get a single medal in the Olympics is unheard of. I asked myself why the guy who is in charge of amateur boxing in the US is still in a job. How can a country like that, with their resources and great sporting history not win a single medal at boxing? It's a disgrace.
Boxing is the one sport that can provide the opportunity for under-privileged kids to excel. The kids from rough backgrounds, from children's homes, from juvenile detention centres - there's disregard for those kids and nobody is going to come through unless the amateur gyms have youngsters to push.
The American system isn't gearing up to provide these young kids with the chance. We've done it fantastically over here.
Contender
In terms of who they have produced lately, it's difficult to argue with Deontay Wilder's record because he's undefeated with a flawless knockout record, but he's still being looked after.
They're going to have to let him off the leash a little bit. I think we're looking at people like Wilder as American fighters for the next generation when the Klitschko brothers have hung up their gloves. Who knows though, maybe he'll be the one to get the fans over the pond back into their boxing and inspire the youngsters into action.
But there's a massive difference in the fact that we're having to actually look for these prospects. You looked in the amateur ranks years ago and you saw Olympic gold medalist Tyrell Biggs beating the likes of Tyson and Riddick Bowe winning silver, then you'd read about some kid who'd missed out on the team but was knocking everybody out. There was real strength in depth.
They are going to have to go back to the drawing board now and start the whole system again.
Error
There was big news from the Khan camp this week, but I think Amir Khan leaving Freddie Roach and hiring Virgil Hunter as his new trainer is another poor move.
Tactically, I can understand it in terms of what could happen in the ring, but the noises coming out of the Khan camp suggested that not being 'No 1' on Roach's roster was the main gripe.
The man who was ahead of him in the pecking order under Roach was Manny Pacquiao, who arguably has two fights left before he goes into politics. He's going to go soon. He lost his last fight and if he loses his next one then he'll probably walk away.
So if the reason for leaving is being the trainer's priority, then why would you go to a trainer who's currently training arguably the best pound-for-pound fighter in the world in Andre Ward, who's much younger than Pacquiao and is only going to be busier? It doesn't make any sense because he's going to be second-string for a longer time.
Nothing against Virgil Hunter, who is a great trainer and a nice guy - but he's bound to put Ward first.
Also, Khan is going from Los Angeles to Oakland. I'm not sure if he's been to Oakland before but I took my amateur team there and it's not exactly Hollywood glamour down there. I'm not sure there'll be enough starlight for the Khan entourage because Hunter runs a very simple, hard-working gym down there.
On the positive side for Khan, there was a time when Ward looked like he wouldn't make it and there were holes in his defence, but he now looks like one of the premiere defensive fighters around. A lot of that is down to Hunter and defence is the thing Khan needs to look at most because he's been knocked down badly several times.
If Hunter can instil Ward's technical defence, that will be very, very good for Khan. But I'm just concerned that Khan won't be afforded the time and the effort he needs.
Bomber
We saw Tony Bellew stop Edison Miranda over the weekend and that's a great name on his record. Job done, and time to move on for the big Liverpudlian.
We're seeing a different side to Tony now. He was hurt quite badly early on his career and he got hurt a bit by Miranda. He's being a bit more careful these days and the guys are going to be bigger, stronger and tougher from now on.
I think he needs to develop a bit more. He needs to settle a bit more into being a proper professional. It's still early days and he's learning so he needs more of the same. He needs tough fights with challenges but I wouldn't say he's ready for the big boys of the division just yet. He's not the finished article.
If you get hit on the chin by big punchers, you're going to go down. A lot of it is balance and setting yourself right. I think Bellew has learned and it's all about taking risks - he's taking less risks. Defence is all technique and you can learn that.
As for the other weekend's action, I thought Sergio Martinez would overcome Julio Cesar Chavez Jnr but I think the defeat will do more for Chavez Jnr than all the wins he's had. I'll think he'll come back better from it.
Matthew Macklin won on the undercard but I don't see him getting a rematch with Martinez - I think we should focus on making the fights between Macklin and Darren Barker and Martin Murray.
It'll be such a shame if they don't fight because it'd be great for British boxing and they're the fights that we should be looking to get on because they've all fought for world titles and should work on improving by facing each other.
Saul Alvarez was impressive again. He's so young and at times, looks absolute class. He continues on and he looks like he's going to be a Latino legend eventually.