Charm offensive
Andre Ward has shown his boxing acumen, says Glenn McCrory, but now he must reveal his personality.
Last Updated: 06/09/12 5:08pm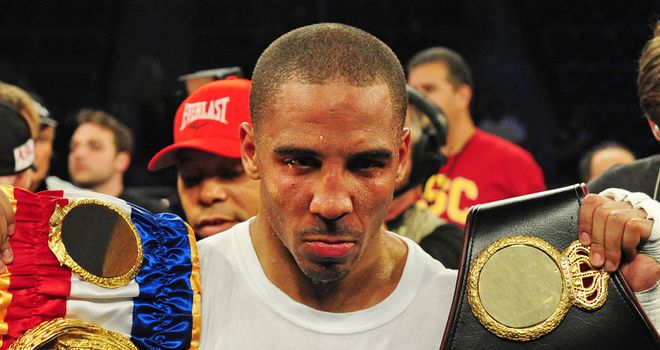 I think Andre Ward is the best pound-for-pound fighter in the world.
He is very methodical and boxing-wise he is the real deal, but what he has to do now is come out of his shell and showcase his charisma; at the moment he is a bit plain.
The American has had some cracking wins, most notably against Carl Froch in the Super Six Final last December - but he has not yet become a superstar.
We've seen some fighters try to become Mr Showbiz in the past and end up looking like prats and we wouldn't want the same fate to befall Ward.
Plus, you could argue that the things stopping him from becoming a huge name - his down-to-earth nature and hard work - are why he is such a great boxer.
But to become fully appreciated by the boxing world, I think he needs to strike a balance between grafting with the gloves and revealing his personality when he is out of them.
What you cannot question is his ability - not now anyway; I remember watching one of his early fights and didn't think he was going to become this terrific in-ring performer.
But he has come on leaps and bounds since then and is now a really imposing figure inside the ropes.
Pressure
I can only see two things that may scupper Ward professionally: he is not yet tested on foreign soil - something he may be if Froch gets a rematch in Nottingham - and he may struggle to deal with the pressure of being THE guy.
When you are widely recognised as the top fighter in your division, you become the scalp that everyone wants to take, both from a monetary and prestige perspective.
Your opponents up their game and put in the performance of their life and I expect Ward's opponent Chad Dawson to do just that in this weekend's Sky Live fight for the WBA and WBC super-middleweight titles.
In terms of name value, people may have preferred to see Ward face Bernard Hopkins but from an aesthetic point of view the clash with Dawson will be miles better.
Hopkins gets terrific results and it is a great achievement that he is still competing in his forties, but his fights put you to sleep. Dawson, meanwhile - who only has one professional loss on his CV, to Jean Pascal in 2010 - will keep the viewers' eyes fixed on the action.
Dawson may try to adopt the tactics that Froch did against Ward and try to jump on him and be the tough guy, but that didn't work for the Cobra and I'm not sure it will work for Dawson; I think his best ploy is to try and be slick.
For me, though, this clash is all about Ward. I'm expecting him to go through the next few years like the Klitshckos have done the last few; regularly outclassing his opponents and ruling his division - albeit with a bit more panache than the Ukrainian brothers.
Wince
Last Saturday I watched Kazakhstan's middleweight Gennady Golovkin defeat Poland's Grzegorz Proksa to retain his WBA and IBO titles - and I was very impressed.
There aren't many marquee names on his résumé and you always tend to take Eastern European fighters' unbeaten records with a pinch of salt as they are often very well protected, but this guy really knows how to fight.
Proksa may not be a world beater but he is very fit, very strong and is a decent boxer, yet every shot Golovkin landed made him wince; he was completely manhandled.
Golovkin could be involved in some excellent middleweight bouts in the future with the likes of Sergio Martinez; Julio Cesar Chavez, Jr; Dmitry Pirog; Daniel Geale; and perhaps some of our guys, such as Darren Barker, Martin Murray and Matthew Macklin.
There will be no more big fights for Ryan Rhodes, though, after the Sheffield man announced his retirement; he will be remembered in fight circles as a genuinely nice man and was a real breath of fresh air for British boxing.
I have covered his career with interest, from his younger days when he was known as the Spice Boy through to his later bouts and he was always a joy to be around.
Rhodes won the British title when he was 20 and I don't think that record will ever be beaten; he did everything but grasp a world belt and I feel so sorry for him that he wasn't able to make that one last step.
He is a true gentleman and I wish him all the best for the future.