A fitting finale
Carl Froch has to make every fight count towards the end of his great career, says Glenn McCrory.
Last Updated: 29/08/12 4:42pm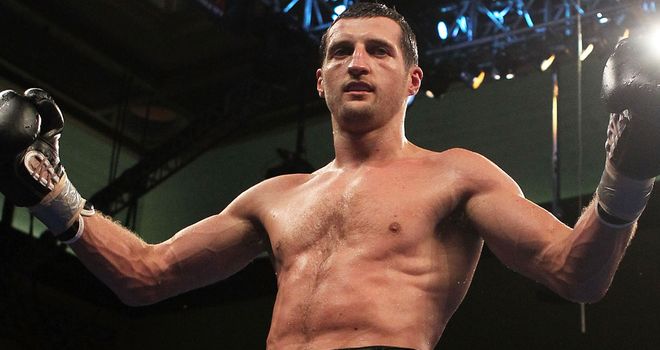 Carl Froch is coming to the tail end of a fabulous career and he will want to make every fight count.
I spoke to him before his last fight and he candidly admitted that he did not have many left and is determined to make the most of each one.
Taking on the American Yusaf Mack is a good fight for him before a rematch with Lucian Bute and then possibly a rematch with Andre Ward. He would love to entice Ward into a big money fight that would be the ideal way to end his career - hopefully in front of his home fans.
It is typical of Froch to target a fighter in the top six in the world. He was never going to fight an also-ran and you have got to admire him for taking on someone in the top ten in a marking-time fight before a rematch with Bute.
Mack will be tough. He is a light-heavyweight and a bigger guy, which will pose problems for Froch, who makes middle-weight easily. It promises to be a competitive fight. Taking on a world-class light-heavy weight, giving away that sort of size, is always a tough fight. That is what we want to see - Carl in good competitive fights and that is what you always get.
There is always a danger of underestimating an opponent, especially when you are coming off such a terrific win as Froch is. It is human nature when you are fighting someone who is not quite as big a name - who is not a champion - you are not quite as up for the fight. But he needs to be and I have no doubts that he and trainer Robert McCracken will work hard.
Atmosphere
I have been to big fights all over the world with Mike Tyson and Oscar De La Hoya and experienced some great atmospheres - but atmosphere at Froch's last fight was terrific; you knew you were at a massive fight.
This will be even better. The vast majority of people expected Carl to lose that fight but still came out to support him. Now they will be expecting a win, so I think the atmosphere will be second to none.
Froch needs another good performance, he needs to start strongly and get his boxing together. We have got to hope that he is on top form because a rematch with Bute in Canada is going to be a totally different prospect to the first fight.
If, and it is a sizeable if, all that goes to plan a rematch with Ward could be on the cards to bring down a glittering career.
Chance
For me, Ward is pound-for-pound the best fighter in the world. Froch did well last time - he went the distance - so if he could bring him to Nottingham and have a British crowd behind him, he would have a much better chance.
If I am brutally honest - and I have worked with Ward in America and I know the rough area he is from - I think he is a very hard person to beat. But he is not unbeatable. Froch is a tough guy who gives his best every time and that is the one he wants to win.
It is all about build ups. If Ward doesn't train hard enough then in boxing fights can be determined by the smallest of margins. It is certainly a fight he wants. He wants to try to rectify the previous result. But it will be hard to beat Ward - he is sensational.
Precipice
This week I have been in the Cairngorms with the Durham Army Cadet force, for whom I am an honorary Colonel. I have been involved with them for a couple of years, which has been a great honour.
It was brilliant. We had hundreds of youngsters between 13 and 17 up in some of the most beautiful scenery in the world doing rock climbing, canoeing, archery and so much more. I was put through my paces as much as the kids were, including dangling over a precipice with ropes wrapped around me preventing me from plunging to my death!
The former army offices in charge were great and it was amazing to see the kids having so much fun.
Don't miss this week's Ringside Special - when we catch up with Carl Froch: from 6pm on Sky Sports 1 HD.