Risky business
Glenn McCrory says Ricky Hatton could damage his legacy and his health if he laces up his gloves again.
Last Updated: 24/08/12 1:45pm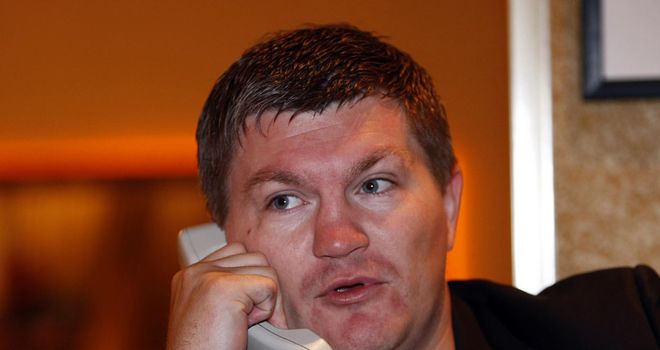 I hope the rumours surrounding a potential return to the ring for Ricky Hatton are false.
Most retired fighters have moments where they want to make a comeback; I know I do, even though it's nearly 20 years since I hung up my gloves. Your boxing days were when you were in your prime and did what you loved.
So I'm sure Ricky misses the adulation and being announced as a world champion, but those glory days were a while ago now and I don't think he should seek them again. He retired for a reason after all.
If Hatton did return he could tarnish the legacy that he worked ever so hard to create and be remembered more for a couple of poor showings in his mid-thirties than some of the great nights he produced, most notably against Kosta Tszyu.
Reports are suggesting that he could battle Paulie Malignaggi - a man that the Hitman defeated in November 2008 - but I wouldn't want Ricky to face anybody.
And where else, apart from Malignaggi, could he go anyway? Would you put him with Kell Brook? No, because Kell would destroy him.
I would really fear for Ricky's health if he came back as he has not been living the life of an active boxer and kept himself in pristine shape since he retired. He has been living far less stringently than that.
That's perfectly fine, but 12 or 14 weeks of training are not going to nullify three years of living it large. I count Ricky as a long-time friend and I don't want any harm to come to him.
Ricky is one of the greatest British boxers of all time - and probably the most loved - a world champion, and a wonderful person. He has nothing to prove and IF he is considering fighting again I would encourage all those around him to tell him no.
Shell
Ricky does not want to end up like Evander Holyfield, who at the age of 49 is stilling fighting and angling for a world title shot against one of the Kiltschko brothers.
I feel a bit sorry for him really because although he is an unbelievable champion, he has suffered losses to Nikolai Valuev and Sultan Ibragimov in recent years, guys who would not have been fit to tie the American's shoelaces when he was in his prime.
This is a not a new thing, though; you could argue that Joe Louis went on too long and he certainly looked a shell of himself when he got destroyed by Rocky Marciano in 1951.
The dangers to your health amplify when you get older, too; I'm pretty sure that if you hear at an interview with Holyfield now, he doesn't speak the same as he did 10 years ago, while you only have to look at Muhammad Ali to see what perils there are.
Fighters should get in, succeed and get out, but I suppose that is easier said than done; a lot of boxers are the same in that we haven't had a great education, and we've come from rough areas. Fighting opens up a world of opportunity that you never expected.
So when it's time to retire some guys can't quite manage it; they don't want to admit they are old, they don't want to stop being the centre of people's worlds and they fear what will happen if they do quit.
Storm
This week's Ringside: One to Watch focussed on three of British boxing's finest young talents: Brook, Carl Frampton and Tony Bellew.
Brook is certainly the most naturally talented of the three and has the potential to take the welterweight division by storm. I would be very surprised if he is not world champion within the next 12 months.
Frampton is not the finished article but I think he is on the up as well. He is preparing for his upcoming European Super-Bantamweight title fight against reigning champion Kiko Martinez, and I think he is showing slightly more than domestic rival Scott Quigg.
I used to think Quigg was the superior fighter - and he still might be - but he seems to have plateaued a bit and may be an Anthony Crolla type, where he shows great flashes but gets put on the floor when he shouldn't be. Frampton, on the other hand, looks solid.
Bellew, meanwhile, is a very colourful character who sticks his head above the parapet, says what he feels and is great for a one-liner. He is also great to watch.
The Bomber is a puncher and, like Amir Khan, there is always an element of danger to his fights; you always feel that he is going to knock someone out or get KOd himself!
I wish all three well for the upcoming season.