Show for the pros?
Should Joshua join the paid ranks? Should pro fighters enter the Olympics? Glenn McCrory has his say...
Last Updated: 14/08/12 4:26pm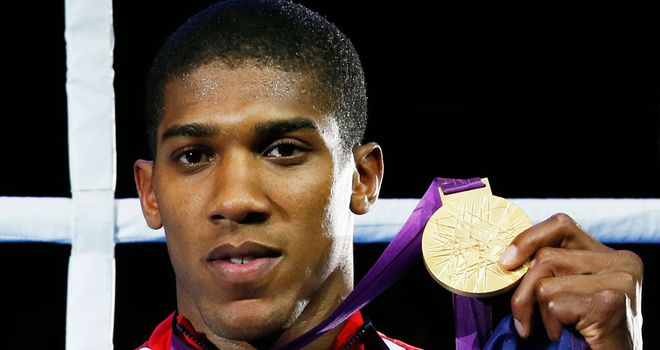 I always thought the British boxers would do well at London 2012.
Any successful sports team has a good structure in place with professional people in charge and our fight squad had that with Rob McCracken, Richie Woodhall and the coaches. It paid dividends as we ended up with five medals, three of them gold.
Luke Campbell won the bantamweight division on Sunday after a really good contest with Ireland's John Joe Nevin but as I was watching the fight at a wedding in Donegal I couldn't get too excited! However, Luke showed a really cool head, moved well, utilised his jab and deservedly won the fight.
Welterweight Fred Evans showed his quality by taking a silver medal, even though in his final I think he was content with his lot and didn't seem to really go for it. He does look like he has a great future ahead of him, though, and could join Kell Brook as one of the welterweight stars to keep an eye on.
Anthony Joshua took gold in the super-heavyweight division and while he says he is in no rush to turn pro, I would be very surprised if he was still an amateur by the 2016 Olympics in Rio. I'm sure he is just waiting for the right offer to come his way.
Like I said in my previous column, there are plenty of benefits to staying in the amateurs and someone like Campbell might remain there because there are not that many money fights at bantamweight.
But I think the sooner Joshua gets in the pro ranks the better. He needs to make a wise decision as to who he is promoted by but hopefully it is not too long before he is showcasing his skills on Sky Sports.
Anthony is a young, talented fighter with a great physique and unlike Audley Harrison - who did okay in the professional game but never looked like he had the commitment for a fight - I think he has a real opportunity to take the heavyweight division by storm and assume the Klitschkos' mantle.
Eclipses
Professional boxers may be allowed to enter the 2016 Olympics and I would have no problem with that whatsoever. I've always said that if someone is willing to fight for nothing in the Olympics and he is good enough, then he should be given the chance to compete.
From what I've heard, only boxers with five or six pro fights under their belt would be able go to the Games but I wouldn't see the point in that. Surely we would want the big-name fighters, like Carl Froch, involved?
You could argue that an Olympic gold would not be the pinnacle for guys, like Froch, that have held world titles, but it is a different competition and the amount of people watching Games fights eclipses any bout that these guys would have ever competed in.
And you can't say that the pro fighters would win all the time because stepping down to three-round contests from ones over 10 or 12 rounds is difficult, as some fighters have proved in the Prizefighter series.
Stunning
London 2012 was brilliant and the only other Games in recent memory to come close to it for drama were the Sydney Olympics in 2000.
Athletics always makes the Olympic Games and there were some stunning performances on the track, including Usain Bolt, David Rudisha and our man Mo Farah. Rudisha's 800metre win, in particular was very special as his pace dragged so many of the runners in the race to season or personal bests.
But I was so caught up in the Olympic spirit that I found myself watching dressage, taekwondo and a load of other events that I didn't know I liked. The Games really brought the minority sports to the forefront - for two weeks at least.
I always thought we would put on a terrific display - but what we produced far exceeded my expectations. It was one of the greatest shows I have ever seen.